Pt. Pedro centre cries for alms to heal 30 years of grief
By K.L. Richard Walter Perera
View(s):
The hot air sweeping through the palmyrah trees, over the red soil mixed with the sweat of the toiling farmers, speaks of the suffering the people of Jaffna are still going through following 30 years of war.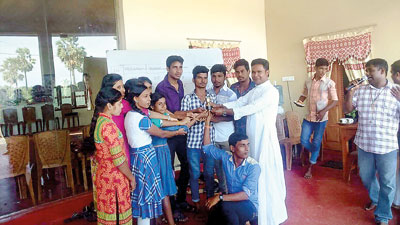 Point Pedro, situated at the northernmost point of the island, formed with sand dunes, is famous for producing cotton. In Tamil, its name, Paruthithurei, means "cotton harbour". Cotton was exported to South India from here for centuries.
The Point Pedro fort, built by the Dutch, dates from 1665. In 2004, the tsunami destroyed some parts of the town and submerged other sections under four feet of seawater.
Tamils and Sinhalese lived here in a cordial relationship exemplified by the saying, "If a rooster got on to the roof of a house at Point Deundara it has to get down from a house at Point Pedro".
Then came the civil war that distanced the two communities. During the war, the town was under the LTTE for some time until the army recaptured it in 1995.
Such is the brief history of Point Pedro, which is now trying to raise its head from the debris of the calamities it has suffered.
Among the social organisations that have emerged to help the distraught people is the psychosocial counselling centre, Anjali Aham, which works with the vision, "Journeying with the wounded with compassion and love".
Its target groups are widows, children, differently-abled children, youths and members of bereaved families.
Anjali Aham was begun by priests of the Catholic order, Missionary Oblates of Mary Immaculate (OMI) on May 22, 2006. It is based at Thumpalai in Point Pedro.
Founded by Rev. Fr Damian OMI, it continued under Rev. Fr Sebastian OMI when, due to lack of funds, the counselling programmes were suspended.
The current head of Anjali Aham, Rev. Fr Patrick Prashanth, has been able to restart many programmes and has also personally initiated novel programmes – but funding remains a problem.
At the moment only the MJF – the philanthropic arm of Dilmah Ceylon Tea Services founded by Merrill J. Fernando – is helping, paying teachers' salaries and buying nutritious food for the children assisted by Anjali Aham.
"Other than that, we never get any help from anyone," Fr Prashanth said. "Now there is a great demand for our services and a need to re-start the counselling programmes but so far there is no positive response from other organisations or donors.
"We are looking for help eagerly and very urgently. If anyone is willing to help us, it will be greatly appreciated by people of Point Pedro."
The programmes run here include counselling, widows' programmes, education and programmes for children and youth.
It is time for us to extend a hand of brotherhood to empower the people of Point Pedro to live with dignity again. Please contact Fr Prashanth on mpatrickomi@gmail.com if you wish to make a donation.