Gas and milk double punch strikes families in the stomach
By Kasun Warakapitiya and Abdullah Shahnawaz
View(s):
Salary-earners of the country, now reeling from the worst economic growth in years and with inflation running high, were dealt another body blow by the Government last week.
Prices of domestic LP gas and milk powder were increased.
The ultimate beneficiary of the price increases is the Government.
Following the increases in domestic gas prices, some restaurants claimed they will absorb the extra cost for fear of losing diners, but diners are not sure as to how long they will hold back from raising prices.
The Government increased domestic gas prices by Rs 245, while prices of full cream milk powder prices were jacked up by Rs 50 for a one kilo pack and by Rs 20 for a 400g pack.
The average family and the small businesses, burdened with numerous taxes on nearly everything, are not pleased.
S. H. M. Farees, 63, a baker at an eatery in Colombo, said high prices could dampen business.
"I've worked at this bakery for over seven years, and every year the baking expenses increase, while the income doesn't by as much," he said. The eatery uses up four gas cylinders a day and the added cost is a burden.
Ruwan Chamara, 30, who owns a small eatery, said his time in the food business may be coming to an end, after he had earlier shut down a communications operations because of high taxes.
"I won't be able to carry on in this industry much further either, if costs keep rising. I have rent, water, and electricity bills to pay, and have to provide for my family. I sell a vadai for 10 rupees, and I can't increase the price."
A.B.N. Anthony, a construction worker who often eats at small restaurants, is feeling the life burden that is worsening. Last week, he bought a packet of rice for Rs. 120, and now it costs Rs 180.
"The cost of living is increasing but we are paid the same amount, it is difficult to support a family like this," he complained.
Consumer rights activist, Ranjith Vithanage, said that in addition to the impact of the gas and milk food price increases, people are also facing the impact of the depreciation of the rupee against the US dollar as the cost of imports are increasing.
He hopes rising import costs will not become an excuse for other goods and services providers to raise prices. "The three-wheelers should not increase charges when gas prices increase,'' he said.
The national organiser of the Socialist Women's Association, Samanmali Gunasinghe, said that housewives are finding it harder to manage the expenses of their families now that gas prices have risen.
She said the Government has not considered the difficulties faced by the poor in raising their children, when milk food prices are higher.
All Island Bakers Association president N.K. Jayawardene said that if costs continue to rise, bakers will have to increase prices.
He said bakers pay high taxes on wheat, and are paying Rs 2 per loaf of bread as a Nation Building Tax, Rs 15 VAT, and Rs 2 NBT for pastries.
"We wouldn't increase prices if the Government provides tax concessions."
Meanwhile, the Government said measures will be taken to reduce the burden on the people.
Member of the Cabinet Subcommittee on the Cost of Living, Minister Mahinda Amaraweera said despite the rise in gas prices, it remained below the price during the previous regime.
He said that even though people claim that rising prices at restaurants are impacting their cost of living, the committee has reduced prices of essential items.
"We cannot regulate the price of rice packets, and food sold in restaurants. There are rice packets sold for between Rs 300 and Rs 700."
Mr Amaraweera said that instead of complaining about food prices at restaurants, people should eat at home.
The Government approved the price increase following a request by the two leading LPG gas companies, Litro Gas Lanka and Laugfs.
Litro had sought a Rs 285 increase and Laugfs a Rs 400 increase. But the CAA and the Treasury had settled on Rs 245.
Chaminda Ediriwickrama, Litro Gas director of corporate affairs, said the price increase was "long overdue.'' He rejected suggestions that Litro Gas had petitioned for an increase in prices while the world market price, or contract price had fallen.
"We filed for a price revision [as obliged to do every two months], and this was following big increases of the CP (the Saudi-Aramco Contract Price) last year. It is true that the CP fell in March 2018 by about US$40, but it has risen by US$34 since. This is a very volatile and unpredictable market. We needed the price increase as our company lost Rs 1.7 billion last year. This occurred as our requests for a price revision were rejected, despite increases in the CP."
Mr Ediriwickrama said that when the CP had fallen between 2014 and 2016, Litro had reduced its LP gas price to Rs 1,075. "Customers were able to enjoy this benefit," he said.
He said the CAA and the other authorities ought to be more considerate regarding applications for price revisions. "We don't expect government grants to compensate for the losses, but it is unfair if our applications are going to be rejected even when it complies with the established pricing formula. Our profits are also used for nation building purposes. Last year the Government earned Rs 8.43 billion from us as dividends."
The chairman of the Consumer Affairs Authority said the Cabinet panel on the cost of living decided the prices on imported milk powder. At the meeting held at the Ministry of Finance and Media, the decision was made to raise prices.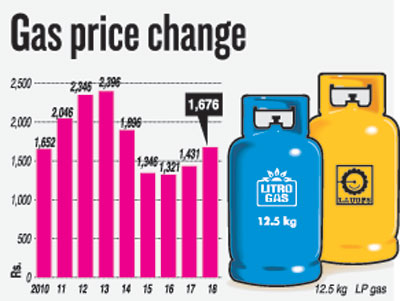 He said that the price increase is only valid for milk powder manufactured after May 5.
He declined to comment on the gas prices and said that he will explain on another day.
Meanwhile, Duminda Priyadarshana, a member of the cabinet panel on cost of living, said that the gas and milk companies had been denied a revision of prices for many years.
He further claimed that the global gas prices have dropped, but due to earlier losses, the companies had to be allowed price increases to cover their losses.
He said that in two months, the global gas price increases will be clearer and then domestic prices will be reconsidered.
LITRO GAS RAKES IN BILLIONS, PAYS BILLIONS TO GOVT

Leading domestic LPG gas supplier, Litro Gas Lanka, which is fully owned by the Sirisena-Wickremesinghe Government through Sri Lanka Insurance Corporation, booked after tax profit of Rs 3.43 billion in 2016-2017, financial filings show.

Pre-tax profit came to Rs 4.84 billion in the same period.

And the company, part of the duopoly that holds household users of LPG gas at their mercy, also paid dividends of Rs 5.17 billion to Sri Lanka Insurance. The payout to Sri Lanka Insurance increased by 1,826% from the previous year, financial reports reveal.

The billions in dividends that Litro Gas Lanka pays to Sri Lanka Insurance, ultimately improves the financial health of the insurer which then pays billions of rupees in dividends to the Government.

LPG sales of Litro Gas Lanka increased by 4.21% to Rs 24.89 billion in the financial year 2016-17.

And, Litro Gas Terminal Lanka, which is also owned by the Government's Treasury through Sri Lanka Insurance, posted an after-tax profit of Rs 1.56 billion. After-tax profit increased by 44.2% in 2016-2017.

The company, reported that pre-tax profit increased by 39.3% to Rs 1.78 billion in 2016-17.

Litro Gas Lanka and Litro Gas Terminal Lanka are fully-owned subsidiaries of Sri Lanka Insurance, which is in turn fully owned by the Treasury.

Litro Gas Terminal Lanka ploughed Rs 2.499 billion into the coffers of Sri Lanka Insurance as dividends. This was a 3,837% increase in the dividend payout from the year before.

For 15 years from 2000, Litro Gas Terminal Lanka and Litro Gas Lanka have not paid a rupee in income taxes as a part of an agreement with the Board of Investment of Sri Lanka.