First there were three, then two and then none
View(s):

A primary school in the Bibile education zone has shut down after the three students who attended it by end last year dropped to two at the beginning of this year and then none.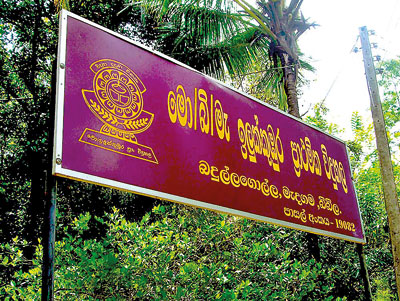 The Illikkumbura Primary school in Ihawa had classes from Year 1 to 5 and excluding the principal four teachers taught in it.
The Sunday Times learns that after the principal fell sick recently and the teachers had informed the parents of the two remaining students at the beginning of this year to find alternate schools.
Now the school is closed and its classrooms, laboratory and library are being taken over by vegetation.
When Bibile's education director was contacted she said it was unfortunate that the school was shut down due to poor attendance and she wanted to discuss with parents in the village and try and reopen the school.
An old pupil of the school 60-year-old D.M.Banda Menika 60 recalled nostalgically her schoolgoing days.
"We did not have uniforms like today. We wore coloured attire. But my parents did not value education then. However some who attended this school went on to become peons at government offices and even teachers. We respected the school second only to the temple.We hope that the school will be opened once again," she said.
Pix and text by Sumanasiri Gunatillake, Monaragala Corr