The bitter truth behind the Nidahas trophy
Is the Provincial tournament an "Ahinda's" mixture?
View(s):
Sri Lanka Cricket (SLC) President Thilanga Sumathipala has all the right to beat the drums, crash the cymbals and cry out yippee. Definitely it was a billion-rupee effort. Besides, Sumathipala saw to that, there was more than one cricket head in the Nidahas Trophy pot pouri: People who could vote along with him during an ICC battle. But, seemingly, there were no top-level cricket dignitaries in attendance from the BCCI. A sad miss.
Nevertheless, it is also interesting to know as to how 'Nidahas' Match Referee Chris Broad read his cue in such a manner, while coming to his conclusions against the ghastly aftermath of the Sri Lanka-Bangladesh cricket conundrum.
Though it was not an ICC accredited event, the Nidahas Trophy T-20 tournament brought out the necessary adrenaline levels to such a high that it kept the Lankans learning the new cobra dance and inculcating a dislike for Bangladeshi cricket. So much so, generally, though it is the Indian cricketers who are at the receiving end of Lankan cricket fans, they were waving the Lankan flag in support of the Indians, in the final.
Yes, the last two matches kept the cricket fans enthralled. In the penultimate game, it was a penultimate ball six by Bangladesh's Mahmudullah, which saw the Lankans eliminated in a virtual semifinal against Bangladesh. Then in the final, it was a final-ball six by 32-year old Indian batsman Dinesh Karthik that took a virtual Bangladesh plum away from their grasp. He thus staked a claim to another lifespan with that format of the game for India. He was a consistent performer for India during the Nidahas Trophy.
Though ending up at the tail end of the proceedings, even the little Lankans had their own sparks of brilliance, especially in the top order batting.
At the same time, this also could be counted as a healthy prelude to the proposed multifaceted T-20 tournament involving local and foreign cricketers later this year.
Going back on trail why hate the Bangladeshis'? Was it their fault or, were they going by the natural instincts of singing a "Somebody done somebody wrong" song.
When things were going good for Bangladesh cricket, with Hathurusinghe at the helm, we looked at Bangladesh cricket with definite admiration. Right in front of our eyes we noticed the ascend of their brand of cricket. Then, when Hathurusinghe did what Trevor Bayliss did to the Lankans in 2011, automatically, the Bangladesh camp was furious. To add to their woes, Hathurusinghe cemented his crossover with a series of wins against Bangladesh in his first outing as the new Lankan coach, on Bangladesh soil.
At a point in time, the then Bangladesh Captain Mahmudullah publicly stated that Bangladesh could beat the Sri Lankans, in spite of Hathurusinghe's inner knowledge of what's up with Bangladesh cricket. So, it was obvious that feelings were high and, a mere wrong 'no-ball' call, could spark off a chain reaction. Notwithstanding the apologies, the Bangladesh cricketers doing the Cobra Dance was with a purpose, I suppose.
However, did this exercise help Sri Lanka cricket as a whole, and did it help Sri Lanka towards its passage to the 2019 Cricket World Cup. In a lighter vein, did this exercise even solve any of our burning cricketing issues?
Initially, what was the purpose of the Nidahas Trophy? As for the Bangladeshis, it was an opportunity to answer to the injustice done to them. They had a coach drawn up till 2019, and midway through, the dream was highjacked from them. So, they had some questions to be answered, and used this tournament as a dip stick gauge for their confidence levels.
As for the Indians, this was a voyage of discovery! I am certain, winning the Nidahas Trophy was not their ultimate aim. That was a bonus. As for Rohit Sharma, it was his ability to win and guide the T-20 team must have been a criteria. As for the rest of the Indian gang, it was a testing ground. It was a clear re-look at the talent and experience of Suresh Raina and Dinesh Karthik, and how they could fit into the 2018 framework in T-20 cricket. As for youngsters such as Manish Panday, Axar Patel, Shardul Thakur, Rishabh Pant, Vijay Shankar, Jaydev Unadkat, Deepak Hooda and Mohammed Siraj, it was a voyage of discovery, while the clear winner of the exercise was spinner Washington Sundar who, I am sure, we would be hearing of more often.
However, the sad truth is that, the loser of this exercise was cricket as a whole. It opened an untold truth. The truth is that the third string of Indian talent is still better than what Sri Lanka or Bangladesh could offer, and an understrength Indian outfit could still win trophies overseas.
As for the Lankans, now there are more questions than answers. The biggest is that the messiah has erred, and has the Hathurusinghe bubble burst? While playing on our own soil, we ended up third best in an all Asian triangular.
Is Angelo Mathews the solution to our problems? Though he keeps falling apart and we cannot settle down to a pattern of play with him in the framework. The moment he falls injured, we have to look for three different players. One, to find a reliable captain. Two, to find a versatile middle order batsman who could hold the fragile Lankan middle order together. Three, a third seamer who can accomplish with guile.
The other all-rounder we have is Thisara Perera, but he is not consistent and definitely not captaincy material. How can we feel safe with a cricketer who would perform on his day?
Dinesh Chandimal is maturing but, he too gets caught in situations that he shouldn't be. He started his captaincy run on the wrong foot in 2011 and halfway into the T-20 campaign he was robbed of that honour, while leading the Lankans in the ICC championships, with the mantle handed over to Lasith Malinga. Now at present, the circle has turned against Malinga.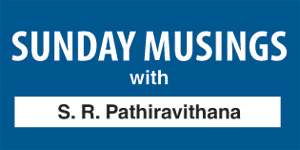 However, what is clear is that we are not grooming anyone for the job of future captain. Wouldn't it be prudent that we give more responsibility to youngsters such as Kusal Janith Perera, Kusal Mendis, Dhananjaya de Silva, Niroshan Dickwella or Dimuth Karunaratne, rather than thrusting more responsibility on players looking at the other end of the tunnel? That does not serve any purpose for Lankan cricket.
Yet, the billion dollar question is, when are the Lankans going to propel their own local cricket structure? May be Club or Provincial, but that caters to the larger needs of International cricket. I am not suggesting a Provincial tournament that is placed to garner votes for a particular candidate at the next AGM, but a tournament that would bridge the yawning gap between Lankan domestic cricket and the National grid.
Just see, we are embarking on the Super Provincial tournament. The Colombo team is captained by Dinesh Chandimal who was born in Ambalangoda and Angelo Mathews who was born in Colombo is captaining the Kandy outfit. Isn't something wrong somewhere in the mixture or else are they playing a game of "Ahinda's" cricket with national cricketers?