MillionSpaces: An innovative solution to finding locations
Raj Moorthy speaks to the CEO behind the MillionSpaces platform that aims to change the online landscape of renting event spaces
View(s):
While technology has constantly advanced from strength to strength over time, everything can be squeezed into a simple mobile phone. Time plays a pivotal role in getting things done via a mobile phone rather being physically present at a given location to get the job done.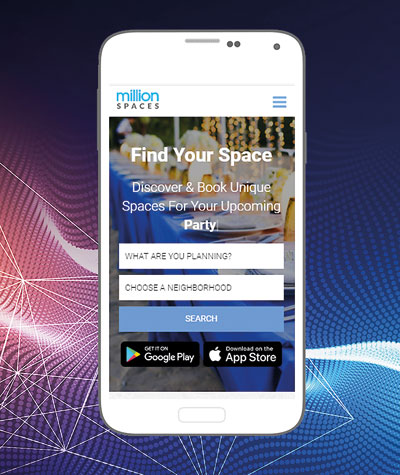 Booking a venue for a wedding, meeting or any sort of event can be time consuming if you physically have to be present at the location to make a reservation. MillionSpaces makes life easier by innovating the perfect disruptive mobile application and a website to cater to the needs of anyone looking for such venues with spaces within a short timeframe.
The Mirror Mag catches up with MillionSpaces Founder and CEO, Prasath Nanayakkara and his team to have a chat about the product.
MillionSpaces was launched by the Silicon Valley based technology solutions firm, Auxenta that started operations four years back in Sri Lanka. The company is headquartered in Silicon Valley in the US and has offices in UK, Singapore and New Zealand. MillionSpaces was launched last month in Sri Lanka.
MillionSpaces is available both as a mobile app and website. First one chooses the type of event -it may be a wedding, meeting, conference, training, photoshoot,locating a hot desk and so on. Then you select the location and finally click the search button.
At the moment most of the locations or spaces are in Colombo and the suburbs. Depending on the search requirements you can filter the available spaces. You have the option to choose whether you need an indoor, outdoor venue or both included to host a particular event. Also you can choose the number of guests expected at the event and the budget for which you are looking to obtain the space.
Mr. Nanayakkara said, "At any given day we have more than 1000 inquiries who are people searching for venues to have various types of events. There are around 150 spaces available as of now on the app. But we are rapidly approaching 200 spaces by the beginning of February." It takes some time, he added while elaborating that they receive around 15 inquiries a day on how to list their available spaces on the app.
"We are offering a unique concept where no one else offers on real time availability. Our goal is to reach around 450 spaces within February," noted Mr. Nanayakkara. He also mentioned that all listed companies on the app give more priority to MillionSpaces when making reservations. The calendar updates of booking a space happens in real time.
Mr. Nanayakkara also said, "We want to bring about global best practices and innovate . We have plans to take the home grown app internationally. There are no competitors for us in this conceptualised event spaces, even globally. We are hoping to enter the US and certain countries in Europe."