Inspired stitches
Tarini Pilapitiya takes a look at the creative outlet of sewing at Studio Stitch
View(s):
"Harboured in my keepsake box are the cross patterns my grandmother gifted me when I was young. I keep these stitches as a memoir (or proof) of the proud achievement of being able to sew – something," says Rehana Jaleel of Studio Stitch , who recalls the urge to re-invest in this handy life skill.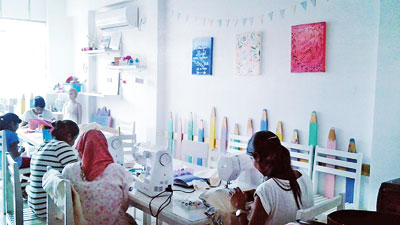 Aptly titled a "creative lounge" – Studio Stitch offers a learning space for kids, teens and adults who wish to explore a myriad of aspects of the creative industry.
Brainchild of Rehana, Studio Stitch started roughly 7 years back with small scale sewing workshops at her Wattala based home.
Rehana who has a background in fashion designing, recalls the times her mother would stitch clothes for her sister and herself. This inspired her to dip her fingers to the world of threads and fabric. However, finding a feasible job wasn't always easy with Rehana adding "There were less opportunities 10 years back for fashion designing." Through support of her family Rehana decided to embark on small scale sewing workshops in 2010, whilst making time to spend with her young daughter.
She always enjoyed designing clothes or kids and bridal wear – taking customized orders from her loyal client base. Soon Rehana built a business with her own hands – quite literally, even gaining ties as a supplier with some prestigious clothing brands in the country like Abstract.
Her workshops took a turn for the better as she was visited at Wattala by foreign expat Vanessa Lenzinger, who had received word of Rehana workshops through Facebook. Vanessa impressed with Rehana's craft immediately referred her to the café Milk & Honey where Rehana hosted her first sewing workshop out of home, soon followed by more workshops at KOPS, The Good Market, The Art Loft and Arty Labs etc.
Officially putting a brand name in 2015 Studio Stitch has had a total of 4 outlets to date. From the Yamaha music school, Hyde Park corner, Wattala – her recent venue is a small but trendy studio in Rajagiriya.
"No one was doing sewing workshops," Rehana comments chuckling "I guess people don't have the patience." She openly admires schools which make sewing a compulsory subject for students.
The shop is a creative oasis from its busy surroundings, situated along the roadside of the hubbub of the Boralle-Rajagiriya road. Once Rehana shuts the door on the hectic exterior we too were captivated by the quirky, whimsical atmosphere of Studio Stitch – the pastel shades, motivating posters and trendy prints started to churn creative cogwheels.
Rehana shares that she always tries to put an innovative twist to make the sessions "fun". Tackling a variety of skills; Art and Craft, Baking along with Sewing Rehana encourages and supports her students to try their hand at all trades. Her classes even include young boys from roughly the ages 5 to 13 years. "In my opinion boys also should learn everything," she affirms scoffing at the quintessentially gender stereotyped life skills.
Her creative lounge tackles a lot of "hands on stuff" she says. Her class times are somewhat flexible depending on the availability of her students, however her regular kids sewing class is on Sunday afternoons and adult sewing classes are usually on Wednesday mornings from 10 am to noon.
Wanting to empower other mothers, women and students of her classes Rehana has also launched an online store – "Style Boutique" where Studio Stitch students can produce and sell their own designs and creations. She flips through a portfolio filled with pictures of her student's innovative creations –beaming proudly as she gazes at the various fashion designs of her young pupils.Their Facebook page proudly hosts young students holding sketches of outfits they have designed and are wearing themselves have hand sewn. Even the detailed embroidery of her older pupils are an achievement for Rehana .
Whilst also doing an amalgamation of work like handmade jewelry, crochet, embroidery etc. Studio Stitch has also embarked on hosting birthday parties. With a total of 15 parties under their belt Studio Stitch has catered to baking, paining, arts & craft parties. "It's endless," Rehana shares her growing venture keeps expanding sponging in more creative corners into the four walls of Studio Stitch.
Throughout her colorful journey Rehana hasn't lost touch of her roots – She launched "Petite Princess" an online clothing store where she personally undertakes orders for kids clothing.
"You hardly find places where you can just sit around and paint," she comments adding that average play areas are just outlets for kids to burn energy. At Studio Stitch she puts their energy to good use whilst also teaching them lessons of patience and concentration.
Check out Studio Stitch at No 1580/1/1, Borella road, Rajagiriya (close to the Sampath Bank).
For more information be sure to check out Studio Stitch Facebook page facebook.com/StudioStitchColombo/