PEO TV commemorates the doyen of Sinhala cinema
By Kaveesha Fernando
View(s):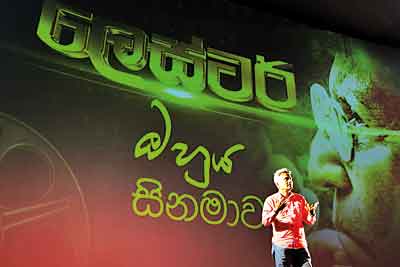 SLT PEO TV organised a felicitation ceremony to commemorate the work of legendary film-maker Lester James Peries. Titled "Lester – he is the cinema", the event featured speeches from experts on the work of Lester James Peries, short video clips from his films and live music, also from his films.
Lester James Peries is known for making what is often regarded as Sri Lanka's first film devoid of Indian influence – Rekhawa. He has also directed landmark films such as 'Golu Hadawatha', 'Delowak Athara' and 'Ahasin Polawata' and is widely considered to be the father of Sri Lankan cinema.
Film critic Ajith Galapaththi explained how prominent British film director Ralph Keene (who was working in Sri Lanka at the time) asked Lester to return to Sri Lanka from England, where he was accompanying a relative, to assist him in directing films. This was after Lester won an award in England for a short film he made.
Film director Somaratne Dissanayake stated that although Lester came from a Roman Catholic family which spoke only English at home and went to St. Peter's College, his maternal grandmother spoke to him only in Sinhala and through her he learnt a lot about Sinhala culture and traditions. He also said that the film industry at present is slowly dying due to Indian influence and hopes that Lester's legacy will be preserved.
PEO TV channel 365 is televising Lester's films every Saturday and Sunday this December at 9 p.m.