Appreciations
View(s):

An officer of rare stature

L.D.C. SAPARAMADU

It is indeed a privilege to pen this epitaph as a token of my gratitude to the late Chandra Saparamadu with whom I was privileged to be associated when he served as a Senior Superintendent of Police in the Kurunegala Division and with whom I remained in constant touch till his recent demise. I was privileged to work under him until my premature retirement as an ASP from the Police. I was indeed fortunate to meet him whenever I visited Colombo. As a mentor he always stressed that 'the man who reads, is the man who leads.' He encouraged us to read and write legal enactments, law reports and discuss various subject matters in order to diversify and to expand our personal lives from the culture we cultivated as Police personnel.

As Police Officers, there was joie de vivre when we served under him; we worked proudly and diligently. Duties were discharged without fear or favour as a clear manifestation of the high esteem in which we were held. Such a rare phenomenon cannot be found today. 'Sapare' as he was affectionately known by colleagues and 'Chandra' by his nearest and dearest, was indeed a man in a million.

Mr. Saparamadu never tried to outdo others; he constantly adhered to the rule of law. He led by example, acted on the courage of his own convictions and was a man of unquestioned moral uprightness. He was always immaculately turned out and on ceremonial occasions dressed in full regalia, proudly displaying his medals to set an example to his subordinates. He never sought personal gain, shunned media publicity and never lost his own identity. The bouquets and brickbats came in equal measure but he fielded them all with equal aplomb.

He had a tremendous capacity for staying cool under the most hazardous circumstances, never cracked under pressure and when he was attached to the CID, never wavered in times of crisis. Instead, he always stood tall and strong. He steered away from political leanings and never hesitated to call a spade a spade. It was his exemplary set of values that guided him to the post of Director CID. His dedication to the CID was legendary as he carried out the most stressful assignment by tackling it head on rather than delegating it. He was a man of action and always commanded his men to do their duty professionally or leave with dignity. He expected nothing but unswerving loyalty from his men.

Though we were different in rank, I kept in close touch with him and maintained a good working rapport over 30 years. We had many common interests which helped to maintain our personal association. I always cherished his company and his conversations and we grew to helping each other in good times as well as sad times.

The story of his long and meaningful career in the Police would undoubtedly fill many volumes. However, I would like to highlight a famous case in 1984. On a complaint made by me, the CID filed a case on the AG's instructions against Sunil Ranjan Jayakody, at that time the powerful MP for Polgahawela. At that time, I was serving as Officer-in-Charge, selected by the Department in 1984 and transferred out within a very short period of time due to the MP.

Mr. Saparamadu, then SSP, Director CID, Asoka Wijetilake, then an Inspector who later became Senior DIG CID, tactfully and methodically handled the investigations under the direction of the Attorney General's Department, clearing all the legal abstruse areas, lending me a helping hand every step of the way.

It was an unforgettable incident because President J.R. Jayawardene, summoned Mr. Saparamadu to his private residence 'Braemar' at Ward Place and requested him to produce me in order to determine the relevant facts and the veracity of my complaint. After listening to my lengthy explanation supported by facts, Mr. Saparamadu stood by me even though I was a young inspector who had fallen into serious trouble with the MP in power. The MP had protested to the President.

Mr. Saparamadu related the facts focusing on the relevant issues and after listening with equanimity, President – Jayawardene paused and said 'OK go ahead and institute criminal charges against the MP'. Subsequently, the MP was charged in High Court in Colombo CMC 6442 by the Attorney General's Department. Finally, the MP was sentenced to one year's rigorous imprisonment with a fine; the judgment has gone down into a new chapter in the annals of Police history, where a Police Officer solely by his evidence fought against a most powerful government MP. Mr. Saparamadu with the then IGP Ernest Perera and DIG Personnel Mithra Ariyasinghe and a few straightforward Police Officers came to my rescue and went out of their way to see that I was not victimized further.'

Mr. Saparamadu was blessed with a brilliant visionary mind and was a pragmatic man of action. He was also a man of indomitable courage coupled with a burning ambition to succeed in his Police career, against the most unbelievable odds. From relatively humble beginnings through his love for learning and sheer hard work, he was able to reach the pinnacle of success.

His personal motto was that life is not measured merely by materialistic comforts but by basic human qualities.

Sir, before I bid you adieu, I would like to quote what I read recently, ''we make a living by what we get, we make a living by what we give.'' Sir, you were the embodiment of that and I wish you to reach the highest state of enlightenment through your long voyage to attain the supreme bliss of Nirvana.

 Sarath Dhanapala
---
A multi-faceted man
D. H. Jayaindra Fernando
A remembrance of my grandfather (D.H. Jayaindra Fernando) cannot be written without the mention of his greatest love; building and construction. The oldest son of Jason Fernando, he hailed from a family dedicated to the construction industry in Sri Lanka. He was the driving force behind many construction projects in Sri Lanka, such as the original Savoy cinema and Mount Lavinia Hotel, however his greatest achievement was truly a monument of love.
He spent many months travelling to Kandy, to supervise the building of the Kandy Market which was inaugurated on September 23, 1959 under the auspices of Prime Minister S. W. R. D. Bandaranaike. The constant visits to Kandy to the building site of the Kandy Market was also fuelled by the presence of Ms. Devika Perera, an undergraduate at the University of Peradeniya at the time, my grandfather's greatest inspiration. They were subsequently married in January 1960, and were the proud parents of Deepa Wijetunge (nee Fernando) and Sajit Fernando.
Jayaindra was a man of many talents; he was an artist, with the ability to design jewellery and produce beautiful drawings of trees endemic to Sri Lanka. He was also a very talented cook; I still recall vivid memories of how we would all gather in his kitchen every Friday after school, to assist him with his latest Chinese culinary dishes. However this did not include cleaning up thereafter, a task which always fell to my grandmother. A great lover of good food, he would always take the whole family to any new restaurant that opened in Colombo, attempting to improve and recreate the dish he had subsequently.
He was always generous with his family and friends equally, lending a helping hand in any crisis, with any form of help needed. He was a dutiful son to his parents, as well as a pillar of strength of all his siblings.
My grandfather was a pious Buddhist, and I am always proud of see tables donated by him and built by Rovim Concrete Works Ltd. (where he was Chairman) at various temples throughout Sri Lanka. He was true follower of the Dhamma.
Seeya, I feel truly blessed to have been able to spend 29 years of my life with you, and I hope I will always remember and follow the principles of life you taught me. I feel privileged to have learnt our family history from you, and will always cherish the many chats we had over all those years.
I miss you every day!
Until we meet again in Sansara.
"To live in hearts we leave behind is not to die."-Thomas Campbell
 Janani Wijetunge Palihakkara
(Grand-daughter)
---
Her music was for the glory of God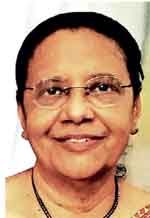 Joy Gnanadurai
Joy Gnanadurai answered her call on 30.11.2017.She was born on 16.7.1946 to James Ratnam Williams Jayaratnam and Joyce Jeyamani Chelliah. Joy was a student of Chundikuli Girls' College Jaffna. Her passion for music started early during her school days. She was quick to get through all the music exams of Trinity College of Music, which was the only foreign exam for western music at that time in Jaffna.
Soon she joined her school and church choir. Due to her ability and experience in this field, she became the choir leader and started conducting choral festivals in Jaffna. Her family was all musicians and it was a treat to watch them 'harmonize'in singing during family functions.
Joy married Richard Gnanadurai on  20.9.1975. They were blessed with a son Dhilan, who carried the baton from his mother and is now a musician in UK, training opera singers, church choirs and also conducting music classes.
After the war in 1990, the family moved to Colombo. Joy continued her career in music, teaching music, conducting choirs as well as being a church organist for Holy Trinity Church Wellawatte, St Paul's Church Milagiriya and a few other churches in Colombo. Whenever she was requested to play for special functions, she always readily obliged and said "It was for the Glory of God". My children were sent to Joy for their music lessons. I can proudly say that one of my children won the All Island Prize at the Trinity College of Music examination, all due to Joy's untiring efforts. She took pride in her profession and was a teacher "par excellence". I had no choice but to send my grandchild also to Joy for piano lessons.
Some of her brothers –Dr. Joe, Fredrick and Festus have already passed on.  She leaves behind her husband Richie, son Dilan, daughter-in-law Sabeena and siblings,Gerald, Anton,Dharman ,Grace,Yoges and Ruby.Joy must be now singing 'It is well with my soul' with the Lord. May she rest in peace and rise in glory.
 Chelvam Ariaratnam
---
Dada, memories of you only grow stronger
Bryan Paul Senanayake
I could tell you how much I miss you
But then, you know that's not new
Your memory only gets stronger
As every year passes through.
There's not a day that passes by
That you're not in thought and prayer
A memory engraved in my heart
Loving thoughts I'd always bear.
I wish I could've said goodbye,
That early morning when you left
Told you how much I love you
And that you were the very best.
Tears I cry in solitude
And thoughts I hold of you
Wishing you were beside me
To see the days pass through
I wish you could see your grand kids
And teach them all you knew
Tell them you love them
And make them feel brand new.
I know you are with Jesus
Your faith always so strong
A heavenly abode with Mother Mary
Is now where you belong.
The years don't make it easier
They say the pain would go
But that's so far from the truth
As every day I miss you more.
Your loving daughter,

Shima
---