Harmonious performance of friendship and music
By Purnima Pilapitiya
View(s):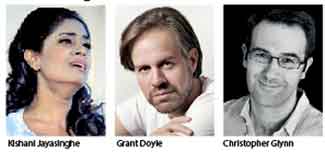 2017  has been an eventful year for Kishani Jayasinghe.In addition to her career as a singer she was appointed "Deputy Director of Programmes at the SAARC Cultural Centre" as a member of a team working toward building intercultural ties between SAARC nations through Art and Culture. She also established the "Kishani Jayasinghe School of Voice and Performance" – sharing her knowledge and creating and nurturing a love for music, song and the performing arts, in children even as young as four.
2018 is shaping to be an equally adventurous year for her. The internationally acclaimed Sri Lankan soprano is set to perform with other international artistes in venues from Brazil, Bangladesh, and the Netherlands to London. She will however, kick off her eventful year in January at home, with "Kishani Sings …With Friends From The Royal Opera House". Marking her first show for the new year, music lovers will not only get to hear the operatic star's diverse and memorable repertoire but also be given a chance to see her perform together with two other well known international artistes. Joining her on stage will be her friends and peers – Australian baritone Grant Doyle and Grammy award-winning pianist and accompanist Christopher Glynn.
A performance by the three friends; from three different parts of the world (Christopher from England and Grant from Australia) seemed like the perfect way to introduce top quality, accomplished musicians to the Sri Lankan stage, Kishani says.
Kishani's friendship with Christopher began at the Royal Academy of Music in London and continued as they worked for the Royal Opera House, Covent Garden. "He was talented, extraordinary, versatile and just simply a brilliant musician who had magic fingers which were able to create 'orchestrations' with a piano!" The Grammy winning pianist has worked with several celebrated operatic singers such Sir Thomas Allen, John Mark Ainsley, Sophie Bevan to name a few. Christopher's first performance here was in 2009 at a charity concert for children and the arts in Sri Lanka. Flying in the day before the concert when the scheduled accompanist from Sri Lanka cancelled at the very last minute, it cemented an already beautiful friendship. His visit next month is a reunion that is long overdue, she adds.
Although this concert will mark Grant's first performance in Sri Lanka, the Australian baritone has been performing together with Kishani since they were fellow Artistes at the Young Artistes Programme at the Royal Opera House. Despite being a few years ahead of her in the programme, the two would collaborate frequently. She describes Grant as "the most generous of artistes", whether it is due to his stage presence or the velvety richness of his tone- which Kishani can't help but describe as "creamy dark chocolate!"
Clearly a lively perfomer, Kishani takes us back to their days working together as opera husband and wife as the Count and Countess in Mozart's Marriage of Figaro for Garsington Opera. "As you can imagine there was as much laughter and fun as there was creativity and professionalism!"The idea to perform together in Sri Lanka has been a long-plotted plan. "When they both happened to be available at the same time, despite their hectic performing schedules, it was as though it was simply meant to be!"
Despite all three artistes being classically trained, the programme for the evening will showcase a wide range of musical styles and genres. From popular operas which are the mutual link between the three performers  to Broadway classics and lighter, contemporary pieces, Kishani wants the evening to be a "performance that everyone, whatever their musical stylistic preference, can enjoy".
 "Kishani Sings …With Friends From The Royal Opera House " will be held on January 8 at the Lionel Wendt at 7.30 p.m. Tickets are priced at Rs. 7500,Rs. 5000, Rs. 3750, Rs. 3000 and Rs. 2500 (balcony). For advance ticket bookings contact 0718867071.