No silver bells for festive shoppers and traders
By Shaadya Ismail
View(s):
Bargain sales are galore and the colourful decorations gave a festive mood to the city and suburbs in the weeks leading upto Christmas — but the rising cost of living also had its impact on shoppers.
Traders said business was less compared to last year with prices rising and competition also more severe.
Pettah, considered the business hub-at one time, had fewer people on the streets even on Friday with only the weekend to go for Christmas. Three-wheeler drivers also said the number of hires by shoppers were low compared to previous years.
Colombo University's Economics Professor Sirimal Abeyratne told Sunday Times that according to a recent survey the cost of living has risen significantly.
"Every year, commodity prices increase. At the same time there are market problems where people can manipulate prices despite the widespread belief that market prices are determined by the demand and supply," he said.
According to Prof. Abeyratne, the prices generally go up during festive seasons and this year the prolonged drought also contributed to it.
He said that the Central Bank of Sri Lanka was taking measures to control inflation and also curb the rising cost of living.
Cinthia Jans is a regular shopper at Pettah during the festive season. She says clothes, food, and most of the items were expensive this year and therefore she bought much less than last year.
K.A. Sumanasiri, a 60 year old resident from Colombo, said he was worst hit by the big increase in the price of vegetables.
Wholesale dealer M.M.A.Wahid said the supply of goods had decreased while prices were increasing.
"People go for sales to buy goods at a lower price. But prices are high even at the so-called bargain sales," he said.
Wattala resident Dumil Kumara Perera has gone shopping for school items.
He said school items were not so expensive but prices of most other items had gone up.
From Bopitiya Jenifa Nimali came all the way to Colombo to buy gifts for family members, relatives and friends. But she was disappointed to find that Colombo prices were high and they were still higher in the suburban areas.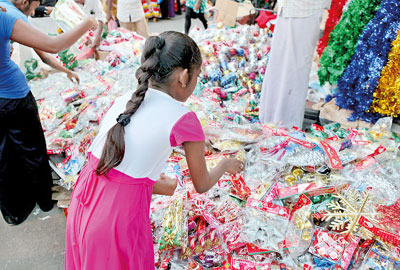 Colombo fruit seller Abdul Carder said his customers complained of high prices. But this was his source of living and he also had to sell at a higher price.
A similar story was told by Kirullapone Vendor N.C.Sathyakumar. He said people wanted goods at lower prices, but they could not sell at low prices because they also had to live.
He said he had been selling clothes for 35 years, but this year was one of the lowest for sales.
Toy seller S.H.M. Riyas, in the trade for about ten years, said the number of buyers this year was far less and customers had started coming only by December 10 while in earlier years the sales had begun at the beginning of the month.
Hawker M.K. Ashraf has been selling Christmas decorations. He says this year their prices and the shop prices were almost the same and therefore his sales had gone down.
Mohomed Rizwi has been selling artificial Christmas trees for the past 15 years and he said that in previous years he sold large numbers of trees but this year the number was less than 400.
Traders fined Rs. 8.6 m for violating price laws

As a means of protecting the consumers during a time when they can be duped by sellers the Consumer Affairs Authority (CAA) has deployed teams in and around Colombo to ensure certain items are sold at prices gazetted by the Government.

These items include dhal, dried fish — Katta and Salaya — and coconut.

CAA Chairman Hasitha Tillekeratne said that upto December 21, the CAA teams had conducted 2,084 raids, for this year and more than 2000 people were taken to courts. He said some of these offenders were fined and the total amounted to about Rs. 8.6 million this year. The CAA chairman warned the people to be aware of items that are being sold though they were unfit for consumption because they had passed their expiry date.