Making-maths difficult policy: Teachers, students give zero marks to Examinations Dept.
View(s):

The Examinations Department will have a review on the marking of the G.C.E.(Ordinary Level) Maths paper amidst complaints that the paper was difficult for most students.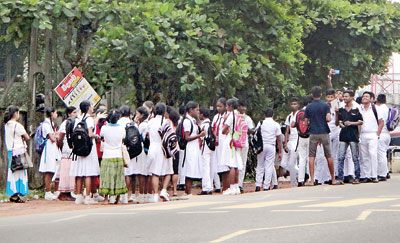 Commissioner General of Examinations Sanath Poojitha told the Sunday Times after the Examination is concluded they have a programmme known as 'controlled marking' for each paper where samples from answer papers will be taken into consideration and the marking scheme will be adjusted.
He said a team of about 20 consisting of teachers, teachers marking papers and those who set the papers will be looking into the issue.
'Since there has been concerned expressed by the students will carefully check if the marking scheme should be adjusted', he said.
'We will ensure that there will be no injustice to the students', he said.
He said that if students obtain 'A' passes at the O/L for a subject without having the required quality it would affect them at the A/l classes.
The moves came after students who sat the Mathematics paper have raised concerns about the high standard of the paper.
They have complained to their parents and teachers prompting them in turn to raise the issue with examination officials in the Department.
The second paper for the Mathematics subject had caused the concern.
A cross section of teachers and tuition masters also confirmed that the paper standard was higher than the usual papers in the past few years.
Niroshan Gamage a master attached to a popular tuition classes in Colombo told the Sunday Times that the issue had been caused with the introduction of new standards in the Maths paper.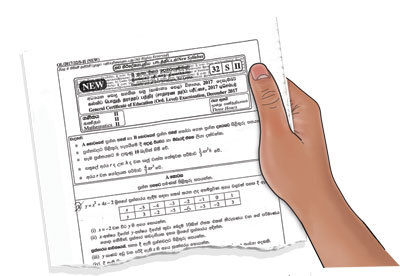 He said in the second paper there are two sections from which five questions each should be answered from six questions each in the paper.
Of five questions each answered one each to be answered are aimed at testing the knowledge of high standards.
'Usually inorder to answer the high standard questions the students should have a good overall knowledge in maths collected for a couple of years to answer these questions. Though the question is based on the syllabus a high standard is needed', he said.
The Sunday Times learns that though the system was first introduced in the last O/L examinations, the questions were not too hard last time.
A teacher attached to a government school said, that the first question paper for maths appeared to be easy indicating that obtaining a simple pass for the subject would be easy.
General Secretary of the Ceylon Teachers Union Joseph Stalin told the Sunday Times though they have no objection in maintaining standards of the examination papers the students concerns should be taken into account and a justifiable solution should be offered.