Death bells for festive season: 50 road deaths in eight days
By Shaadya Ismail
View(s):
A major increase in accidents has been reported during the festive season — with more than 50 deaths in the past eight days.
In the latest incident, two people were killed and 45 wounded when a Matara-Colombo bus allegedly driven by the conductor ran off the road and into a precipice at Eheliyagoda.
According to the Traffic Police Headquarters, from December 15 to December 21, 44 deaths have been reported out of 43 fatal accidents. At least 10 more deaths were reported in the next two days.
Police Spokesman Ruwan Gunasekara said drunken driving and over loading were among the main reasons for accidents during the festive season.
He said though the police were doing their best, it was shocking that at least eight people died everyday due to accidents.
SP Gunasekara said instruction classes and lectures were conducted to educate the people regarding the gravity of accidents, but apparently few were taking them seriously.
Meanwhile in Kattuwa, a 36-year-old woman driving a car had collided with an oncoming Halawatha-Colombo train on Friday morning.
Negombo Police said that although the railway crossing was unprotected without any gate, the signals and the bell were functioning at the time of the tragedy. It is alleged that the woman driver was talking on the mobile phone when the collision took place. According to Negombo Police, there were three 16-year-old girls in the car at the time of the tragedy. One girl was killed while others seriously injured. They are being treated at the Negombo hospital.
Yet another accident was reported on Monday (18) when two girls were knocked down on the pedestrian crossing by an on coming staff service bus. The tragedy occurred at Balangoda.
According to the Balangoda Police, one girl is being treated at the Balangoda Hospital while the other girl has been transferred to the National Hospital of Sri Lanka (NHSL).
According to police, the driver was produced in court and remanded.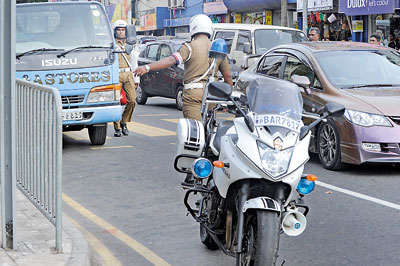 At Thalangama, on Thursday night, two boys riding a motorcyles had crashed into a lamp post and both killed.
A 23-year-old youth died after he was knocked down by a speeding van at a pedestrian crossing.
Meanwhile an incident was reported in Kalutara on Tuesday (19), when a 60-year old businessman tried to over take a lorry when the door of the lorru had accidently opened out and and knocked the man down.