A beautiful view
By Nirmalie Alahakoon
Mirror Magazine caught up with the always-on-the-move wildlife photographer, Lakshitha Karunarathna, who recently won the coveted Windland Rice Smith Award for 2017. Here, he share with us his passions, achievements and concerns about local wildlife
View(s):
"I have been observing wildlife and nature for a long time. Ever since I was a kid I have been fascinated by it," says Lakshitha Karunarathna, multiple award winning photographer. His latest win – the Windland Rice Smith Award for 2017, is one of the two biggest wildlife photography competitions in the world (the other being the Wildlife Photographer of the Year). For Lakshitha more than the prize money it is the recognition that excites him as his entry is being displayed at the Smithsonian Museum, one of the biggest and most visited museums in the world. The winning image will be displayed there for one year he tells us. In this year alone, Lakshitha has won 250 awards from 38 countries.
As a child growing up in Opanayake, about 25km from Ratnapura, Lakshitha was an avid fan of Sir David Attenborough's documentaries and recalls watching them all on VHS tapes. "He was my biggest inspiration. When I first saw one of his programmes, I was maybe 10 years. He had a series; BBC live, BBC earth. And the way he narrated it, presented it, it was something I had never seen before."
Lakshitha was so enthused by what he saw that he developed a taste for watching nature documentaries, both local and foreign, whenever he had the time. "This was a big time hobby. It still is." By profession Lakshitha is a tea taster. Photography remains one of his hobbies, along with travel and reading. "I never wanted to be a photographer. It was never on the cards," he smiles. His biggest passion remains the same; nature and wildlife.
So how did he get into photography? "When I got married in 2012, our wedding photographer, Rasanga Dissanayke, he was a very interactive person. I was really interested in the way that he was going about it and how he got the background to blur and the subject in focus. I was asking questions, and he took the time to explain.
With that I became interested in photography."
Lakshitha bought himself a mid-range Canon camera and started practising with the kit lens. Lakshitha is self-taught when it comes to photography. He honed his skill by watching YouTube and other online tutorials. He perused online profiles of outstanding wildlife photographers. "One is David Lloyd, he's one of my big time inspirations. And Stephen Dalton. Some of the things he achieved in the 80-90s with film cameras, we are still trying to achieve today," he says. Popular wildlife photographers such as Bence Mate and Will Burrad-Lucas incidentally were also in the running for submissions for this award, but Lakshitha's was the ultimate winner.
As he grew more confident in his skills he bought some third-party Sigma lenses through a friend in Dubai. Encouraged by the good reviews and feedback, he then went on to submit entries for international photo competitions.
"I wanted something out of the box. Not just an animal standing. I wanted to do black and white. Even now my winning image is a back and white. Back then I was so afraid because in a way it was never done in Sri Lanka. Normally when you say wildlife, it's colour. But then I saw David Lloyd's work; he is the master of black and white photography. Those are the images that changed my mind," he says explaining his initial hesitation with the medium.
He goes on to explain what now motivates him. "When you have a picture, especially a difficult one, it gives you a sense of achievement. Winning is good but this self satisfaction you can't buy it. Some people think it's torture to stay in one place for hours, sometimes waist deep in water, worrying about your equipment. There are times you don't get any shot. If this was easy I wouldn't enjoy it," he admits.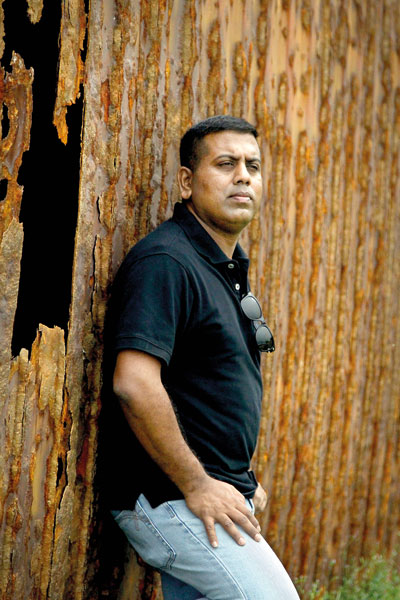 Not everything about photography, and wildlife photography in particular, is stress-free however. There are many frustrations, many things Lakshitha wishes he could change, or improve. One of his pet peeves is people not knowing how to behave when on the field – loud, disruptive crowds, with no regard for nature, wildlife or other people. "You go to a place you want to enjoy wildlife. Most people who come for photography they dress appropriately.
They don't dress in red," Lakshitha says. adding that the younger generation is quite mindful and considerate however there are those whoe aren't as respectful of their environment. Lakshitha is quick to point out that not everyone is like that. "I know Dr. Lalith Ekanayake, he is very strict about these things. Before me he was one of the photographers who made it to the international level. Then Asela Karunaratne, Palitha Weerakoon. These are the pioneers. Prof T U S Zilwa. They are very supportive.
They've encouraged us. We compete with each other, but they give us important feedback, but most other wildlife photographers are not like that."
Having witnessed conservation attempts internationally, and the regard for wildlife and nature in most developed countries, Lakshitha laments the absolute lack of conservation efforts in Sri Lanka. "In Sri Lanka conservation is very poor. For a country our size the biodiversity is so great. The ratio, the number of endemic species is fantastic. But there is so much deforestation happening. There is no policy at government level. For instance the wind farm to come up at Mannar is a migratory zone for birds. On the fourth sandbank near Mannar island there was a breeding site. But this year there is no activity."
Lakshitha explains his experience in the UK where he witnessed the regard for wildlife conservation on an island. "On Staple Island in the Farne Islands there is a path along which Arctic Terns lay eggs on either side of the path. You have to pay to visit. If there is a threat of rain they don't issue the permit. Why? Because if you run down, the birds get excited and the eggs are exposed. There is nothing like that here. Look at Yala, we have to clearly restrict the jeeps. But it's not being done. We have to take strict measures, regulate."