'SWAROOPA' in cinemas
View(s):

Dr. Dharmasena Pathiraja's newest film 'Swaroopa' (Self Image) based on Franz Kafka's story 'Metamorphosis' will be released in theatres around the country on September 8. The film will be released at Regal Colombo and a few other theatres in the suburbs.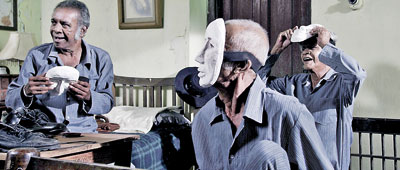 'Swaroopa' narrates the story of Gregory Samson and his family of father, mother, sister assisted by a maid within the social transformations taking place in late colonial and early postcolonial Sri Lanka.
Situated within the contours of a rented apartment of a middle class family, the story mainly focuses on Gregory who is a travelling salesman for a pharmaceutical company. He is the main provider of the family.
Among his expenses Gregory bears the bulk of the financial responsibilities for the rent of the apartment, the violin lessons for his sister, and the general upkeep of the family. As a young medical representative who has to travel a lot, he forms relationships in his travels which do not seem to be lasting. One fine morning Gregory wakes up to find himself transformed into a giant insect.
The film stars W. Jayasiri, Nita Fernando, Thusitha Laknath, Reeni de Silva, Daya Tennakone, Wimal Kumara de Costa, Lakshman Mendis, Vishvajith Gunasekara and D. B. Gangodatenna, Behind the screen cinematography is by Donald Karunarathna, editor Elmo Halide and musical score is by Nadeeka Guruge