A passion for the culinary industry
By Joshua Surendraraj
Young Sri Lankan Chef Shanil De Mel who heads the kitchen of the Workshop Bro's in Melbourne speaks to the Mirror Magazine about his experience
View(s):
Young Sri Lankan born Chef Shanil De Mel is quietly making a name for himself in the Melbourne culinary industry. Having braved a restaurant kitchen of popular celebrity chef Gordon Ramsay he has moved on to own a stake in the 'Workshop Bros' café/ restaurant, whose kitchen he heads as chef and opened in Glen Waverley, Kingsway in June this year.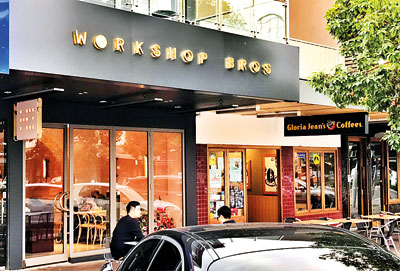 Our interview via Skype was an interesting one. Shanil's story is one of passion, perseverance and a dedication to a certain standard of cooking. Throughout the past ten years, he has worked his way up the ladder in some of the renowned, yet challenging kitchens in Melbourne, Australia. Today The 'Workshop Bros' café/ restaurant, is slowly making a name for itself, owing to its funky menu, which is infused which Asian flavours.
It was his father who sparked an interest in Shanil, when he suggested that, he get some work experience at Ceylon Continental Hotel, a few months before he was set to move to Australia. "I worked in the kitchen for about three months and enjoyed it," he tells us, adding that it was then that he thought of pursuing the path.
For the last ten years Shanil has worked in different restaurants, cafes and five star hotels. Back in Australia he started off with studying cookery and soon got on as a kitchen hand or a dishwasher at a function centre. His first opportunity as a cook was under Sri Lankan chef Don Perera, back in Melbourne.
"He was the first chef who gave me a proper chance," says Shanil. However, his work ethic is backed by the experience which he gained throughout his culinary journey. The top of this list dates back to 2012, when he completed an industry placement at Gordon Ramsay's 'Maze' kitchen in Melbourne. He was 24 at the time.
Naturally this revelation prompted the question of what it was like working under the celebrity chef, known for his profanity and high standards in the kitchen. "What we see on TV of Gordon Ramsay, is exactly what you get at his restaurants," Shanil replies with a chuckle.
He explains that the experience at 'Maze' was one of the toughest he had encountered. "At that time I really wondered if this was something I wanted to do, if this was something I wanted to stay in for the long haul," he tells us. It was his perseverance which won in the end. "Everybody, in any industry has bad days and you've just got to fight through it, especially if it's something you really love."
At 'Maze' there was a lot of thought put into the food. This meant that every single dish and element on the plate had to be perfect. "That's where the stress levels are really high I guess, because there's no room for any mistakes," he explains, recalling that if one element on the plate wasn't perfect, there was no point in taking it up to the head chef, because you knew it was going to get chucked away.
It was this discipline and level of standard, which resonates in Shanil's food today. The two menus at the Workshop Brothers, designed by Shanil is more modern Australian with an Asian influence.
The brunch menu would feature food such as a simple Italian Risotto with Kimchi instead of the normal marinara mix, XO baked beans etc. While the dinner would include Asian spiced chicken wings, yellow curries, or a beef jungle curry etc.
"We are located on a really busy street and maintaining that high standard is really important, because if we get one customer who has a bad dish, they're gonna spread that to another ten people, so we're losing not just one customer but about ten customers," he explains. Shanil acknowledges that though they may not match the standards of Gordon Ramsay, they try their level best to maintain their own high standards.
Shanil has always been a quiet person and was too shy to ask questions at the start of his career. But he closely watched how his peers handled things, whether it came to cooking or managing people. He now incorporates all this knowledge into his restaurant. To him the key is to properly manage his staff. "It's been really hard to initially attract chefs and it's hard to retain them, because we tend to move from job to job very quickly, since it gets very stressful."
Right now his tasks are to make sure that his team does their job properly and maintain a pleasant work environment for them. "If you're overworked, then you think you're gonna get a better job and you leave. I want to prevent that from happening. So managing my staff well has been my priority. I know it's stressful but we got to have a joke around once in a while to lighten the mood a bit."
For Shanil the days are early and long. He puts in almost 17 hours a day (6.30 am to 11.30 pm), running the kitchen at the restaurant. This is the first business and kitchen that he has opened and as he explains, there are a lot of things which he has to do in the restaurant, aside from his duties as a chef. But he acknowledges that although it's been hard, it's also rewarding at the same time.
"I hope to get the restaurant into a position, where it could run itself without me and then, I would like to get onto a new venture, preferably another restaurant."
Shanil is certain that he's found his calling, which is to run a restaurant. "I don't think I see myself in any other industry. I've worked in hotels as well but I don't see myself there either." He tells us, his passion is restaurants and hopes it stays that way for a long time.