Voice for cricketers: The untold story
View(s):

The latest episode in the Lankan Cricket crisis is the Cricket Manager-Player conundrum. It is bothersome and the other day, even National Captain Angelo Mathews openly discussed the subject. The Lankan social media is overloaded with it.

At this end, we were fortunate to have a chat with the man in charge of the Sri Lanka Cricketers' Association, Ken de Alwis, and what he had to say about this episode is very interesting.

"The Association was started in 2002, purely to assist cricketers and be their go-between with the Board. We felt the players could not focus on the game properly, as a result of the questions and answers posed to them by the authorities. It went along fine for a long time.

"Then, from 2006 to about 2011, we even negotiated their annual central contracts with Sri Lanka Cricket (SLC). It went off well and, for 'Services Rendered', the Players Association was paid a small fee, as we were engaged in an honourary job. In return, we utilised the money we received from the present cricketers, to help cricketers of yesteryear. Sometimes, we even helped club cricketers, some of whom were not paid anything at that time. So, with that income, we helped them out with cricket gear and other facilities. This move came from the cricketers themselves, as they felt that, their less fortunate brethren should be given some sort of encouragement. In reality, that is why they were a part of the association. They wanted to know that, in spite of them making good money from cricket, they were also prepared to chalk up a portion to help others. At the same time, they were a part of the development plan of cricketers, and we were given a share of 1.5 per cent.

"Then, suddenly, it came to a grinding halt. Surprisingly, the person who made that move was a former member of the Cricket Players Association himself. Sadly, we felt that, the persons who took that decision felt that the association was getting too much attention and prominence, and it was not in line with their egos."

This resulted in the player managers, who were silent partners in this episode, getting more prominence and then, they began to play a more active role in the player's activity. de Alwis said.

"Yet, it was quite different to what we were doing. We were looking after the players' welfare in unison. But, the player managers only looked after the interests of the individual players or, pockets of players who were under them. At the same time, the club cricketers were also poor victims of this episode."

"As a norm, we were not officially recognised by the authorities, purely because India and Pakistan were not into that system. Both India and Pakistan did not recognise Players Associations. Understandably, in India, the players had a different system where, the 'players that matter' were rewarded handsomely, while the majority of the others were left out. I must tell you that, at one point, former Indian captain and present coach Anil Kumble, tried to do something, but he too, gradually backed out."

"Yet, with all this we were going on well," said de Alwis. "I remember, once Duleep Mendis who was the CEO of Sri Lanka Cricket, had some fiery sessions with us but, we finally managed to arrive at an amicable settlement. Then, by the time Ashley de Silva took over as the CEO, the system had changed so much, they were not even interested in talking to us.

"I must tell you that, even in 2011, we did not want to put too much pressure on the players. We did not want players to be targets of the system. It really happened when forty cricketers in 2010 or 2011 signed the document and gave it to me saying that, so and so of the players association is authorised by the undersigned for the negotiations of their yearly central contracts. Then the Sri Lanka Cricket CEO was Ajith Jayasekera. I told him about the document, but he was reluctant to accept it. Then we got it sent through our paid emissary. Jayasekera eventually replied saying they were not willing to recognise us. Then, I had a meeting with the players at Kettarama. I said, 'Let us stand together. We are not going to fight with the Cricket Board. We will tell them what we want and we will negotiate.'

"Sangakkara (Kumar), Mahela (Jayawardena), Malinga (Lasith), Dilshan (Tillekeratne) and many other top cricketers were signatories. I still have a copy of that document. That was the time they had not signed the contracts. The cutoff date was February 20. At that time the Bangladesh team was to travel to Sri Lanka. We were in touch with the Bangladesh people. We said, 'Look here, these boys are having a problem with their contracts. If they do not sign their contracts, it would be our 'A' team that would play against your national team – we were a part of FICA. We wanted to negotiate.'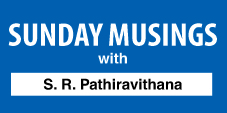 "This resulted in the Bangladesh authorities also trying to negotiate for an 'A' team. The National team was not going to play because they did not have contracts. I remember Kumar Sangakkara had just returned from overseas, and they were going to play a three-day game in Matara. Sangakkara drove all the way down to play the game, but he was not chosen, because he had not signed the contract."
De Alwis said he thought the authorities got a bit jittery. There was one senior player whom the authorities had managed to get through. Then Kusal Janith Perera had just started his international career. So they told this senior player, "You sign the contract and we will make you the captain, and you can take this young side on to the field."
"At that moment, I was having some discussions with skipper Mathews at his residence in Rajagiriya, and we were on speaker phone with Sangakkara. At that moment, the senior member concerned, called in and said, "Angie, Api contract eka sign karamu neda? (Angie! Shall we sign the contract?) Then Angelo said, "Eka karanna behe, api theeranayakka aran thiyanawa athsan karannehe kiyala" (We can't do that, we have decided we are not going to sign this document.) Yet, the senior player concerned replied, "Eka api athsan karamu. Mang asai eka athsan karanda." (Let's sign that. I would like to sign this document) and he cut the line.
"This culminated in the said player signing the contract on his own. Then there was huge domino effect. My contention is that, at least, why didn't the senior players stand tall? I am not talking about the youngsters. I feel that the senior cricketers should have put their heads together."
However, according to Alwis, they lost the plot. And this also saw the player manager playing a bigger role in the day-to-day activities of backroom cricket in a more active manner. Yet, de Alwis sees no anomaly in this either.
He said, "Player managers are only interested in the welfare of a player who is under them. There is nothing wrong in that either, as they are paid for that. What I feel is that the Board missed a cue in this deal. They should have turned around and said, 'We have no dealings with player managers'.
"I remember when Arjuna Ranatunga took over cricket in 2008. One of the first things he said was 'Why is player manager Charlie Austin being paid ten per cent?' Yet, I do not see anything wrong in that, as they are just doing their assigned jobs. But, if the Association was in charge of the boys, it would have been a different scenario. It would have had cricketers looking after cricket. I remember when Mahela was the captain of the National team, we had a superb dialogue. He understood our role and he put value to the role we played."
Now, just see how powerful the Australian players association is? There, the seniors are sticking together, and this has resulted in them being able to support the players down the line playing at grassroots level. Players such as Warner could have been easily distracted by a huge offer from the authorities but, they are sticking together as one. Yet, it is sad to say, this is where our players are found wanting. Now, 230 Cricket players in Australia are unemployed and the players association is going to sponsor them. They are financially stable to support them, until such time a solution is arrived at. At the same time, they are going to franchise players. For instance, sell Warner for five million Australian Dollars, and that money would go to the bottom rung of players. At the moment, the ACA is handling the situation well. If FICA thinks its too much of a strain, then FICA will seek support through its members from South Africa, New Zealand etc. The most important thing is they are united and are one."