Lasith is the Most Popular Schoolboy Cricketer 2017
Dialog 4G-the Sunday Times Most Popular Schoolboy Cricketer of the Year 2017
View(s):
A journey that overcame many an obstacle comes to a dream end where the deserving outsmarted the rest to become the Dialog 4G-the Sunday Times Most Popular Schoolboy Cricketer of the Year 2017. He is none other than the energetic batsman from Maris Stella College Negombo, Lasith Croosepulle.
Lasith becomes the first to win the coveted title with a few records. He is the first to reach a tally of closer to two hundred and fifty thousand votes, coupon and online combined of course, and also to be one of those schoolboy cricketers with a good track record and a pedigree of his own.
In the final week, Lasith received 10729 votes, which took his tally to an eventual count of 248005, the best so far recorded by any in the history. He wins by a thumping margin of 103882, which is also the best ever deficit recorded by any winner in the history of the competition.
Regarded as a player in the making and Sri Lanka potential, Lasith has already stamped his class as a youngster with an impressive record in batting.
Prior to joining Maris Stella College, he was a main cog of the De Mazenod College cricket team, where Lasith was able to show his batting prowess and also lead the junior age group side. His batting kept improving and was a constant choice for regional, zonal and provincial sides at competitions conducted by the Sri Lanka Schools Cricket Association and Sri Lanka Cricket.
Lasith eventually makes his way to the Sri Lanka Under-19 side, after a prolific batting display in the 2016 season of the Singer Under-19 Inter-School Division I Cricket Tournament. These achievements on the field and winning the Dialog 4G-the Sunday Times Most Popular Schoolboy Cricketer of the Year 2017, is a true testimony to his talent alone.
Following Lasith at second place is Navindu Nirmal of St. Aloysius College Galle. He completes the race with a tally of 144123 after adding just 982 combined votes in the final week. Navindu had all the chances of completing at the top before Lasith took over the lead midway of the competition. He raced on par for weeks before Lasith accelerated with tremendous pace to finish off in style.
At third is the initial winner, Mohamed Najath of Zahira College. His lead lasted a few weeks from the start and was totally outdone by both Navindu and Lasith, who had a different battle between themselves. Najath finishes off with a tally of 62791 combined votes to finish as third overall. Charana Nanayakkara of Thurstan College, is at fourth, far too behind though with a tally of 10521 while St. Peter's College's Santhush Gunathilake finishes off at fifth place with 9400 votes.
The most remarkable twist of tales took place in the Emerging Schools category, where Prabash Maduranga of Siri Piyarathana Central Padukka changed the entire story-line of that contest. Last week Prabash was still at second place, trailing by 1738 votes behind Pulitha Yasas of Sri Sumangala College Panadura. But by the end of it all, Prabash wins in style with a margin of 1815.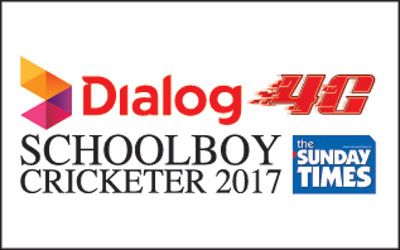 He added 4449 votes, mainly from coupons, to overtake Pulitha, who had been leading this category from the very beginning, and moved to the top in the most crucial week, where there's no second chance. At the end Prabash completes the race with 9062 votes and with a thrilling win. Pulitha added 896 votes but his total of 7247 is merely insufficient to challenge Prabash.
Sahan Perera of Christ King College Pannipitiya finishes off at third place overall with a tally of 1099, despite not adding anything at all during the final week.
The International Schools category win may have not been so obvious for Tariq Haniff of Wycherley International School for just one reason. The initial and sole leader Shimraz Shahil of Alethea International School failed to act when really needed and is moved to the second place with 528 votes. Tariq goes on to win the International Schools category with 970 votes, with a deficit of 442, still an improvement from last week's 351, after adding 93 votes in the final week.
The Dialog 4G-the Sunday Times Most Popular Schoolboy Cricketer of the Year 2017 competition ran for 26 weeks with many excitement, thrill and anxiety before Lasith, Prabash and Tariq secured wins in each of their respective categories. Dialog Axiata and Wijeya Newspapers wishes all winners the very best in their future cricketing endeavours and for their achievements.
The winners will be recognised at the Dialog 4G-the Sunday Times Schoolboy Cricketer of the Year 2017 awards ceremony which will be held at the Nelum Pokuna Theatre on July 19, Wednesday. The award recipients will be notified in due course by the organising committee of the event. The count of week 26 of digital voting was monitored and approved by auditors Pricewaterhouse Cooper.
 All-Island Schools
Lasith Croosepulle (Maris Stella College) 248005
Navindu Nirmal (St. Aloysius' Galle) 144123
Mohamed Najath (Zahira College) 62791
Charana Nanayakkara (Thurstan College) 10521
Santhush Goonathilake (St. Peter's College) 9400
Dinitha Basnayake (St. Benedict's College) 7415
Romesh Nallaperuma (S. Thomas' College) 6417
Nikesh Anjana (S. Thomas' College) 2091
Helitha Vithanage (Royal College) 1859
Mohamed Rifaz (Presidents College) 1476
Emerging Schools
Prabash Maduranga (Siri Piyaratana Padukka) 9062
Pulitha Yasas (Sri Sumangala Panadura) 7247
Sahan Perera (Christ King Pannipitiya) 1099
Imesh Basnayake (St. Peter's Gampaha) 495
Gimhana Dhanushka (Piliyandala Central) 130
Nipun Ransika (P. de S. Kularatne MV) 103
Methushan Thilina (Kegalu Vidyalaya) 85
Suminda Lakshan (De La Salle Mutwal) 61
Raveen Yasas (Devapathiraja Rathgama) 47
Hirusha Mendis (Siddartha Central Balapitiya) 32
International Schools
Tariq Haniff (Wycherley International) 970
Shimraz Shahil (Alethea International) 528
Readers prizes go to: 1. Sisil Vijitha, 129/F, Abanvith, Gampaha, 2. J. Hemalala, 18, Walhena, Minuwangoda, 3. Rozanne Amath, 40/41, Katuwawela Road, Maharagama, 4. Chaminda Yapa, General's House, Nuwara Eliya