Police make early breakthrough in Rs 7.7m Ragama heist
By Damith Weerasekera
View(s):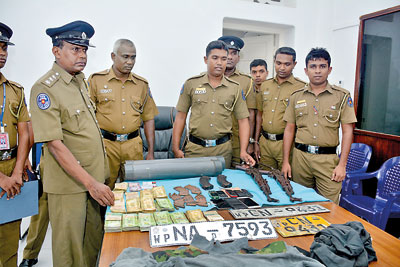 A combination of police intelligence and technology facilitated an early breakthrough in the investigations of the Rs 7.7 million robbery in Ragama, police said.
Chief Inspector G.W.L. Ravindra, of the Crime Investigation Unit of the Peliyagoda Division, told the Sunday Times that, based on intelligence, they had initially tracked a habitual gambler over the robbery.
Upon questioning the gambler, who was a former soldier, they found that the tip-off of the cash movements had come from a former employee of a clothing shop, who had been dismissed eight months back.
After the arrest of both, the gambler and the ex-employee, they found that the gambler had contacted a former soldier living in Ranna, Hambantota to carryout the robbery. In turn, the ex-soldier in Ranna had contacted a worker involved in the Aluminum construction industry, who introduced a soldier attached to an army camp in Maduru oya.
All suspects were taken into custody within four days of the heist.Investigations revealed the suspects used a car from a rent-a-car service in Matara and used a number plate stolen from a car in Thalangama.
The vehicle used for the robbery had been fitted with GPS facility and thereby, the movements of the vehicle had been tracked.  Police have so far recovered Rs 4.5 million and are in the process of carrying out further investigations to recover the rest of the cash.
The suspects are in remand custody till July 18.