More muscle to shovel garbage, minister pleads for public help
View(s):

Government politicians are pleading for public help, faced with an unprecedented garbage crisis, which local authorities and public policy-makers have still been unable to solve.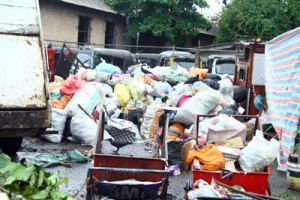 At the same time, they are threatening people who dump garbage on the streets with punishments.Still, the municipal councils do not collect garbage every day. In some areas tractors or refuse trucks come once a week.Now, three key institutions have been tasked with the garbage management responsibility in Colombo.
Minister of Megapolis and Western Development, Patali Champika Ranawaka, said three institutions including his ministry, the Ministry of Local Government and Provincial Council, and the Chief Minister's office of the Western Province, will combine their efforts.
He added that the two ministries, local authorities, private cleaning companies, the city beautification unit of the army and the environmental police will meet every week to review garbage disposal.
Pointing out that some 3,000 tons of garbage collected by Colombo Municipal Council was disposed of in recent weeks, Mr Ranawaka said more garbage was being dumped on Colombo's streets.
"The garbage issue can't be resolved without assistance from the public. With the help of the environmental police we will take every step to ensure the city is clean, at the same time, stern action will be taken against culprits who dump garbage on roads. If anybody including CMC employees are found littering, they would be charged," he said.
He said that the construction of a power plant meant to generate electricity from garbage will be launched next month in Aruwakkalu, Putalam. "The construction work is expected to be completed within 14 months.''
Meanwhile, Faiszer Musthapa said that a new unit made up of army and environmental police has been formed to monitor garbage collection, identify any issues and report to the municipal commissioner.
"We are setting up a hotline for complaints and remove garbage from the streets. Those who dump garbage on the streets will be charged. Corrupt employees of the CMC who are helping them also should be punished," he said.