Dumping garbage on Muthurajawela wetlands adversely impacts environment
View(s):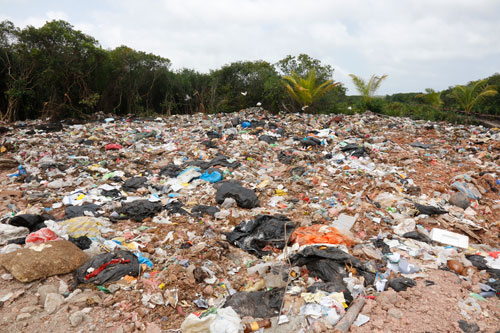 Dumping hundreds of tons of garbage in Dalatura and Nugape areas in the Muthurajawela wetlands is already having its environmental impact, residents warned.
The residents told the Sunday Times they are concerned about health risks, floods and the threat of dengue as the garbage site is left uncovered with unsegregated garbage covering the marshland.
President of the Organisation for Protecting Muthurajawela Sanctuary, Anil Lankapura Jayamaha said that private owners who claim they own the land, support and allow Govt to fill the land with garbage, to clear reserve areas which extend over 200 acres.
He explained that dengue cases have been increasing in Muthurajawela after the dumping of garbage took place. He said that people in the area are unable to open the doors of their houses due to the stench, mosquitoes and swarms of flies. "People are concerned of their health and therefore, they engage in protests, but the groups supporting the private owner have been settled at the entrance of the dump site, and they enter into confrontations with the villagers," Mr Jayamaha said.
Area residents said around 17 houses have developed cracks after hundreds of trucks arrived in the area where the dump site is located. An affected resident, Nirajan Priyasad said his house developed cracks after trucks filled with tons of garbage, proceeded one after another to Dalatura. "We villagers refused, yet the police provided them security. The smelly garbage was taken in front of our houses and we could not do anything about it", he said.
"This happened suddenly, the dumping started from last week. We were not informed," he said. Another resident, Asanka Sovis, who works as a labourer in a private company, said his house walls also showed signs of cracking. He said the water in the area is contaminated and smelly, while they are forced to live with the stench. "I can't even have a walk outside now, I have been forced indoors," he said . A visit by a Sunday Times team to Dalatura garbage site showed that a thin layer of soil had been laid over the garbage while some of the areas had plastic bags, rubble organic material, while in some areas garbage had been set on fire.
Central Environmental Authority officials who visited the area told residents the dumping of garbage at the Dalathura site was unacceptable and damaging to the environment.