Drivers turn crossings into death zones for hundreds of pedestrians
View(s):

Mohammed Haneefa, 69, who lives in Hendala, Wattala, was full of anticipation on June 25 not only because it was the day before Ramazan, but he was also awaiting his son who was visiting him.

He stood by the side of the Negombo-Colombo main road that evening for his son who was not too familiar with the area, according to neighbours.

At about 8:10 p.m., Mr. Haneefa stepped on to a pedestrian crossing and at that instant a motorbike rider slammed into him. He died in the Intensive Care Unit of the National Hospital.

The police said the suspect is a 23-year-old man who was riding without a license.

Mr. Haneefa is one of dozens of victims who are killed at pedestrian crossings by reckless riders and drivers. Drivers are required to slow down when they approach a pedestrian crossing and stop at the give way line, but they rarely do. Most do not respect the rights of pedestrians.

According to Traffic Police statistics, more than 100 people die at pedestrian crossings every year and more than 1,000 are injured.

Out of the 914 pedestrians who died last year from road accidents, 103 were struck down fatally on pedestrian crossings.
In another 452 incidents, people suffered grievous injuries on pedestrian crossings.

There were 1,282 accidents on pedestrian crossings last year, representing an increase compared with 1,084 incidents in 2015.
According to Traffic Police statistics, drivers were responsible for the majority of accidents.

Out of the 325 deaths reported from January to May 31 this year, only 10 people have died due to their own carelessness. Drivers were responsible for 315 fatalities, the police said.

Dr. Niranga Amarasinghe, senior lecturer at the Faculty of Engineering at the Sri Lanka Institute of Information Technology, who has studied traffic accidents, said, fixing traffic lights at every crossing is not financially viable in indebted Sri Lanka.
She added that elderly people and schoolchildren have been recognized globally as more vulnerable to accidents on pedestrian crossings. School children are vulnerable because they do not understand the dangers fully, while most elderly are physically weak and move slowly.

She said research showed that about 30% of the pedestrians used mobile phones while crossing the road.
The bad condition of some roads and faded markings of pedestrian crossings too have a bearing on fatalities.
According to Dr. Amarasinghe, many pedestrian crossings are not visible at night.

Dr. Amarasinghe said even in Colombo and its suburbs there are no signs indicating crossings. Warning lamps near pedestrian crossings also do not function.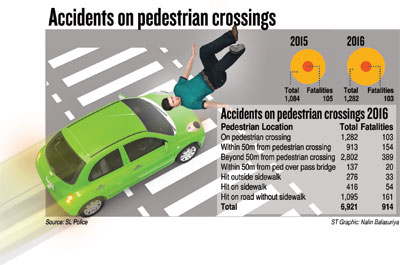 Even at pedestrian crossings with traffic lights, the timing of the changing lights is deficient and the colours are barely visible in bright sunlight.
But Dr Amarasinghe is encouraged that the pedestrian crossings are now being repainted white. She believes it will increase visibility. But not every pedestrian crossing has been painted white. Besides, crude repainting jobs make the markings worse.
N. R. Suriyarachchi, chairman of the Road Development Authority said this would be fixed. He said all pedestrian crossings will be painted white in the next 18 months.
Meanwhile, Traffic Admin and Road Safety Director, SP Indika Hapugoda, said awareness programmes for drivers and pedestrians are being done to reduce the spiralling number of pedestrian deaths.
He said in some cases although barriers had been erected at unsafe locations to deter jaywalking pedestrians, there are those who jump over them, risking their lives.
He added that there is a proposal to increase the height of those barriers to about 5 feet.