Governing body wants Tug-O-War at 2019 SAG
By Susil Premalal
View(s):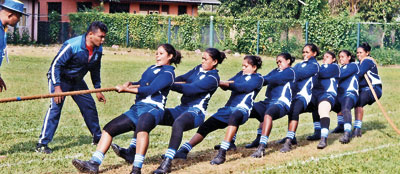 The Tug-O-War Federation of Sri Lanka (TOWFSL) earnestly appeals through the National Olympic Committee (NOC), to include Tug-O-War (TOW) at the 2019 South Asian Games (SAG) in Bangladesh.
TOWFSL officially commenced in 2005. and it is quite popular islandwide. It has also been entered into the National Sports Festival  organised by the Ministry of Sports.
Though, TOW is popular in Sri Lanka as well as in most parts of the world, it is not included in the SAG.
According to TOWFSL Secretary, Saman Perera, there are 53 countries affiliated to the World TOW Federation, and they even have a World TOW Championship, while there is also an Asian TOW Federation, with more than 10 affiliated countries. They even hold Asian Championships as well as a South Asian TOW Championship and all 8 countries are affiliates. However, the fact that TOW is not included in the SAG is a big setback.
There are 4 SAARC countries active in the sport, including Sri Lanka. The others are India, Pakistan and Nepal. If TOW is to be included in the SAG, the required minimum of 4 countries are there but, India has 2 Federations, and hence, has a problem obtaining permission to take part in the SAG.
There are 2 international tournaments for Sri Lanka in August and October. The Rajiv Gandhi TOW Championships in August and the Asian Championships in Thailand, in October. Sri Lanka intends to take part in both championships.
Two pools- Men and Women- have been formed with 20 members in each pool. Arrangements are afoot to have 9 members in the team with 1 stand-bye. Most of the players are from the Tri-Forces. TOW is also on a good footing at school level as well.
The Sun Schools TOW Championships took place in Batticaloa recently. There are 3 top level competitions in the island. The National Sports Festival in Colombo, in September, the Nationals in Kurunegala, in November, and the Inter-Club Indoor Championships also in Kurunegala, in December.