The SAITM controversy: There is a way out
View(s):

I cannot help being saddened by the hullabaloo going on about the South Asian Institute of Technology and Medicine (SAITM).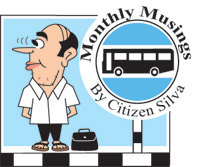 On the one hand, there are several folks objecting to the existence of this private medical school and trying to obstruct the progress of the students and graduates of SAITM to become medical doctors. These folks by and large belong to the Sri Lanka Medical Council (SLMC) 'Äď the statutory body established to ensure the maintenance of academic and professional standards, discipline and ethical practice by this country'Äôs health professionals, the Government Medical Officers'Äô Association (GMOA) — essentially a trade union of doctors working in government institutions, the Inter-University Students'Äô Federation (consisting of students in our state universities), various political groups.
On the other hand, there are several students who were accepted to this medical school, have studied there under the tutelage of competent and well qualified lecturers and teachers (both Sri Lankan and Russian) and have passed the exams for which they presented themselves. In some cases, these students have graduated from SAITM as doctors — but are currently not allowed to undertake internship nor practise as doctors in our country.
These students paid large sums of money as fees to the SAITM for their education. They (or their parents) took the University Grants Commission (UGC) at its word when it granted SAITM the recognition to train these students — and rather than going to foreign medical schools and paying out fees in foreign exchange to go abroad, they availed themselves of the opportunity of studying to become doctors in this country.
Let it not be forgotten that these SAITM graduates and students are our own people — young Sri Lankans who have spent the better part of six years working hard to learn the art and science of medicine under the guidance of qualified Sri Lankan and Russian medical teachers.
Are we now to leave them in the lurch because various government institutions did not get their act together and so messed up the situation?
Now I am not a doctor. My only vested interest in this matter is that of a concerned citizen who has at various times been a patient and would like to feel that the citizens of this country will continue to have competent and well trained doctors to look after us.
I am also concerned as a citizen who has the interests of my countrymen at heart that these students of SAITM should not be made to suffer as scapegoats for the sins of others.
The respected Professor A.H. Sheriffdeen, speaking recently as guest of honour at the foundation sessions of the Sri Lanka Medical Association (the SLMA, the scientific organisation of this country'Äôs doctors — not to be confused with the statutory council known as the SLMC and the trade union called the GMOA) exhorted the members to accept the fact that in the present century private medical schools are a necessary evil but an inevitable phenomenon;lobby with the Government to establish a sensible policy on private medical schools and close the loopholes that enable corrupt practices.
Another eminent surgeon and academic, Professor Channa Ratnatunga, suggested a very practical solution in a recent article, making the very pertinent observation about the SAITM students. We must remember, he said, that they are our own citizens — they have no choice if they were born to parents who could afford to pay SAITM'Äôs fees, they have no say in the fact that they are now being unfairly dealt with.
'ÄúLet those who have qualified from SAITM,'ÄĚ he said 'Äúsit a final exam in any Government medical school. This will expose the real truth and allow an objective assessment of their competence.'ÄĚ
To me, this seems a practical solution to the immediate problem. With this country in dire need of doctors (after all, our population has a ratio of one doctor to a thousand people while in countries like Britain, this ratio is 1 to 50!), make use of these SAITM trained people, assess their competence and then give them the opportunity to practise medicine in this country.
Having dealt with the immediate problem, the existence of the private medical school should be intelligently and pragmatically dealt with — without our parliamentarians (60% of whom have not passed the GCE O Level) using the situation to gain political leverage over their opponents.
After all, if students from foreign medical schools who have had their education in Bulgarian, Russian, Mandarin and other non-Sri Lankan languages are allowed to sit the qualifying examination which all foreign medical graduates are asked to sit for if they want to practise in Sri Lanka (the so-called ERPM or 'ÄėAct 16 exam'Äô), why not allow all those SAITM students to sit for this exam?
At present, more than 300 Sri Lankan students go overseas each year to obtain a medical degree. How good would it be if these children (and I make no apology for referring to them as children, since I am more than three times their age!) could study in our own country, living in their own homes and not having to spend valuable foreign exchange to get medical degrees from Malaysia, Sofia, Tianjin and Tblisi?
Professor Carlo Fonseka, chairman of the SLMC, himself FAILED the 2nd MBBS examination at his first attempt. This did not prevent him from passing the exam at a second attempt — and then going on to pass with first classes all his subsequent exams. Can he now claim that those students who 'Äúfailed'ÄĚ to get a high enough Z-score at their A Levels to gain admission to a state medical school are not capable of being trained as competent and compassionate doctors? Is a Z-score (with all its fallibilities) the only test of one'Äôs trainability as a doctor? Are students who attended private secondary colleges like S Thomas'Äô, Trinity, Chundukili Girls'Äô and Ladies College barred from contributing to the life of this country because they were not educated under the 'Äúfree education system?
When will we ever learn to put our country and our people ahead of our personal interests and petty prejudices?