CFW 'Celebrates Colombo' with an eclectic canvas of art
View(s):

By Tarini Pilapitiya

Celebrating its 14th year HSBC Colombo Fashion Week (CFW) (that started on March 13 and ending today) is expanding the scope of the fashion industry with multiple initiatives that aim at developing and showcasing Sri Lanka's fashion design industry with fashion consumers locally and globally.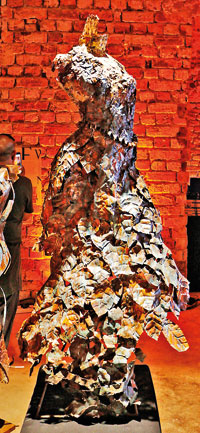 This year CFW's vision of 'Celebrate Colombo' ventured into the territory of inclusive fashion – highlighting other facets such as food, film and art in relation to the fashion industry. On March 13 CFW kicked-off its latest initiative Art Connect under the theme "Second Skin" where five well-known artists Kingsley Gunathilaka, Mahen Perera, Sanjeewa Kumara, Pala Pothupitiye, and Sanjaya Geekiyanage came together for an exclusive collaboration of Art and Fashion. The artists exhibited their pieces in a venue down Baron Jayathilake Mawatha in Colombo, an earthy setting which complemented their work.
Founder and President of CFW Ajai Vir Singh played a role in briefing the artists about the Art Connect initiative. His vision of showcasing Colombo as a creative hub was embellished by this initiative which set the mood for the rest of the Fashion Week. The venue had to be a place that had "character" and which "speaks a language of its own" allowing exhibition goers to be spellbound.
CEO of CFW Fazeena Rajabdeen told us she was ecstatic of the positive commentary the art was receiving – "a perfect fit between celebrating Colombo and art".
Chartered architect by profession, art enthusiast by passion, Chamika De Alwis who curated the exhibition spoke of each artist's own unique sense of style. His selection of the five was based on their inner "artistic structural element". They were artists who Chamika remarks "unconsciously connected their art with fashion"
Sanjeewa Kumara holds a BFA from the University of Kelaniya and a MFA from Netherlands and his work melds Western pop culture and the island's post-colonial legacy. Lush, sensitive, with delicate and sensual imagery, his paintings are a mix of narratives. Sanjeewa says that his muse comes to him by "accident" and his paintings capture a meditative aura.
For the exhibition this distinctive artist has used a combination of technology with his raw talent using photoshop to help bring life to his designs. With mysterious pictures printed on satin coupled with the vibrant colours of acrylic paint, Sanjeewa's aim was to "mix the old and new" and bring "connections with his work and fashion" giving us all a sense of the radical ambiguity of fantasy.
A graduate from the University of Visual and Performing Arts with a major in Sculpture, Sanjaya Geekiyanage's works embody a sense of fantasy and realism. Straying away from the mainstream of sculpting in iron, Sanjaya exhibited a carefully sculpted mannequin, the dress made entirely of copper which had been manipulated to take the form of "Gokkola". Always on the lookout for new concepts and ideas Sanjaya was influenced by the models on the catwalk. He decided that he wanted to incorporate a sculpture of the human form but capture the rhythm of the movement of the models hence the conceptualization of the female figure encased in copper leaves.
Mahen Perera's has exhibited his work here in Sri Lanka, Singapore and Vietnam. His work that transform materials through physical manipulation, question themes of identity, politics, sexuality and the conventional way in which we view things. Mahen reveals he first paints on the canvases and then proceeds to wash them thus leaving a spontaneous print. Alongside this is a series of objects fixed on frames which Mahen has sewed and blended canvases to create twisted, elongated objects. Mahen says his work is very personal to him and the "process is involving"; his final masterpieces are the results of 20 to 30 trial and errors until he captures the "abstract and unrecognizable world" to visual perfection. The CFW initiative of Art Connect, Mahen states, opens the doors for many artists.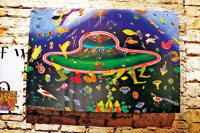 Receiving his BFA in Sri Lanka and going on to pursue his studies at the University of Strathclyde in Glasgow, Kingsley Gunathilaka now spends his days teaching students in the University of Visual and Performing Arts in Colombo. Kingsley's side of the exhibition hosted canvases of abstract art which on closer inspection reveal what Kingsley states are "hidden images in fashion". Using a minimalistic colour palate, on closer inspection we interpret what can possibly be the beginnings of a face take place in this visual labyrinth. He states that his use of minimalistic colour schemes and shapes were inspired by the silhouettes of the models on the runaway.
Pala Pothupitiye is a man of few words – preferring his work to speak for themselves. With a BFA in sculpture from the University of Visual and Performing Arts in Colombo, Pala's work harks back to the past. Incorporating and reinterpreting material and philosophical content of traditional art in his work he explores themes such as identity, ancestry, tradition, authenticity, urbanity, geo-politics and even the dynamics of contemporary art practices. Hailing from a background of traditional Sri Lankan ritual dancers Pala has allowed the distinct aspects of his past to inspire his work for Art Connect from the traditional headdress to signature elements of traditional ritual dance costumes.