Sri Lanka Senior shuttlers excel
By Lakshman Ranasinghe
View(s):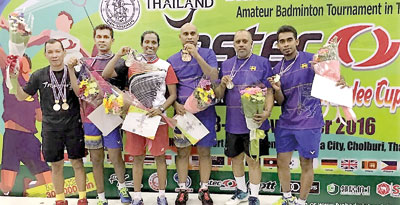 Sri Lanka seniors in their maiden appearance hogged the limelight at the Sawasdee Cup Seniors Badminton Championship 2016 organised by the FYC Badminton Club, The Thai-Chinese Friendship Association, WCBF, The Administration District of Pattaya, The Tourism Authority of Thailand which was held from November 18 to 20 at the Eastern National Sports Training Centre, Pattaya City, Chon Buri, Tailand.
It was the ever green 11th time Women's National Champion and national player Chandrika De Silva proved that she had not lost the touch in the game by winning the Women's Singles (over 35) championship. Chandrika exhibited a high quality of badminton at the entire tournament stood high among the other women players from China, Korea, Malaysia, Macau China, Hong Kong, India and Sweden.
The other Sri Lankans who excelled were Clarence Homer partnering Upendra Jayawardene emerged champions at the Men's Doubles (over 45) category while Manjula Fernando (over 40) in the Men's Singles, Chandrika De Silva and Clarence Homer (over 40) Mixed Doubles and Rohan De Silva and Fritz combination (over 50) Combined Doubles events finished runners-up respectively.
Sri Lankan dominated the events tally as they recorded several wins at this event.
Over 1200 shuttlers from eight countries competed at this event which was worked-off in the following age group categories:
Young Adult (20-39), Senior (40-59), Honorary Senior (60-79), Honorary Senior (over 80), Combined Age: Men's Doubles, Women's Doubles and Mixed Doubles, Combined Age of 100 yrs. (40 yrs. old), Combined Age of 110 yrs. (45 yrs. old), Combined Age of 120yrs. (50 yrs.), Combined Age of 130 yrs. (55 yrs. old), Combined Age of 140 yrs (60 yrs.) and Combined Age of 150 yrs. (65 yrs. old).