Sri Lanka Rugby to kick off in Girls' Schools
By Naushad Amit
View(s):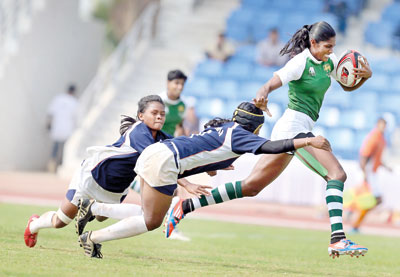 Sri Lanka Rugby (SLR) intends to further broad-base Rugby by introducing the game to Girls' schools. If the move works as planned, according to SLR Secretary Nazim Mohamed, it could be the next best thing for women's Rugby in Sri Lanka, as the National Women's team is gradually becoming a force to be reckoned with in the Asian region.
"We have seen the results of our National Women's team in the recent past. The performances of our Women's team at the concluded Asian 7s Series, was something the whole country was looking forward to. Our Women's Rugby is in the right direction now and we need to keep that momentum going by feeding its requirements. That's one of the reasons the SLR is really focused on reaching Girls' Schools," Mohamed told the Sunday Times.
Rugby is identified as the most popular and followed sport at domestic level, with the Schools Rugby League Championship taking top spot. The attendance at the annual Bradby Shield encounter, in particular, between two of the most dominant school teams- Royal College and Trinity College- at times, surges close to 30,000. However, besides some Club Rugby games, the Dialog Rugby League Championship has failed to generate attendance while Women's Rugby matches are no exception. Mohamed elaborated that SLR, knowing how the game at school level is more appealing, mainly due to old school ties, has to be managed properly.
"There are many aspects the SLR is looking at when reaching out to Girls' Schools. There are sensitive areas as well as fear factors. It's a very tricky and fragile if not managed properly. It takes time to build momentum before top Girls' Schools from Colombo and Kandy play to their full potential or, even top teams from the intended tournament. We understand there are lessons from the Schoolboys' competition and hence, must ensure proper management before stepping forward," Mohamed explained.
Despite the popularity of the Schoolboys' League Championship and certain traditional rivals' games between top clubs, Women's Rugby at club or school level is still at its infancy. Traditionally, the Women's game has revolved around the Tri-forces, even now. But of late, the SLR has appointed development officers to work on Women's Rugby at Provincial level, even at schools, to attract Girls' Schools into a competitive mindset.
"We are looking at raking in at least five schools from each Province to participate in an All-Island competition, which is the initial goal. At the inception, we cannot expect 25 to 30 schools for a tournament. In the Western and Central Provinces though, the SLR is looking for at least 10 schools from each Province, because of the number of schools in those regions and the appeal to the fairer sex for the game. It will take a couple of years for the results to show."
"Initially, we intend to come out with Tag Rugby, and gradually progress into 'full contact' matches, as the girls gain exposure and experience. Firstly, we need to take away the 'fear' factor the school administrators have, because most are of them view Rugby as causing injuries and are ignorant of the safety aspects of the game. We don't want to rush this. We want to adopt a systematic approach, so that Rugby is a hit among Girls' Schools, in time to come," Mohamed explained.
With many good intentions on the cards, SLR has managed to appoint women who have gained experience as top level players, to go out and coach Rugby in schools. Earlier, the SLR was sending out men to develop Women's Rugby, which now they have identified as a futile exercise.
"It's a lesson we have learned that it's not practical in Sri Lanka. National Women players of the past three to four years, are being assigned with that task, while most of them are contracted as Regional Development Officers of Women's Rugby. When they go out, it's a totally different story which is now turning out to be a success. We are also looking at bringing women into the SLR Council, with the intention of taking Women's Rugby forward," Mohamed added.
At present, the SLR has already assigned a female Development Officer while also having women come in as managers of the National side, which the SLR considers a really good move. Through these projects, the SLR sees women coming into the administration part through a comprehensive system, which they consider as part of their goal, to gradually and steadily build up the game for women.
"Men alone cannot develop Women's Rugby to the next level. Moreover, at present, School Rugby has forgotten it was a game played with highest spirits of sportsmanship, back then. Now, most schools play to win at any cost. All these changes happened during the past 15 years or so. To make matters worse, spectator behaviour at school matches, mostly by old boys, bring dishonour to the game. We are highly aware that, even a high-calibre tournament among Girls' Schools could be a more attractive and competitive. What we must not forget is that, be it boys or girls, these are kids who should go out and play a clean game as a part of their learning process in life and sportsmanship. Let them play the game, make friends, build camaraderie and move on, while we proceeding to the next level with an established plan," Mohamed further asserted.