CR-Havies rugby derby a thing of the past
View(s):

The biggest chore in attending the CR-Havies match of years past, would have been where to park and how to get to a seat. The fair ladies adorned in outfits whose colours indicate their loyalties to the respective clubs, while competing with one another, is a thing of the past. An era of CR-Havies Rugby that evokes nostalgia to those who were fortunate to witness the game then.
Last week, it was a disappointing crowd that graced the occasion. Rain would have turned away supporters but, CRHavies, I thought, would have drawn more despite the rain, along with the thought of the post-match fellowship.

The rain that pours in the evenings is dampening Rugby, as has been in three weeks of the League. This reduces competition and also the much needed practice for those down to play in the ARFU tournament early next year. CR handed Havelocks a game they should have won, if the correct decisions were made. Havelocks won not because they played to win but, because CR could not decide on what is best. While trailing 6-10, they were awarded penalties in the 31st, 37th, and in the 41st, 43rd and 44th minute of injury time. Most were within kicking distance which a veteran placekicker would have slotted over. Slot one over and CR would have been trailing by a mere point. The pressure on the Havelocks would have intensified, as they were already reeling with a 4-point lead. The thinking probably was to get 5 points by scoring a try. Yes, you do it once and, may be, a second time. But when you do it three times more, it is a question that needs to be sorted out. It is not an easy task to sort out and instill decision-making in a leader. The system we adopt from school Rugby onward is that the leader is in the playing enclosure or in the pavilion. Cannot expect much from robots you see and is common to most clubs.

Havelocks cannot be too happy with their performance, as they need to take on bigger names in their next encounters. They definitely need to look at the penalties given away. The tendency to charge into rucks has to be curbed. Havelocks have a fast back division which runs when they get the ball, but get isolated when they run wide. The sap has been taken away from the forwards who pick and hit and cannot get to where they should be when needed. A plus factor for the Havelocks was their defence which held in those last fiery minutes of a red onslaught.

Navy, the other unbeaten side, cannot be happy with their performance against wooden spoonists CH&FC. It took them 14 minutes to score the first try, and 24 minutes of the second half to add to that. With a line capable and fit to probe most defences, the options they took were not what can make them play better. Navy is a much disciplined side that plays to the referee's whistle, and has also maintained playing in manner that does not make then vulnerable to yellow cards,which they need to use more to their advantage, than they do. Navy has the advantage of crowd support whenever they play and reach greater heights at Welisara. The other place where there is a crowd is Kandy where Rugby still dominates public interest.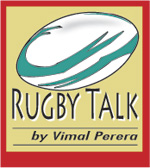 CH continue to be at the end of the whip and the lack of fitness in their players is a negative point. This does not allow then to be where they should be during the game, but also inculcates a tendency to not use their hands in a tackle, instead go with a shoulder. Getting yellow cards does not do any good for a team that is already hampered. Air Force has won two matches and are 4th in the table, and has at least two matches they could win to keep them in the top half. The task for Army who lost to Kandy, seems more difficult, and so is it for the Police. CR, on the other hand, has at least two weaker opponents to play and should end in a higher position than at present. I would think they are capable of upsetting. Plans for another team or two, but need to get their body language right.
The first three slots are still open between Havelocks Navy and Kandy, who have yet to play one another. The chances of heading the 1st Round are ripe for all teams. In theory, blockbusters are on the cards in the 5th 6th and 7th week of Rugby. The thought that crosses my mind, as I watch Rugby, is the tendency for a loose ball to remain 'unattended', when it has been passed way behind the receiver, with nobody running for it. The play eventually ends behind the gain line and a struggle ensures. This happens both at the pick and hit where it looks terrible, as well as when the ball is passed to the back division.
Vimal Perera is a former Rugby Referee, coach and Accredited Referees Evaluator IRB