SL Football woefully needs a professional kick upstairs
By Subhani Hassimdeen – Former National Football Captain & National Coach
We want results not excuses
View(s):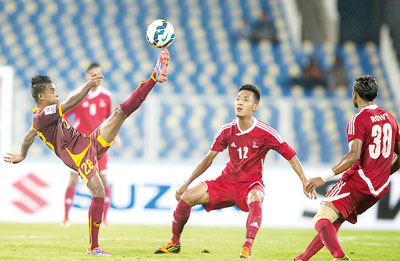 Our National team that toured Cambodia and Malaysia recently, to participate in the Asian Solidarity Football Tournament, only succeeded in bringing disrepute to the country.
It is with great amusement I read certain media reports which were a heap of rubbish and falsehood relating to the tour. However, Sri Lanka Football was exposed to its marrow, when they were defeated 0-4 by Cambodia (ranked 128), 1-2 to the minnows of Asian Football- Laos (ranked 175), Mongolia 0-2 (ranked 202) and drew 1-1 with Macau (ranked 198), which did not come as a surprise because, clearly, the writing was on the wall, when the ExCo Chairman blessed our team before its departure, saying, "even if we lose all the matches, it will be an initiative". I wish to quote an old Sinhala saying, "It is better to get a knock from a hand with a gold ring". That is why past Administrators invited strong National teams and European clubs to play on our soil, so that our players could gain necessary exposure and experience. As I mentioned earlier, Football is not judged by debate or its surrounding decor, but only by its display on the field. However much a few interested persons may try to boost or prop, in the long run, such attempts would naturally be futile. Unless and until genuine Football administration and experiences are invited to fashion the core of the sport, the results would otherwise be disastrous, as we see it happening now.
Overcoming weak opponents in friendly matches is certainly not going to raise our Football standards and correct our mistakes. This is exactly what we should do without giving false hopes to the Football-loving public. Customary excuses already surfaced for our pathetic performance in Malaysia, and the funniest of them are, "To play kick-start Football", when other Asian countries are playing auto-kick Football with modern technology. After serving in the top position in the Football Federation of Sri Lanka (FFSL) for a long period, to say our National Team doesn't have enough match experience, and not played an international game for nearly one year. What were you doing at Football House? No doubt, it is the type of opportunities of writing, devoid of truth and realities, that have ruined our Football, and made it a heaven for dimwittted pretenders to make a living exploiting the common man's sport. I wish to humbly suggest to the Hon Minister of Sports, to appoint a National Technical Board that could clear the deck and lay a fertile base for sports to develop in our country. Let not a few vultures prey and a handful of cronies run riot in the name of sport.
After appointing many chairmen and directors to various committees, now he says they are either inefficient or sabotaging him. From this, it is crystal clear, he does not have the technical knowledge and the managerial skills to properly interview and select the right ones. Surely, he must take the blame and responsibility for this. He also admits that, there are people in this country who have the ability and capacity at different levels. Why can't he invite them officially, not ceremonially, to work with him to develop the game.
With only a few months remaining for the FFSL's next Annual General Meeting (AGM), the usual news splashes has appeared in the English dailies, offering sun and moon to the players to play and the Football-loving crowd to witness 10 Home internationals, to hire a foreign technical officer to guide and train our youth teams, inviting the Sri Lanka Schools Association to present an Action Plan for the development of Football at large, etc.
Knowing the present FFSL Administration very well and their promises, anything and everything would be done to retain their top seats within, while camouflaging the technical nakedness of Football, simply for their survival. To be honest, our Football has hit a new low during the last four years. Unless a concerted step is taken immediately by the Sports Ministry, the game is sure to deteriorate further.
We are great at bluffing, be it politics, sports or any other field. At Football, some have mastered the art of bluff to such perfection that, an unsuspecting nation and its leaders fully believe that our Football officials are taking us to World Cup heights. A few selective journalist too give the finishing touches with articles that push to shame fantasies, fables and Ethiopian delights.
Could I be forgiven, to take a case in study of our simple but effective tomfoolery. Our National Football squad, during the last 3½ years, have played 34 international matches, lost 28, drawn 4 and won 2, conceding 125 goals, while scoring only 24. During the period, 2013 up to date, we have miserably failed to produce fruitful results and also failed to submit and implement a proper development programme to put our Football in the right place – bad enough a track record. Who is fooling whom?
Re-organising and re-constituting the FFSL in a proper and meaningful manner, is being watched by the public at large with great interest.
It would be prudent for the Ministry of Sports to inquire into the matter and ascertain the truth, before the FFSL's next AGM.
While a few at the top paid lip service to the sport and went on trips abroad, drawing media attention to the least important things and make funny comments, are not the right ones to develop our Football. Excusable are wrongs done out of ignorance but, woe be unto those who wittingly err for personal and selfish ends. For the sake of the game and the motherland, please get rid of these rotten ones around us who do not care for the game. Get the right men appointed to handle its affairs, without allowing the game to further deteriorate. The affiliated Football leagues spread islandwide, have a vital responsibility and obligation to select the right men to the top positions, who could handle the affairs of the FFSL efficiently, with Football and the country at heart. If you appoint the wrong people again, you are committing a crime and injustice to the talented youth of this country, who are our future assets.
Unfortunately, when such people hold positions at the top, it is only natural they surround themselves with equally ignorant colleagues, so that, their stay at the top is safe and assured. A couple of former National players brought into the caucus is only a camouflage.
Mr. Minister you must not be carried away by the tom-tom beatings and other publicity carefully orchestrated at Cup finals, while, technically, the whole game is a big sham. We see dozens of officials who have never kicked a Football in their lifetime, wearing blazers, tie and the National crest, parading before VIPs on a Cup final day, while those who have played at the highest level, seated and silently watching the pantomime right before their eyes. Only the Minister of Sports can stop this tomfoolery and take steps to improve the game.
Unless and until we have a system where the motto is "Produce or Perish", our Football will remain a warm and friendly kick-start Football, at best.
If we are to reach, at least, the standards of the days gone by, let us have a decisive scheme that will automatically give the boot to the pretentious officials, coaches and players who fail to produce satisfactory results, for us to be on par with our Asian neighbours.
With the fresh regulations introduced by the incumbent Minister of Sports, on the Sports Law, some officials, having served their two-year term, will now change to some other position at the forthcoming AGM, to qualify after a break, to resume their old position at the top. Some may change to a lower position, just to satisfy the Big Boss and survive within the FFSL. It is not a surprise that the top two giants have survived for a long period at the FFSL, holding various positions. In all these instances, the sport they officiated in has been resting even below the sub regional level at best.
Let the Hon. Minister see through these evil schemes and, if changes are necessary in the Sports Law, do so to stop this trickery and foolery. The right of the Hon. Minister to extend any term in the hierarchy should be only on undeniable evidence of achieving Asian standards. The ball is in your court Sir, and beware of those who attempt playing kick-start Football via cunning scribes.
The Ministry of Sports has a vital and decisive role to play in the renaissance of our Football. The Ministry should ensure the sport is technically in competent hands, brook no nonsense at failing to raise our performing standards. You must have the strength to demand of our Football a reasonable standard, while failing to achieve this must result in stern action. Some of our top brass are only globetrotters who are blissfully ignorant of the game and live on their wits. The Sports Ministry, under successive governments, failed to arrest the decline of our Football, and there seems to be no change for the better even now. A professional outlook is the only way out.