Finding Sponsors a heavier burden than Weightlifting
View(s):

Weightlifting looks to build more Vidanages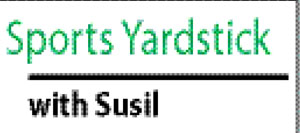 With a very much smaller audience where participation is concerned, Weightlifting is a sport unlike Cricket, Rugby or Badminton but, this select community of sportsmen has made great strides in international achievements. However, like many other sports, they lack the support of sponsors, and most find it difficult to develop themselves to meet international standards.
Following are views of some of the Weightlifting fraternity.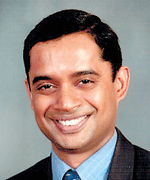 Nalaka Hewamadduma
[President- Sri Lanka Weightlifting Federation (SLWF)]
Actually, if you compare Weightlifting with some of the other sports in the country, I can say that this sport has made good progress over the years. The successful organising of the domestic tournaments and the performances of the competitors at international level are good examples of this. Our next main target is the 2018 Gold Coast CWG. We are hoping to win 3 Gold medals at this event. We also have a chance of winning several Silver and Bronze medals too. The potential Gold medallists are Sudesh Peiris (69kg), Indika Dissanayake (69kg) and Viraj Kumara Palangasinghe (62kg). In addition, the Commonwealth Weightlifting Championships will be held in Penang, Malaysia. This tournament will also serve as a first qualifying event for the Gold Coast CWG. We will be fielding competitors in 3 categories namely, Junior, Youth and Senior Men and Women. We are hoping to field a strong contingent for this championship. This tournament will provide us a clear indication of our capabilities. Earlier, Weightlifting was restricted to some areas in Colombo and Kandy. But today, the sport has spread to 8 Provinces including the North and East. We have not seen any competitions in the Uva Province. The other encouraging fact is that schoolboys have taken up the sport more seriously. This is a good sign for the future of Weightlifting in the country. We have seen Sri Lanka records being established at every domestic championship. We have also put up a 5-year plan to further improve the sport in the country. The proposed 5-year plan will cost the SLWF Rs 10 million. We do not see the need of a foreign coach at the moment. We have some talented coaches who have produced results at international level. What we should do is to further enhance the knowledge of the local coaches. There was a bad time for Weightlifting few years back, where the sport got entangled with doping. But now, the situation has changed and declined to a huge extent. There have not been any reports pertaining to doping in the recent past to my knowledge. The lack of sponsors is the biggest setback to promote the sport. Major companies with energy brands think twice before coming forward to sponsor, as their products could tarnish the image of Weightlifters. In Weightlifting, it is important that the competitors participate with a good frame of mind. The Sports Ministry and the National Olympic Committee have provided us much assistance, although we are lacking in sponsors.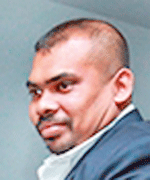 R. B. Wickremasinghe
(National Weightlifting Coach)
Weightlifting was introduced to Sri Lanka in 1935 by James Hill of YMCA Colombo. This sport, which started on a small scale, has grown rapidly and improved tremendously over the years. This was clearly demonstrated when a total of 10 National records were established at the recent 42nd National Sports Festival. We are proud to have 2 international Weightlifters, namely Chinthana Vidanage and Sudesh Peiris. We also have Chamari Warnakulasuriya who has shown promise at the SAG and Commonwealth Weightlifting Championships. The sport is also popular in schools and clubs. We have over 900 competitors at schools and clubs, with over 35 clubs involved in Weightlifting. There are over 25 National level coaches in the country. But, we are still below par at Asian level, although we are near to winning an Olympic or CWG Medal. This is because, of the 15 Medals we have won, 11 were in Asian competitions. Although we have some talented Weightlifters in the country, they are lacking in nutrition, rehabilitation and psychology. If we can improve these areas, winning medals will not be a difficult task. The sport would have reached a higher standard if not for the recent doping controversy. We could have achieved more at international level, had it not been for this issue. But now the situation has been brought under control. This is because of the regular tests done by the Sports Ministry Anti-Doping Unit. It is the foreign coaches who worked earlier that encouraged Sri Lankan Weightlifters to resort to drugs. As a result, some of our local coaches too encouraged the habit, with or without the Weightlifters knowledge. We do not see a lot of women taking up the sport, as there is no future for the competitors. But now, it has changed slightly, with the Tri-Forces recruiting some women competitors. The lack of sponsors is a huge drawback. The media should also take responsibility for this. Sponsors think twice before coming forward, as they doubt they would get the desired mileage from the media.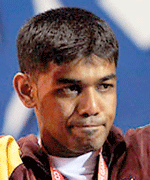 Sudesh Peiris
[Glasgow Commonwealth Games (CWG) Silver Medallist 2014]
Apart from Athletics, Weightlifting is the only other sport in Sri Lanka that has the potential to win an Olympic Medal. Already, we have won 4 medals at the CWG. Chinthana Vidanage won Gold at the 2006 Melbourne CWG and Silver at the 2010 New Delhi CWG, while I managed to secure Bronze. I also won Silver at the 2104 Glasgow CWG. Sri Lanka has also won several medals in Men's and Women's at Commonwealth Weightlifting Championships and at the South Asian Games (SAG) in 2016. Sri Lanka should concentrate on the 56kg and 62kg weight category events, if we hope to win an Olympic Medal. We have a number of competitors involved in this weight category and are training hard at the moment, under their respective coaches. Sri Lanka should draw up a 2-year plan, if they are to achieve their target. But, unfortunately, we do not have a similar plan with the National Body. At the moment, competitors begin training just 2 or 3 months ahead of the event. At this rate, we cannot win a CWG or an Olympic Medal. In the beginning, we followed outdated techniques, but today, we have all the modern techniques available for the competitors. We also had a limited number of participants at the events. Earlier, the National Championship was restricted to just 1 or 2 days. But today, we cannot complete the National Championships even in 3 days. We also see many Sri Lankan records being broken. My category is the 62kg weight class but sadly, I have no competition in this event. I think, if I am challenged by some of the other competitors my standard will also improve. I have been competing for 15 years and am stationed in Japan at where I receive a lot of facilities to continue in the sport. I achieved this standard on my own, but the other competitors are presently struggling without any sponsors. This is a major setback for our future progress. We are also lacking in equipment and other modern facilities. The training area is also quite small, compared with some of the other places in the world. We have only 6 platforms at the moment, which is not sufficient for serious training. Sri Lanka also badly needs a foreign coach, if we are to progress in the sport. But some of our local coaches are against appointing a foreign coach. Sri Lanka has made little improvement in Weightlifting, compared with some of the other Asian countries. This is very clear, considering the fact that, no one has so far emerged to replace me in my weight category. But, it is different in China, where the winner is challenged by another competitor at the next event. Their competition level is so high that they even set world records at their domestic tournaments. A Weightlifter should be well looked after with a specific diet course, while maintaining their weight level and retaining their energy. The Sports Ministry Hostel provides meals to all sportsmen and sportswomen, but that does not suit our diet plan. We should have a special diet plan for Weightlifters, for which we need sponsors. I earnestly appeal to the authorities to provide the necessary assistance and work towards winning an Olympic Medal.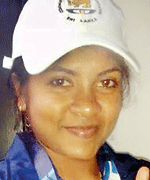 Chamari Warnakulasuriya
(National Champion and SAG Silver Medallist 2016)
In the beginning, I was involved in Karate but later, switched to Weightlifting. I started competing in Weightlifting events in 2011. I won the Best Lifter award on 4 occasions at the NSF in 2012, 2013, 2014 and 2016. I am currently the No.1 competitor in Sri Lanka. I have the honour of representing the country at the 2014 Glasgow CWG as the only female competitor. Although I could not win a medal at this event, I made amends by winning Bronze at the 2015 Commonwealth Weightlifting Championships in India. This was also my first international medal. In addition, I secured Silver at the 2016 SAG in India. My next goal is to qualify for the 2018 Gold Coast CWG and win a medal for my country. I think, Sri Lanka has the potential to win more medals in Weightlifting at international level, than in Track & Field. We will prove it in the future. Sri Lanka Women could easily win international medals in the 43kg and 53kg weight class, while the Men have a better chance in the 56kg, 62kg and 69kg weight class. We have to face a lot of challenges while training. One thing is that we do not have personal sponsors. The other fact is the task of maintaining a proper diet course before competitions. In addition, we have to maintain our fitness level, as well as to keep are weight below competition level. We also have to be aware of the doping factor, when using energy substances. These products are all costly and we need at least Rs 40,000 to cover these expenses. We have to utilize our monthly salary to cover these expenditure. We have to maintain our family, as well as to look into other areas to remain on top of this sport. We have gone to the extend of even pawning our valuable personal jewellery to purchase energy substances, and to maintain are standard in Weightlifting. The Sports Ministry provides little support for us as regards energy substances, although they do provide free meals and accommodation. My main target is to lift more weight in my category, rather than win a medal. I have lifted a total of 168kg in the 53kg category, which is a Sri Lanka record.