Ben-Hur A cinema based on bestselling literature
View(s):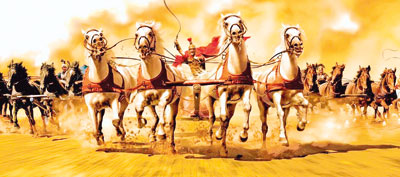 'Ben-Hur', the fifth film made based on 19th century bestselling novel 'Ben-Hur: A Tale of the Christ' by Lew Wallace is now being screened in Colombo and other theatres around the country.
Inspired by the 1880 novel, two silent films in 1907 and in 1925 were made. The third Ben-Hur film, 1959 blockbuster, starring Charlton Heston, made history with a record 11 Academy Awards and the 2003 animated film were made prior to the newest film by Kazakh director Timur Bekmambetov.
Starring Jack Huston, Morgan Freeman, Toby Kebbell, Nazanin Boniadi, Haluk Bilginer and Rodrigo Santoro, the film depicts the epic story of Judah Ben-Hur (Jack Huston), a prince falsely accused of treason by his adopted brother, an officer in the Roman army. After years at sea, Judah returns to his homeland to seek revenge, but finds redemption.The film is now being screened at Savoy Wellawatte, Excel, Liberty Lite, Vista Lite, Cine City, Sky Lites Malabe and few other outstation theatres.