President calls the shots: Dr. Indrajit Coomaraswamy Central Bank Governor
View(s):
PM, Malik called for meeting yesterday to be told of decision; Ranil agrees though he  preferred Charitha Ratwatte
Sirisena's strong stand strengthens his position within SLFP and hold on Govt., VAT revision, revolutionary measures to liberalise economy
CID acts against Sajin Vass after demand by civic action groups; shocking details of alleged extortion; 15 bank accounts for Rs. 610 million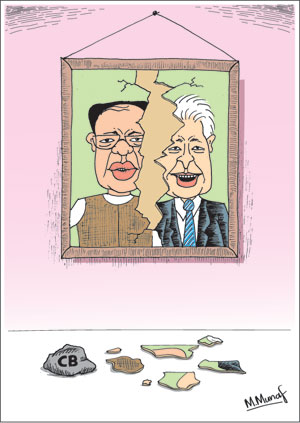 By Our Political Editor
President Maithripala Sirisena yesterday appointed Dr. Indrajit Coomaraswamy a renowned diplomat and economist, as the Governor of the Central Bank — ending weeks of speculation over who will take the post.
The move which climaxed a behind-the-scenes drama this week had pitted the two key players of the Government – the United National Party (UNP) and the Sri Lanka Freedom Party (SLFP) — on a virtual collision course.
The first intimation of Dr. Coomaraswamy's appointment came in the President's twitter account. It said: "After consulting all parties relevant, I appointed Dr. Indrajit Coomaraswamy to head the Central Bank of Sri Lanka."
Ahead of the appointment, Sirisena met Prime Minister Ranil Wickremesinghe and Development Strategies and International Trade Minister Malik Samarawickrema last morning. He conveyed his decision to appoint Dr. Coomaraswamy. The Premier agreed and Minister Samarawickrema also agreed to release Dr. Coomaraswamy who was serving as Advisor in his Ministry.
Premier Wickremesinghe told the Sunday Times: "Dr Coomaraswamy is a capable person. He comes in at a time when there will be a new Foreign Exchange Act, a Financial and Business Centre (at the Colombo Port City), and measures to strengthen Bank Regulations." He said the country needed a person who could interact with the international community "when we are opening ourselves to the outside world."
PM's letter on Thursday
Aggravating the situation was an urgent letter Prime Minister Wickremesinghe wrote to President Sirisena on Thursday. It was on this day (June 30) that Arjuna Mahendran ceased to be Governor. He had assumed office on January 26, 2015 after the resignation, just after the presidential election, of the previous incumbent Ajith Nivard Cabraal. Mahendran served the remainder of Cabraal's term.
Premier Wickremesinghe declined to reveal the contents of his letter except to say he had "made some observations." Other well-placed sources, however, revealed that he told Sirisena (in the letter) that he had the concurrence of the Finance Minister Ravi Karunanayake to recommend Charitha Ratwatte as the new Governor. According to UNP sources, this was for a limited period until the COPE investigation against Mahendran was concluded. It was believed that the COPE would rule that there were no charges against Mahendran. The Central Bank of Sri Lanka (CBSL), he had said, has been gazetted under him as Minister of National Policies and Economic Affairs.
Nevertheless, he had acknowledged that the Monetary Law Act, as it stood now, said: "The Governor of the Central Bank shall be appointed by the President on the recommendation of the Minister in charge of the subject of Finance." Hence, he had pointed out that the appointment could not be made by the President. It would have to await the return of the Finance Minister who is now abroad. "The President and I have a clear understanding on this," said Wickremesinghe.
However, Sirisena is learnt to have replied asking the Premier to recommend more names – an indication that he was not in favour of appointing Ratwatte, which appeared a temporary measure. The Premier had not done so. Sources close to the President said he sent the Premier a list of five names, which included Dr. Coomaraswamy, and urged him to recommend one. Wickremesinghe was of the view that if it was not Mahendran, it should then be Ratwatte who should be the Governor. Sirisena had not received any more recommendations.
Thereafter, these sources said acting in accordance with the Monetary Law Act, President Sirisena appointed Dr. Coomaraswamy. This was after a recommendation had been made by the acting Finance Minister Lakshman Yapa Abeywardena in keeping with provisions of the law. Ahead of the move, a leading Colombo lawyer was consulted on the legal aspects. He opined that the acting Minister was empowered to make a recommendation since he was performing the functions of the Minister of Finance. The son of Raju Coomaraswamy (Roving Raju) an accomplished diplomat, Dr Coomaraswamy had previously served in different positions in the Commonwealth Secretariat and even the Central Bank.
On Friday night there was heightened activity after the Government Information Department issued a news release. It said, "President Maithripala Sirisena will appoint a new Central Bank Governor in consultation with the Prime Minister once the recommendation is received from the Minister of Finance. The recommendation of the Finance Minister is also required to appoint the Central Bank Governor. Accordingly he will be appointed once the Finance Minister who is presently abroad on an official mission returns to the country and submits his recommendation….."
Barely an hour after this was issued, Ranga Kalansuriya, Director General of Media at the Government Information Department contacted media outlets and urged them not to use this news release. Evidently, it had been released without the President's approval. Later on Friday night, Nimal Bopage, Secretary to the Ministry of Media (a nominee of President Sirisena) said in a statement that no media statement has been issued by the Department of Information on the subject of the Governor of the Central Bank.
In remarks he made before the appointment of Dr Coomaraswamy, Premier Wickremesinghe told the Sunday Times, "There is no question of an interim or acting Governor. Such things don't exist. There is no provision in the law for it." He said a person should be named for the tenure stipulated in the law — six years. It was up to him or her to prematurely end their term, he pointed out. He revealed that draft legislation was ready to be introduced in Parliament to bring the Central Bank (among other institutions) under the Ministry of National Policies and Economic Affairs. Then, it would be this Minister (at present the Premier) who will make the recommendation. Wickremesinghe was disappointed that a planned bond issue on Monday did not materialise. He said a new date would be set soon.
Karunanayake summoned
On Thursday, the Prime Minister's Secretariat was telephoning Karunanayake who was overseas, to ask him to return to Sri Lanka immediately. He was first in Beijing for a meeting of the Asian Infrastructure Investment Bank. Thereafter, he had flown to Tokyo for a meeting of finance ministers. Premier Wickremesinghe spoke to Karunanayake on the telephone to tell him that his presence in Colombo was essential and to cut short his visit. As a result, he will return to Colombo today (Sunday). He was told yesterday there was now no need to rush back.
The fact that a new Governor has been appointed is in itself a significant development. Sirisena has thus shut the door on Mahendran. Earlier, some UNPers believed a new appointee's term may be limited by arrangement. This assumption was on the basis that the impending report by the Committee on Public Enterprises (COPE), the Parliamentary oversight committee, where the majority are UNP members, would clear Mahendran.
Sirisena loyalists asserted that Dr. Coomaraswamy's new appointment would be for the next six years, and declared it was a move which sent a strong signal locally and internationally that the President was calling the shots. In doing so, he also makes sure he does not offend the senior SLFP ministers who wanted Mahendran out, said one of them. "Surely, he (the President) will not want to be seen as doing everything the UNP way," he said. He added "he has to be assertive to strengthen the SLFP and make it a strong force."
Even before the new CBSL Governor issue aggravated to become a bone of contention between the UNP and the SLFP, a tripartite meeting of the President, the Prime Minister and the Finance Minister was due though not on the same day. This was to discuss further relief measures arising out of the VAT increase that has led to a countrywide campaign by small traders. The campaign is fast gaining momentum. Other far-reaching revolutionary measures to liberalise the economy by lifting controls in many spheres were to be discussed. The Singapore, Hong Kong and Dubai models have been examined. The likelihood of this being announced through a policy statement is not being ruled out. These measures including VAT revisions were to be made public this month. This week there was a lockdown of shops in Anuradhapura, Kandy, Serunuwara, Kiribathgoda and Warakapola.
"Those who are behind the campaign to close shops are opposition politicians against whom probes are under way for bribery or corruption," Karunanayake told the Sunday Times speaking on the telephone from Tokyo. He said the move to increase the tax base was envisaged to give relief to those affected by the VAT. However, "Joint Opposition" leader Dinesh Gunawardena defended the protests. "We are supporting the consumers and the traders who are badly hit. The VAT was not approved by Parliament. It was not in the budget proposals for which the majority voted," he told the Sunday Times. He said that the "Joint Opposition" welcomed the appointment of a new Governor, "an experienced professional and respected in his field." He said he hoped the new Governor would restore Central Bank's credibility.
The issue over the CBSL Governor zoomed into a heated controversy on Wednesday. This began with a one line message from President Sirisena's official twitter account at 11.46 a.m. on Wednesday (June 29). It said "I will appoint a new Governor to the Central Bank in the coming hours." It has obviously been tweeted by his staff. Sirisena was airborne by that time in an Air Force helicopter to the Mahaweli Grounds in Girandurukotte. There too he told a public meeting that within hours a new Central Bank Governor would be named. Making strong forecasts of coming events and not ensuring that they are a reality is not new to Sirisena. Perhaps he is savvy enough to become wiser after advertising coming attractions. Once he told a public meeting in Polonnaruwa that he would send home officials responsible for placing tax burdens on the people. Yet, the officials and the burdens remain. He cannot be blamed for this since he is giving leadership to a coalition where a wide communication gap exists. His dilemma is reflected in some day-to-day developments. Sirisena once told a meeting in the North Central Province that there would be changes in the VAT. A Government Minister had been quoted in a state-run newspaper in its front page lead story as saying there would be changes in VAT but no mention was made about the President saying it.
Flying back to Colombo, Sirisena decided to make a sudden visit to the Central Bank. Unconfirmed reports said he had in fact signed a letter naming Nandalal Weerasinghe, the present Deputy, as the new Governor. He had carried the letter, according to these reports. Governor Mahendran had got wind of Sirisena's arrival. He stood with a sheaf of betel to greet him. Sirisena ignored him and walked past to meet others and was later talking to senior officials. It was around 4 p.m. and Premier Wickremesinghe was at home readying to travel to Temple Trees. A meeting of the Ministerial Committee on Economic Affairs was scheduled to be held there.
Instead he went straight to the Central Bank where no one was aware he was due. He joined President Sirisena. Premier Wickremesinghe, told his ministerial colleagues that as Minister in charge he would have to be present when the President visits an establishment coming under him. During the conversation with President Sirisena at the Central Bank, the Premier had re-iterated the need to act on the recommendation of the Minister of Finance, as stipulated in the Monetary Law Act.
Premier Wickremesinghe's strong assertion had been that Mahendran should have been re-appointed. Strange but true, even some very noteworthy players in the opposition including a former VVIP, were privately supporting Mahendran's continuation in office. Those backing Mahendran believed the COPE would exonerate him of any accusations.
Bond issue: COPE probe and Auditor General's report
At present the COPE is probing how bond issues were made by the CBSL and whether there was any impropriety on Mahendran's part. Its report, which will take into account the findings of the Auditor General, is expected next week. In the event it does not reveal anything incriminating, the UNP leaders thought they could press for his re-appointment. Now, senior "Joint Opposition" members are asking what the Government's position would be if indeed any improprieties or shortcomings are pointed out in the COPE report. Would any action be taken against Mahendran, they ask.
In this backdrop, Auditor General H.M. Gamini Wijesinghe has formulated his report on bond issues by the Central Bank. Here are some relevant edited highlights:
"The avoidable estimated loss of Rs. 889,358,050 (or over Rs. 889 million) mentioned (in an earlier paragraph) and avoidable estimated loss of Rs. 784,898,755 (or over Rs 784 million) mentioned in (another paragraph) amount to a total of Rs. 1,674,256,805 (or over Rs 1.6 billion) in bond issues conducted on February 27, 2015 and March 29, 2016. It is revealed that authorities are responsible for not taking action to prevent the estimated loss of total of Rs. 1,674,256,805 (or over Rs 1.6 billion).
"Moreover if other bond issues conducted during the period in which direct issue of bonds were temporarily suspended — from February 27, 2015 to March 2016 — are calculated for benefits and losses, the likelihood of the above estimated total loss may go up.
"In the information revealed to the Auditor General when compiling this report and facts reported in the above mentioned paragraphs, it is not established that the Central Bank Governor acted with professional due care when performing his duties.
"It is emphasised that this report is compiled within the parameters of the responsibilities and subjects of the Auditor General. Beyond that, it was not examined whether any criminal or illegal acts which the Auditor General could not determine occurred. If there is a need to conduct such examination, I recommend that the assistance of a specialised agency be obtained."
The Auditor General's findings speak of a colossal loss to the Central Bank — a position which has been repeatedly countered by Governor Mahendran. That would naturally necessitate a detailed probe to determine whose assertions are correct. Another aspect which the Auditor General points out that is beyond his remit is whether any criminal or illegal acts were committed. Here again, the issues related to this could only be established if there is a probe by a state investigation agency. Thus the UNP is caught up in a Catch 22 situation. If indeed the COPE report contains any adverse findings including testimony from the Auditor General, the UNP could no longer have pressed for Mahendran's re-instatement. On the other hand, pressure to see a logical end to the allegations of alleged financial discrepancies revealed by the AG would place the UNP in a bigger dilemma.
Civil society groups were also agitated by the delay in the appointment of a Governor. Prof. Sarath Wijesuriya, convenor of the National Movement for Social Justice, told a news conference on Friday that they would be forced to react if an appointment was not made immediately. He was one of seven persons from civil society groups who met President Sirisena on June 17 to discuss matters related to bribery, corruption and other issues.
There was a factual error in the report connected to this meeting in these columns last week. Contrary to what was said, President Sirisena did not switch on the speaker phone when he called the Police Chief Pujith Jayasundera. "I am the one who raised the issue about Sajin de Vass Gunawardena during the meeting with the President. He did not switch on the microphone for us to hear when he telephoned the IGP," Gamini Viyangoda a co-convener of the Puravwesi Balaya (Citizen's Force), a civil society group, said. He is correct. However, in the presence of the civil society delegation President Sirisena did telephone the Police Chief. It is from him that he learnt that Special Task Force (STF) security for Sajin de Vass Gunawardena had been ordered by his predecessor, N.K. Ilangakoon. After the meeting ended, the President was unable to reach Illangakoon on the first occasion.
hereafter, he spoke with him and learnt that the security had been sought by a member of the Cabinet of Ministers. The call, as reported last week, had come to him from Temple Trees. That was how President Sirisena ordered the withdrawal of security. I reported in these columns last week that "the Police will proceed with action against the former Monitoring MP on the cases they are investigating."
Sajin Vass and alleged ghost contracts
De Vass Gunawardena was arrested by Criminal Investigation Department (CID) detectives on Monday, produced before a Magistrate and remanded until July 5.
This time it is the result of a lengthy investigation directed by Ravi Seneviratne, Senior DIG of the CID. The case involved the transfer of funds from Carsons Management Services and Equity Two PLC which were allegedly forced to have links with de Vass Gunawardena's Cosmos Aviation and Cosmic Construction. In statements to the CID, Krishna Selvanathan and A.P. Weeratunga, directors of the management and equity companies, have allegedly revealed that they transferred funds to de Vass Gunawardena's companies.
Selvanathan has said he met de Vass Gunawardena at a get-together. The latter had made inquiries about Selvanathan's business activities. Thereafter, de Vass Gunawardena had found that the premises No 55 Janadipathi Mawatha was being reconstructed by Equity Two PLC. De Vass Gunawardena had then allegedly summoned Selvanathan to his Borella office and wanted a sub contract handed over to his Cosmic Construction (Pvt.) Ltd. By this time all sub contracts had been awarded.
Selvanathan has claimed that since de Vass Gunawardena was an influential figure and the manner in which he was allegedly threatened, there were fears for his life. This was because he was a Tamil. Hence he claimed that he handed over a sub contract to "inspect the construction work of Cosmic Construction (Pvt.) Ltd." though in reality there was no work involved. The documents concerning this matter, Selvanathan had alleged, had been prepared according to de Vass Gunawardena's wishes. When the building in question was completed, the former Monitoring MP, Selvanathan alleged, had demanded ten million rupees without carrying out any work.
He claimed that there were death threats from unknown parties who wanted him to pay the money. Hence, two different payments amounting to five million rupees each in cheques were deposited in the Standard Chartered Bank's York Street Branch. CID detectives have obtained the account details and cheque numbers and recorded statements from those concerned to confirm the transaction. Detectives say Cosmic Construction (Pvt.) Ltd.'s accountant Prasad Dimuthu Kumara, had made a statement and submitted the account books of the company but there was no entry to suggest that ten million rupees was received. Detectives claim this information has been concealed.
Another instance which Selvanathan cited in his statement was about a casual conversation with de Vass Gunawardena. The latter had mentioned that his company managed several hotels. Selvanathan has alleged that de Vass Gunawardena had wanted him to rent helicopters from Cosmos Aviation to ferry tourists to their hotels. Selvanathan had replied that tourists were not coming in large numbers and did not require a helicopter service. He has alleged that de Vass Gunawardena threatened him and forced him to hire a helicopter for four months. Fearing for his life, he has claimed, he agreed. De Vass Gunawardena had demanded Rs. 20 million on the day documents for the deal were prepared.
The payment was made through the Standard Chartered Bank (Fort branch) to Cosmos Aviation and deposited in its account in National Development Bank's Havelock Town branch. Selvanathan has claimed in his signed statement that he has so far not seen any helicopter nor is he aware where they are operating from. CID detectives have recorded that the summary of accounts reflects this transaction and confirms the money was received by Cosmos Aviation. However, the transaction, their records say, is not reflected in the Cosmos Aviation account. Here again they allege that the transaction has been concealed.
During the CID investigations it was revealed that de Vass Gunawardena, after being elected as an MP has resigned from the post of Director of Cosmos Aviation on February 19, 2010. However, 'indirectly' he has been acting as the Managing Director, according to CID records. They say that according to the Assets declaration of de Vass Gunawardena for 2010/11, 2012/13, 2013/14 he had declared only his monthly salary as an MP and an additional income of Rs. 300,000. He had reconfirmed this in the statements made to the CID on March 16, 2015 and again on March 19, 2015. CID detectives claim they have established through documentary evidence that de Vass Gunawardena, the Managing Director of the companies (during January 13, 2009 to December 24, 2014), allegedly maintained 15 accounts totalling Rs. 610,904,450.50 (or over Rs 610 million). Statements provided by Accountant Prasad Dimuthu Kumara and Assistant accountant Ramya Kumari confirm this position, detectives have recorded.
However, this is not mentioned in the assets declaration by de Vass Gunawardena according to findings by the CID. During the period January 12 2009-December 19 2014, withdrawals amounting to Rs. 156,411,256.00 (over Rs 156 million) have been made by de Vass Gunawardena stating that they were drawn by the Managing Director. He has signed a company receipt to this effect confirming the transactions, the detectives have recorded giving details of it. Statements from different bank managers to the CID, seen by the Sunday Times, have confirmed the financial transactions. They have also made available documentation including cheque numbers, details of accounts, deposits made, withdrawals and other related information. CID sources said yesterday further investigations into the circumstances of how de Vass Gunawardena inherited a further Rs. 144 million were now under way.
These cases against de Vass Gunawardena are only accusations at this stage. He has not been proven guilty and therefore the law deems he is innocent. It was well known that this former Monitoring MP for the Ministry of External Affairs was a powerful personality under the previous Mahinda Rajapaksa administration. He was perhaps the only politician who was able to ensure that the Central Bank transferred millions of dollars to US-based public relations companies with just a hand written chit.
This week the entire Government was involved in an issue that revolves around one man – Arjuna Mahendran who was steadfast in his intention to continue as the Governor of the Central Bank. This has angered a sizeable section. Yet the UNP leadership continued to support him.
Paradoxical enough, under the United National Front (UNF) Government de Vass Gunawardena was treated with velvet gloves. He moved around with armed, camouflage-wearing Police commandos (STF) ordered on the telephone by a politician on the Government side. He sat on the stage in Galle when the Sri Lanka Freedom Party (SLFP) May Day rally was held. State investigation agencies probing him took a step back fearing they would face reprisals if they pursue the cases against him.
It took representatives of the civil society to raise this issue with President Sirisena. Thus, at least one case is being pursued vigorously. Those representatives may not be aware of more such instances where those responsible for bribery, corruption and other similar crime are enjoying a better life now, all because of the protection and support they receive from their cronies.
The public discontent can be gauged to some extent by what the civilian intelligence agencies of the state discovered. This week there were 56 protests countrywide by different groups for different reasons but all directed at the Government. Therein lies a strong message.