Debts not the way to go
View(s):

My dear Arjuna,
I thought I must write to you because you seem to be the man of the moment. Everyone is talking about you, some people want you to stay in your job, others want you out and they even seem to be finding it difficult to get a replacement for you, so you must be a pretty special person!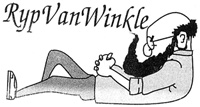 Pardon me, Arjuna, but I am confused by all these conflicting stories that are doing the rounds. Some say that you should not be holding the top job at the big bank because of some 'Bond' issue. Others like the Green Man are saying that you should be presumed innocent until you are proved guilty.
Now, I am not an expert in economics and the only 'Bond' I am familiar with are the movies with James in it. I suppose those are similar to your drama because everyone is kept in suspense until the very end but in those stories, the good guys always end up as winners and bad guys get in to trouble.
Arjuna, all this is allegedly not because of something you did but because of something your son-in-law did. They say he sold some 'bonds' while you were holding the top job at the big bank and made a handsome profit in the process – a profit which deprived our state coffers of some much needed cash.
Now, for the life of me, I can't see any wrongdoing there. Surely, the topic of conversation at the dinner table in the Mahendran household must be about the weather, how to avoid the traffic at Lipton Circus and Sri Lanka's latest defeat at the hands of whatever team they are playing – and not 'bonds'!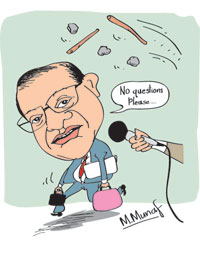 I am sure you didn't breathe a word about any 'Bond', James or otherwise, to your son-in-law. Yet they are trying to sack you because of that. It is similar to asking Mrs. B to resign from her job because Vijaya was travelling to the North and hobnobbing with terrorists. It is so unfair, isn't it?
Besides, if I am not mistaken, the people who wanted you out began their campaign even before you took up the job. They were complaining that you were Singaporean and not Sri Lankan. Didn't they know that if Sri Lankans had done this job properly, our economy wouldn't be in this mess by now?
Of course, there was a time when your job was given to the most suitable man serving in the big bank. At some point, our politicians began interfering with that and brought others from outside to do the job. I suppose no one complained because the people they appointed were competent and capable too.
Then, about ten years ago, Mahinda maama appointed that Cabraal chap whose only qualification was being a green turned blue Mahinda worshipper. Now, I can't remember any hullaballoo when he was given the job because those were the days when people just accepted what Mahinda maama did.
You must be feeling so aggrieved because the only thing that Cabraal chap did was to sign his name on currency notes and spend billions organising a bid for the Commonwealth Games that we lost – and no one complained. If he was half as efficient as you are, he would have at least sold a few 'Bonds'!
Now, even the Green Man has decided he has had enough of you. Some say he would have won more seats at the last election if not for you. I don't think you should be too disappointed by his change of heart because if you are a political appointment, you must surely know that it is 'easy come, easy go'.
Others say that the Green Man and Maithri are squabbling over who your successor should be. Why, Maithri told a meeting in Girandurukotte that he would appoint a Governor before the day was out and came to the big bank only to find the Green man following him there and putting a stop to it.
If both of them cared to look at the newspapers or indeed, looked at the calendar they would have known that your time was up and they needed to have a successor sorted out by then. It is not as if June the 30th suddenly dawned on them without any warning whatsoever, was it?
What was funny was being told that your successor would be named after Ravi returned to the island. They were trying to make it sound as if they were waiting to get his approval, when they didn't even trust his budget proposals and kept changing most of them day in and day out!
Arjuna, I am glad you are not seeking re-appointment until your name is cleared. If the speed of corruption inquiries in paradise is anything to go by, you would have retired by then. Or maybe you heard what Cameron told his Leader of the Opposition after Brexit: "For heaven's sake, man, go!"
Yours truly,
Punchi Putha
PS: There is still a way to get your job back, Arjuna. All you need to do is to go to the bank, summon a meeting of your officials, demand your job back, climb on a table, remove your shirt, appear to tie yourself to a ceiling fan and threaten to hang yourself – and you can be sure your demands will be met!