War Heroes' 'Virusara' Privilege Card's 2nd phase launch tomorrow
By Sandun Jayawardana
View(s):
The second phase of the 'Virusara' Privilege Card (PC) project launched by the Ministry of Defence and the Ranaviru Seva Authority will be launched tomorrow (27) at a ceremony at the Hingurakgoda Rajarata Maha Vidyalaya.
'Virusara', a brainchild of State Minister of Defence Ruwan Wijewardene, affords recognition to war heroes by assisting them and their families in their day-to-day activities, while offering additional perks exclusive to them.
Over 15,000 'Virusara' PCs have been given to beneficiaries since the launch of the project in January. Initially, the PCs were given to next-of-kin of service personnel killed in the war, and to those disabled or had retired from service on medical grounds.
This has now been extended to personnel who have served 22 years between 1983 and 2009. Accordingly, service personnel who retired after serving this period and those still in service will be eligible for these cards. This facility will also be extended to civilian employees of the Tri-forces who have served throughout the period of the war from 1983 to 2009.
Some of those who had already received the 'Virusara' PCs, as well as representatives of companies which had joined the programme, explained the benefits they had gained so far.
Cpl H.M.D. Tharindu Darshana was seriously injured on April 12, 2009, in the final battle against the LTTE at Pudukudurippu. He remains in service, working at his regimental headquarters, while representing his regiment in power-lifting at the Army 'para games' for disabled personnel. "We don't need to stand in long queues at banks and hospitals for example. When obtaining bank loans, the rate of interest for us is lower than it is for others. Many private companies also offer various benefits for us when purchasing goods, with substantial discounts for cardholders," said Cpl Darshana, outlining the benefits he receives.
Cpl H.D. Sunil of the Sri Lanka Air Force (SLAF) was repeatedly injured in various operations against the LTTE. Now retired, he still requires continuous and extensive hospital treatment. He said he was grateful that private hospitals which have joined the 'Virusara' programme give discounts up to 15% for laboratory tests, while also reducing hospital charges.
Mrs Sheila Jayasekara's only child, Lt Damitha Bandara Jayasekara (21) sacrificed his life during the 'Yal Devi' operation in September 1993.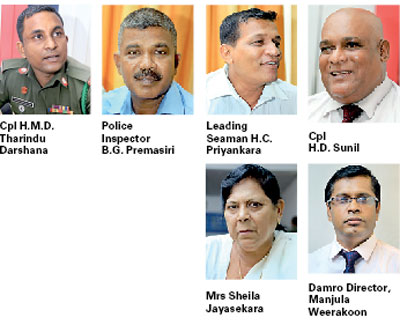 While the pain felt at the loss of her son will always linger, Mrs Jayasekara stated the recognition bestowed on him gives her a sense of pride.
"If we are neglected, we will feel it was a waste to give our sons and daughters to serve in the armed forces. It is because of them the country is at peace now."
About 54 private companies have joined the 'Virusara' programme to provide benefits for service personnel.
Damro Director, Manjula Weerakoon said they offer a 15% discount on all their products to 'Virusara' cardholders and their families. "We currently have 150 showrooms islandwide. They can go to any of these outlets and obtain our services using the PC," he stressed.
Police Inspector B.G. Premasiri, Leading Seaman H.C. Priyankara and Army Sergeant W.A.P. Wickramarachchi observed that, while the card offered many benefits, it had still not been adequately promoted in rural areas. This needed to change, they stressed, pointing out that most recruits to the armed forces and police came from poor families in the villages.
"The card is still not recognized in Government cooperative stores, Sathosa outlets and at Government hospitals. Even hospital staff were unaware of the card's existence," they complained.
They suggested it would be helpful if posters or stickers regarding the project were put up within Government institutions for both the staff and the public's attention.
Authorities acknowledged there were 'communication lapses' with regard to educating those in Government institutions about the card and the privileges cardholders were entitled to under it. They assured that steps would be taken to ensure the message is conveyed in a more effective manner to minimise inconvenience to cardholders.