Mangroves are a natural barrier against marine depredation: Expert
By Kumudini Hettiarachchi
View(s):
It was a fascination with scuttling mud-crabs (Scylla) with their vicious pincer-claws and their shells sporting anything from a deep mottled green to a dark brown that led him to mangroves, a love of which has persisted over the years.
Not being satisfied with just studying mangroves, Dr. Donald Macintosh has become a strong advocate, flying from country to country, to spread the message on their importance. Interestingly, the mud-crabs which riveted his attention as a youth and continue to do so, are known to crab-lovers as the 'Sri Lankan jumbo crabs', which are threatened by habitat loss and over-fishing. (See box please)
The most recent visit to Sri Lanka of 65-year-old Dr. Macintosh was in May, to make a presentation on 'Mainstreaming biodiversity: Sustaining people and their livelihoods' to commemorate the International Day for Biological Diversity, on the invitation of Biodiversity Sri Lanka.
The day after his presentation, it was an exclusive interview with the Sunday Times in the morning, before travelling deep-south to give his technical expertise on coastal development to two hotels in Weligama and Hambantota, after which it was back to base in Bangkok, Thailand, for he is Senior Advisor at 'Mangroves For the Future' (MFF) in the Asia Regional Office of the International Union for Conservation of Nature (IUCN).
Before we focus on the importance of mangroves, we turn the spotlight on the 'man amidst the mangroves' who has been working in this wide field of mangrove ecosystem management and inextricably-linked coastal conservation and development including sustainable fisheries and aquaculture, for more than 35 years.
Born in Edinburgh, Scotland, he smilingly points out that it "can't get more Scottish than that" before he speaks briefly of his academic achievements. It was when he was taking a course in Tropical Biology at Aberdeen University that the "great diversity" of the subject dawned on him. Feeling the need to work in the tropics, he applied for a Commonwealth Scholarship, as there was a research link between the University of Aberdeen and the University of Malaya.
"Off I went to Malaysia as a 21-year-old, unsure about what I wanted to do," he says, adding that he was able to secure one of four Commonwealth Scholarships offered.
The mangrove fascination gripped him when he was studying for his doctorate on the 'Ecology of crabs living in mangroves' at the University of Malaya. This was the 1970s, and there were only three people in the whole country who were interested in mangroves, laughs Dr. Macintosh, describing how the early interest in shrimp farming in mangroves began in Malaysia, which in turn led him to look at the 'economic uses' of mangroves. "Mangroves were arousing an interest among businessmen which was making governments also pay attention to them."
Then back home to Scotland went Dr. Macintosh to Stirling University's Institute of Aquaculture, taking a deep look at how mangrove aquaculture could be developed. "In Kuala Lumpur, Malaysia, I was interested in developing the aquaculture potential such as shrimps, blood cockles and crabs in mangroves," he says.
His personal life too had taken a different pathway as by this time he had married Sherry ("as in the wine," he smiles) whom he met at the University of Malaya. Sherry who is from Malaysia is now retired after working as a Local Government Service Provision Officer in Scotland.
The stint at the Institute of Aquaculture, Stirling University, was followed by Dr. Macintosh donning the mantle of Danish International Development Agency (DANIDA) Professor in Environment and Development at the University of Aarhus in Denmark, where he was also Director of the Centre for Tropical Ecosystems Research. Even though he is retired from there now, he remains an Adjunct Professor at the Asian Institute of Technology (AIT) near Bangkok.
He has also managed several large coastal development projects in Southeast Asia including as Senior Technical Advisor to 'Support to the Marine Area Network' in Vietnam, Consultant to the World Bank/DANIDA funded 'Coastal Wetlands Protection and Development Project' in the Mekong Delta; and Denmark's Coordinator of a DANIDA-funded Integrated Coastal Zone Management Programme at AIT.
From 2007 to 2011, meanwhile, Dr. Macintosh was the Regional Coordinator of MFF, a post-tsunami response involving Sri Lanka, India, Maldives, Thailand, Indonesia and Seychelles, and more recently also Bangladesh, Pakistan, Cambodia, Myanmar and Vietnam.
Going back in time to the deadly devastation of the tsunami, he says that the catch phrase put out by Special Envoy for Tsunami Recovery, Bill Clinton, was 'To build back better'. This is apt – there was forward-thinking to put back something better to help the coastal communities along the Indian Ocean. MFF was launched in December 2006 by Bill Clinton in Phuket, Thailand, with the symbolic planting of mangroves, with funding from Scandinavia, Norway, Sweden and Denmark, with smaller amounts from Australia, Germany and United Nations Agencies.
"Now it is almost 10 years since the launch of MFF and there needs to be increasing private-sector support, for they need to stand up and be counted," says Dr. Macintosh, reiterating that MFF should get localized, as ownership is important for sustainability. It should be a three-way joint effort – local businesses, local community and local government – while universities and media also play a vital role. Technical advice and other speciality advice may be secured from outside.
Thereafter, Dr. Macintosh launches into his favourite topic………mangroves which are not only effective in warding off the effects of a tsunami but are also an asset to have around in severe floods, typhoons or cyclones.
"The mangroves physically protect a coastline against wave surges created by storms, with tsunamis being an extreme version of it. The mangrove root system is dense and strong and acts as a physical barrier by absorbing the force of tidal-wave surges while the mangrove forest will also absorb wind energy up to a certain amount," he says.
Dr. Macintosh speaks with evidence in hand that a 100-metre wide belt of mangroves will reduce the velocity of a storm wave by 90%. This has been measured, he says.
Making us take a closer look at mangroves, this expert points out that their dense root system binds the soil, reducing soil erosion. When sediments are washed by rivers to the coastal zone, a lot of it is trapped by this root system, so there is no destruction of corals by the sedimentation. The flow of fresh flood water from land to sea is also slowed by mangroves.
"Globally, we've fragmented the mangroves and now we have them in patches. Therefore, effectivity is diminished. There is an urgent need to recreate quite a significant belt," says Dr. Macintosh, adding that mangroves are also valuable in supporting fisheries – shrimp, mud-crab and a large number of fish species. What we don't think of is that mangroves also harbour many insects and birds, in an environment of rich biodiversity.
The protection of mangroves should be incentive-based and not regulated, he is quick to point out. Mangroves need protection and management in a way where communities benefit. This, in turn, becomes an incentive for the community to become the guardians of mangroves.
Protecting  our mud crab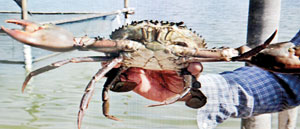 Biodiversity is the 'natural capital' that we need to protect and use wisely, underscores Dr. Don Macintosh, pointing out that habitat and biodiversity loss and pollution are the widespread consequences of human activities. These impact on human health, food security and livelihoods while climate change and extreme weather patterns are adding to the threats faced by all natural ecosystems.
Dwelling on what the 'ecosystem approach' is, he says it is astrategy for integrated management of land, water and living resources that promotes conservation and sustainable use in an equitable way.
Picking out the coastlines and seas within tropical Asia which are among the most productive and biodiversity-rich in the world, Dr. Macintosh explains that coral reefs and sea-grass beds provide the primary production and habitat needs of countless marine animal species, while mangrove ecosystems support hundreds of animal and plant species from diverse origins (marine, intertidal and terrestrial).
"Conserving these valuable, but fragile ecosystems and the biodiversity they support is made very challenging by a number of factors. They include the high levels of exploitation of aquatic species by coastal fishing communities and commercial fisheries and development pressures to increasingly urbanise and industrialise Asia's coastal zones."
Without sustainable (ecosystem-based) management, there is over-exploitation of natural resources; unplanned and unregulated coastal development; weak institutional responsibilities and poor governance which lead to habitat degradation, erosion, pollution, aquatic diseases and loss of valuable species, fisheries and livelihoods, it is learnt.
Here, Dr. Macintosh delves deep into the mangroves and picks up the mud-crab citing the case study of the 'Sri Lankan jumbo crab'. Moving among mangroves, inshore and offshore habitats during its life history, which includes phases as a planktonic, crawling, burrowing and swimming organism, this iconic and valuable crustacean is severely threatened by habitat loss and over-fishing.
The mud-crab is the most mangrove-dependent fisheries resource supporting local livelihoods, but is severely over-fished, according to him.
"Immensely important to the food and livelihood security of millions of coastal- and river-dwelling people globally and especially across Asia, the commercial species are part of complex food webs. However, they have been heavily impacted by over-fishing, habitat loss or degradation and pollution," laments this expert.
This is why Dr. Macintosh is urging a "common vision" for healthy coastal ecosystems, to bring about a more prosperous and secure future for coastal communities.
Otherwise, for Sri Lankans a sumptuous, finger-licking good crab curry may also become just a dream.