"Lester, Cinema and Sri Lanka" launched
View(s):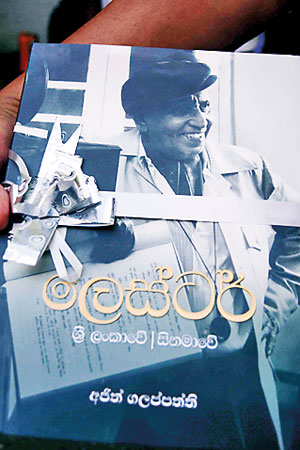 "Lester, Cinema and Sri Lanka" a detailed account of Dr. Lester James Peries' impact on local cinema and on the country, a Sinhala book written and documented by cinema journalist Ajith Galappaththi was released on April 5, on the birthday of the veteran filmmaker.
In 15 chapters, the text captures how this memorable artist, Lester James Peries and his life's pursuit influenced the history in our country and film industry.
The book features a parallel record of the historic significance of both Lester's life and the local film industry. Also the book covers how the Indian trade takeover influenced the national film culture in the 40s as well as information on Lester's first cinema text "Soliloquy' written when he resided in The United Kingdom. It also includes an in depth analysis on the first film directed by Lester James Peries and how the political turnover at the time affected it. The book reveals how Lester James Peries redefined local cinema standards after "Sandeshaya' "Veera Puran Appu" and "God King" and how he revolutionized the culture and personality of the local film industry with movies such as "Nidhanaya", "Gamperaliya' and "Ahasin Polawata". This study also covers how teenage poet Lester James Peries, who later used his poems in the Sri lankan film industry and how these creations projected his life's experiences.
The author of "Lester, Cinema and Sri Lanka' Ajith Galappaththi is a graduate and is presently reading for Masters in Sociology and Communication. The book is a Sarasavi publication.