Avurudu at 'Mahaweli Reach'
View(s):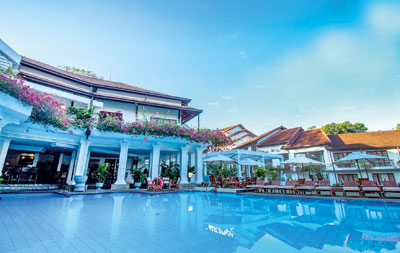 Located in the hill capital of Sri Lanka, the Mahaweli Reach Hotel has a host of events planned to add vibrancy to this already colourful season. Interestingly, the Sinhala Aluth Avurudda was first celebrated in the Kandyan Kingdom as a national festival, under the patronage of the Kings. It was observed according to the wise counsel of the astrologers, along with auspicious rituals, so as to invite prosperity and happiness amongst the people and country.
Playing its part in being the bearer of great auspices, this time over the Mahaweli Reach Hotel is getting ready to transform its beautiful, lush grounds by the gently flowing Mahaweli, into a typical village side 'Avurudu Pola' as everyone so fondly knows it.
Titled 'Suriya Udanaya', the Avurudu Pola will take place on the 9th of April. The grounds will feature peddlers with clay pots, brassware, wood carvings, paintings, ornamental fish and plants, and cane ware. In addition, there will be food stalls with stations selling Avurudu sweetmeats such as kalu dodol, achcharu, kavili and fruit. The Pola will also have a coffee shop, or more appropriately a 'Kopi Kadé' set up to serve village style coffee to tired shoppers.
The highlight of the day however, would be the Avurudu games conducted by the Hotel. Celebrations call for traditional village style games, and include kotta pora (pillow fighting), kana mutti bideema (cracking of a clay pot, blind folded), sack race, obstacle race, and coconut palm weaving, coconut scraping and toddy drinking competitions. There would also be the choosing of a 'Mahaweli Avurudu Kumari', the traditional beauty queen, to literally crown the event.
In keeping with the April festivities, the Hotel will have authentic 'rasa kavili' for sale from the 5th onwards.
Enjoy the Avurudu season at Kandy's favourite Hotel, with up to 30% discount on card payments.
'It is a time for new beginnings, and here at the Hotel, we ensure your beginnings will be as treacle and curd' said Nelunika Weerakoon, Manager sales and marketing of the Hotel. .