What has happened to us Sri Lankans?
View(s):

I am pleased to note that our people welcomed the New Year with great rejoicing. There was a time when people squandered large sums of money to enjoy themselves in hotels and other places. Some hotels charged Rs. 75,000 or more.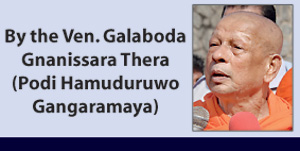 On an earlier occasion, I told you about a 15-year-old drunk teenager killing a person while driving his car afters New Year merrymaking. I pacified the family and thought about a way to change this situation. I organised religious ceremonies from December 31 onward to usher in the New Year. I blessed the people and distributed coins, pirith nool and Seevali yantra to more than 60,000 devotees who came to the temple. I am aware religious ceremonies were held in other religious places too.
Now mostly tourists go to hotels to welcome the New Year. I would like to share how the New Year ceremonies went on this year.
Sometime ago, the Central Bank issued Rs. 10 coins with the engraving of the Dalada Maligawa. I wanted to get from the Central Bank Rs. 10 coins to the value of Rs. 200,000. I was told there were no coins with Dalada Maligawa. Instead, they issued 30,000 coins with the engraving of Sri Pada and 20,000 with Kelani Viharaya. In all, I received 70,000 coins with pictures of religious places. At the Gangaramaya, however, we had some coins with the picture of Dalada Maligawa. All these coins were distributed among the devotees. We will be continuing this process till the National New Year. Anyone could call over at our temple and receive these coins with blessings. It is a pity that some those who received the coins did not know the significance of the pictures on the coins. It is good if the Central Bank continues the practice of depicting various religious pictures on coins. Gangaramaya can help by providing the required pictures.
During the past one month we have been calling for well-wishers to donate various items to a project aimed at helping the people of border villages who suffered a lot during the war. But so far we have not had a good response by way of donations in kind such as agricultural implements, water tanks etc. I wonder whether this is my misfortune or the misfortune of the poor people or the country.
If we could take lessons from the past we will not have border villages, war and divisions. The Central Bank was bombed when the Navam Perahera was being conducted. We stopped the Perahera and gave all the donations to the injured and to the families of those who perished. We only had a symbolic Perahera with flowers. This year the Navam Perahera will be held on February 21 and 22. Most of the donations for the Perahera will be channeled to support the poor families in faraway villages. We will donate roofing materials, motorcycles and bicycles. In response to the request made by President Maithripala Sirisena, we are planning to work at district level to donate water filtration plants to alleviate the suffering caused by kidney disease. As we will be using the donations received for the Navam Perahera for the above purposes, all donors of all communities could contribute. You may contact us by phone, mail or via our website. The contact details are also given at the end of this article.
Instead of spending hundreds of thousands of rupees at the death of a person, it is better to donate something to the differently abled persons — like wheel chairs, crutches and other useful items. This will definitely bring everyone merit in the New Year. In the New Year we should resolve to cut down extravagant wedding and birthday parties and help the poor. You could help the renovation work at the Gangaramaya Kataragama Pilgrims' rest which caters to more than 3,000 pilgrims daily or help the annual Dansala there.
Today even fireworks are imported to the country. Plastic decorations are imported. Millions of rupees are spent on toys for children, dresses, ornaments. Hope the authorities will open their eyes to these. False reports are submitted to insurance companies and claims made. There is a danger of these companies closing down. Sea fish is freely available and the Government helps the fishing industry. But fish is very expensive. Boats are insured for a high sum, and some purposely get the boats sunk to claim insurance, thereby causing the insurance companies to go bankrupt. Some cooperative insurance institutions do not insure fishing craft. Vehicles for public use, hired vehicles, passenger vehicles, school vans and buses are insured for a paltry sum with third party cover. In case of an accident everyone suffers. This is against the law, but even those in authority are unaware of these malpractices.
Boards with the message "Do your duty or disappear" should be displayed at every public place. People must protest in public if and when the country is being dragged into ruin. In India the civic conscious people conduct Hartal to open the eyes of the Government. It is good to resort to Hartal to put the country in order. Opportunists have started various fronts for their own good and are now fast asleep. Those opportunists who are bent on creating caste and creed differences for their own good should be defeated.
Today the education system is weak. Medical services are far from being satisfactory. Even my life was saved because of medical help I received in Singapore. I was fortunate to have a group of faithful devotees at the temple to help me. All do not have that facility. Many sick people from the country go abroad for treatment. This is not because they have money, but because they do not want to die prematurely. Today there are many medical laboratories without any proper quality control. Some of the medical equipment and even medicine are of poor quality. Who is responsible for this? Are there any laws to control this? Abortion is rampant. These result in evil. Some of our children and young mothers visit dubious spas and massage clinics. We must be constantly alive to evil influences on our younger generation. Such influences should be publicly addressed and brought to light. Let us even resort to Hartal to protect our people. That should be our greatest challenge for 2016.
Please write to us or speak to us.
Hotline: 0117917006
Gangaramaya, Sri Jinarathana Road, Colombo 02
Website: www.gangaramaya.com.
Telephone: 0112435169, 0112327084
E mail: gt@gangaramaya.com