Dr.Wimal Karandagoda to steer Durdans
View(s):

The First Joint Commission International accredited hospital in Sri Lanka, Durdans Hospital, recently appointed veteran medical administrator Dr.Wimal Karandagoda as its Chief Operations Officer and Director Medical Services.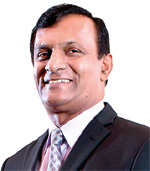 Dr.Karandagoda taking up his new position on January 1, 2016 said, "It is indeed a privilege and honour for me to take up these positions at a hospital that has become known for the quality of services and care it offers its patients. Having trained in the fields of meticulous management of a hospital environment, I look forward to bringing my expertise to enhance the services being offered at Durdans. The hospital is well-equipped with high skilled staff supported by the latest technology. It is my aim to make the best use of these resources to ultimately benefit every patient.
Dr. Karandagoda, a Senior Medical Administrator in Sri Lanka obtained his MBBS in 1981 from the Faculty of Medicine of the University of Peradeniya and Master of Medical Administration in 1996 from the Post Graduate Institute of Medicine at the University of Colombo. He is also a scholar of the Health Services Management Centre of the University of Birmingham, United Kingdom where he obtained his basic training in Health Planning & Management in 1990. Furthermore Dr. Karandagoda has been trained in Manila, Philippines and Malaysia in 2003 and 2006 respectively as a Productivity Specialist organized by Asian Productivity Organization.
He counts for over 30 years of experience as a Senior Medical Administrator in the Ministry of Health working as Director of Teaching Hospitals, Regional & Provincial Director of Health Services and Director (Policy Analysis & Development) at the Ministry of Health. Dr. Karandagoda also worked as the Director Medical Services of Lanka Hospitals since 2009.