Rehan's take on contemporary Sri Lankan Cinema
View(s):

Young film-maker Rehan Mudannayake will speak on 'Contemporary Sri Lankan Cinema: From Script to Screen' today, January 10 from 10 a.m.-12 p.m. at 199 Temple Road, Jaffna. Entrance is free.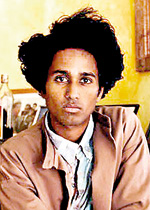 Rehan Mudannayake hails from a new generation of young Sri Lanka filmmakers who write, direct and produce both documentary and fictional video works. To date his works have mostly been screened in galleries and have also included a co-production with artist Liz Fernando. While the cinema has probably been Mudannayake's largest influence, his interest in making films has additionally been informed and shaped by his upbringing in Sri Lanka and his education abroad.
Tackling issues of sexuality (The Imprint of L.F., 2015) and class (Elephant, 2015), Rehan's work vividly focuses on social taboos in a society not only ravaged by war but also by rigid social beliefs. For Talk #28 (English with Tamil translation) Rehan will discuss the development of each of his films from inception to completion including the influence of local and international filmmakers such as Prasanna Vithanage (b.1962) and Kahlil Joseph (b.1978).
A screening of his first short film Elephant (20 mins), a harrowing drama about the Colombo elite, will take place as part of Rehan's speech.