Sharp and funny: Legally Brown comedian Nazeem Hussain on tour
View(s):

Nazeem Hussain, the son of Sri Lankan emigrants is the star of his own critically-acclaimed TV show, 'Legally Brown' in Australia. He will bring his own brand of comedy here when he performs 'Nazeem Hussain is Legally Brown in Sri Lanka' next Sunday, January 17 at the Sri Lanka Exhibition and Convention Centre at 7.30 p.m.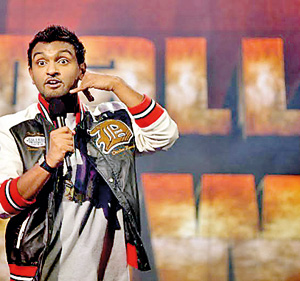 Nazeem's show has broken new ground in Australia and received widespread critical acclaim. "Legally Brown might just be the best new comedy series on TV. There's little worse than being told a "brave" new comedy will be "edgy" and "dangerous", but Hussain's new vehicle genuinely does what it promises ."…A mix of stand-up in front of a live studio audience and pre-recorded sketches and hidden-camera pranks, Legally Brown is at once sharp, funny and often uncomfortable – everything decent comedy should be," the Sydney Morning Herald said.
Nazeem was until recently one half of cult political comedy duo Fear of a Brown Planet (FOABP) with Aamer Rahman. FOABP first appeared on the Australian comedy scene in 2008, with a sell-out run at the Melbourne International Comedy Festival. They were awarded the prestigious 'Best Newcomer Award' that year and won over critics and fans alike. Hussain went on to regularly perform with Fear of a Brown Planet across Australia, including two shows at the prestigious Sydney Opera House in 2013.
Nazeem has also performed stand-up on the Melbourne International Comedy Festival All Stars Gala and toured Australia as part of the Melbourne International Comedy Festival Roadshow in Australia and Asia.
In 2011 Nazeem performed with Fear of a Brown Planet at the largest arts festival in the world – the Edinburgh Fringe, receiving praise from the Guardian newspaper. That same year FOABP was the focus of an episode of Australian Story, documenting Aamer and Nazeem's lives in Australia as well as their debut performances in Edinburgh and London. In September 2012, they returned to the UK for a tour and a date in Antwerp. Their Australian Story episode aired on the ABC to almost one million viewers nationally.
After opening for Dave Chapelle on the Australian leg of his world tour in 2015, Nazeem is on his first ever solo tour 'Legally Brown' bringing him to the UK, Asia and Sri Lanka.