Kumara knows he is not alone in his troubles
By Kumudini Hettiarachchi
A story in the Sunday Times Plus about a family facing hard times, generates heart-warming responses from generous readers
View(s):
As the New Year dawns, there is renewed hope not only of a better life but also in the goodness of people, for R.P.D.R. Kumara and his family toiling under a heavy burden.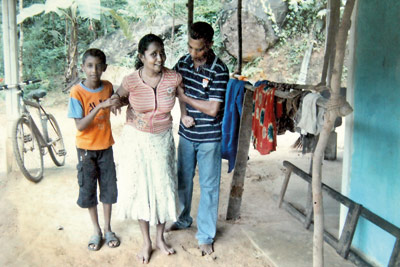 For, soon after the story headlined, 'She ain't heavy she's my wife' was published in the PLUS of December 13, of their struggle to look after wife and mother, O.P.M. Sriyani Kusumalatha who is an invalid, numerous were the hands extended to them by generous readers of the Sunday Times. Sriyani is afflicted with the rare and incurable autoimmune disorder, Mixed Connective Tissue Disease (MCTD).
While money flowed into Kumara's account after his plea for help to buy a small house which was more accessible than his current remote home, his mobile too was inundated by calls, close to 50, of concern and offers of help.
Although Kumara was seeking only Rs. 470,000 and a couple of lakhs more, his bank account has swelled to over Rs. 1.1 million, with people sending in donations ranging from Rs. 500 to Rs. 100,000.
Some had also visited the family at their home itself bearing gifts; a well-wisher from a supermarket had delivered to Kumara's office, just before Christmas a large 'hamper' full of dry rations; and others had promised to pay for the renovations to the new home he is hoping to buy and one for the electricity connection.
A person who sent her contribution to Kumara's account on the three-month death anniversary of her husband had been appreciative and moved when he informed her on that day that he and his family remembered her beloved when offering a few flowers at their shrine.
Another had promised to pay the medical bills for Kumara to show his wife to a top Consultant Neurophysician in Colombo.
From Chilaw had come a call, telling him that they would donate 40 perches of land to him, which he with much regret could not accept due to family considerations.
Taking him to a bookshop in Colombo, a donor had bought the full book-list of 12-year-old Dasun, with another person visiting the family home and requesting Kumara to arrange the best tuition in English and computers for the boy, the cost of which he would meet every month.
From him there had been just one request – half his monthly donation should provide the protein and other food requirements of the adolescent and also what he "likes" to eat, while Dasun should write to him monthly on his progress in these subjects. "After six months, he should write methis note in English," he had urged.
As Kumara goes about getting the deed of the small block of land he is hoping to buy checked out, he is overwhelmed by emotion over the outpouring of support.
"We now know that whatever we may have to face, we are not alone," he says. And it is from the very bottom of our hearts, that the Sunday Times too says those simple but meaningful words – "Thank you."