Letters
View(s):

Are the President and PM playing a 'back scratching game?'

It can be argued that most Sri Lankans who voted for this Government are getting impatient and sometimes pessimistic over bringing perpetrators of crime and a host of other nefarious activities during the previous regime, into the limelight and having them punished for their deeds.

Almost every UNP and then opposition heavyweight waxed eloquent on how much the MR regime had plundered and how they plan to bring them to book. Today, the silence of those very people holding ministerial positions is deafening!

Despite many exposes, no one has so far been prosecuted! Let's take a quick count on some issues that have so far been raised.

Sri Lankan Airlines

Even before the 'one man inquiry' was concluded, the corruption and mismanagement was common knowledge. However, neither the Chairman nor the then CEO or anyone else for that matter, has been charged with any offence.

Was the Weliamuna investigation a waste of tax payers' money? The people of this country spent over rupees three million on this inquiry and investigation. What is the outcome?

Sri Lankan Airlines is still being plundered. For instance, a former CEO who was sent to Britain to make way for a 'preferred change' here, was recalled recently and continues to be paid a package of over rupees eight million a month!

What is he doing here to warrant such a remuneration? Furthermore, while he is here in Colombo, his wife continues to live in London at the expense of the airline! Who is he so important for? The Airline or the Government? We know that he has a connection to a 'strongman' of the previous regime.

What is the Aviation Minister doing? Is he worried about losing his portfolio? Where are the PM, Finance Minister, Economic Minister and other government leaders? Why are they quiet? We are often fed the standard story of how all airlines in the world are at a loss. Of course, Airlines operated by incompetent people and governments will run at a loss.

Then comes the news that the brother-in-law of a highly placed Minister is seeking to be appointed as Sales Manger to the Airline's UK office.

Even if this is considered necessary, is it not the same nepotism this Government was advocating against? This kind of action is not only disgraceful but also a huge let down to the people who voted for this Government.

Sri Lanka Ports Authority

Arjuna Ranatunga has been portraying a picture of virtue, taking to task his former masters and even his cricketing colleagues for being 'greedy'. A classic case of the 'pot calling the kettle black'!

Now he gets all his top officials in the Port Authority to sign and submit undated letters of resignation – a tactic he obviously picked up reading about the old fox JRJ. And what is worse is his justification of his own sibling to the post of Chairman PA!

And whatever happened to the top duo who waxed eloquent that all top public service posts will be filled only after a committee which included the two of them have approved the candidates.

Did they approve of Arjuna's brother? If so, on what basis? Shouldn't they publish the criteria for such a job and how Arjuna's brother fits the bill?

These are only a few of the many pitfalls of the present regime and they will be heading for a bruising at the next elections if they do not get their act together and literally 'walk the talk'.

Sadly, to the average citizen, the President and the PM seem to be 'play acting' and the most common game appears to be 'you scratch my back and I will scratch yours'.

If the two of them keep playing ball with each other, the audience will not enjoy the game for long. After all, what is the difference between them and the previous regime where, at least, nepotism is concerned?

It is hard to believe that these two are playing for time and letting 'odd balls' in Government service do just as they please, while showing a different picture to the public.

If they lack the will to act because of political disadvantage, they should pack up and go back home and let someone who has the guts do the job.

R. de Silva
Kalubowila
---
Two million rupees worth of books going waste
The news item that two million rupees worth of books is going waste just because the former chairman's picture has been printed on the front cover begs the question: "Are we all such fools?"
First of all who authorized such printing? If it is against the law then that person/s must be held responsible and must spend out of his own pocket to rectify the mistake.
If he does not, then adequate punishment must be meted out to him, him being the former chairman being immaterial.
On the other hand just to keep the books without distributing them while many a child finds it difficult to buy the books is atrocious. It is not clear whether they are text books or exercise books.
There are many ways to overcome the problem. Simply pasting a sticker on the face of this picture will solve the problem. If the government cannot afford to spend on this I am sure many NGOs will come forward to do so for the sake of the poor.
Or a new cover just of plain paper can be incorporated as the cover.
Or the picture just can be ignored and the books distributed. After all most of the time the children put another cover on the books.
Whatever happens the books should not be allowed to collect dust and be dumped as garbage. Hope the authority will take some action.
Dr. Mareena Thaha Reffai
Dehiwela
---
We are not descendants of Usain Bolt!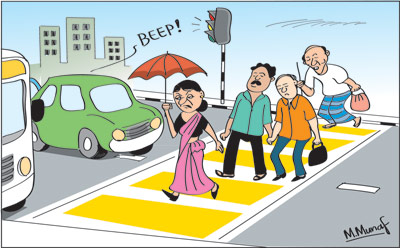 Traffic signal lights planners in Colombo have given little thought to the pedestrians who are forced to cross the roads in a few seconds.
We are not descendants of Usain Bolt to make a quick dash to the other end. What about the elders and less abled people in the middle of the 'death trap'? Pedestrians emit no carbon fumes – only a few drops of sweat to pollute the environment. So drivers please respect our needs.
In Western countries if you stand at a pedestrian crossing all vehicular traffic comes to a standstill till you reach the other end.
A word to the pedestrians, especially youngsters going in groups, please move aside to give way to people crossing. The most selfish lot are the people holding umbrellas and walking in the middle of the kerb.
Look at the busy ants going fast in a row avoiding collision in that process. Aren't we humans greater than those tiny ants?
Finally the 16,000 dollar question – why are there police officers on duty at signal lights which are in perfect working order?
Kanagar Raveendiran
Colombo 6
---
This is life
Life is neither a Tempest nor a Midsummer Night's Dream
More often alas it's a Comedy of Errors
For you may find it As You Like It
Or make Much Ado About Nothing
Or even declare Love's Labour's Lost.
But at the end you will find that -
Each man receives – Measure For Measure.
(with apologies to William Shakespeare)
Learn to make the most of life,
Lose no happy day
For Time will never bring you back,
Chances swept away.
Of all life's sad surprises,
There's none than that compare,
Of treading in the darkness,
On a step that isn't there.
And to the youth – Remember,
youth is the time to store the mind.
Donald Nugawela
Colombo 5
---
The dormant GMOA has suddenly come to life!
The GMOA which stayed silent during the last regime, has come to life, threatening protests and work stoppages taking poor and less fortunate classes of the society, hostage.
Duty free cars are not a condition in the signed service agreements but a special favour granted to them (doctors) and certain other categories of public servants. Though unfair by others the GMOA is demanding the continuation of that favoured treatment.
The GMOA is against private medical colleges but some selfishly enjoy private practice pocketing good incomes.
In the past, the members of the medical profession worked late into the night serving poor patients who patronised government hospitals.
How many of them do so now? Do some not leave for private hospitals or their private consultation rooms early (driving duty free cars) and work till late evening?
I presume that the honest and disciplined GMOA members declare their private incomes and pay income tax.
Is it not a fundamental right of patients to be treated medically without being refused treatment? Is not the GMOA denying that right to patients patronizing government hospitals by resorting to work stoppages?
Isn't it that the GMOA members are harassing patients of the poor sections of the community by resorting to work stoppages as the affluent and richer sections of the society will not be affected by the GMOA work stoppages as they receive medical treatment at private hospitals?
I am of the view that work stoppages in government hospitals denying free medical services to the poor people, should be banned at least for the time being.
Upali S. Jayasekera
Rajagiriya
---
Letter to a doctor at large
I am not certain whether the modern day doctors in Sri Lanka do take the Hippocratic oath; if they do take the Hippocratic oath, do they understand the meaning and gravity of such an oath.
It is termed 'Hippocratic' after the Greek physician Hippocrates and the oath itself is a declaration by a doctor to observe a code of professional ethical behaviour.
Should the doctor understand the meaning and gravity of his/her declaration, he will not hold to ransom a patient of any strata of life, by demanding a higher compensation for his services.
The poor man on the streets who lives on a daily wage is the one who is affected by a higher demand for services rendered whereas the class of people in the higher echelons of society have private medical attention to cater to their needs, provided by the very same doctors who deny the privilege to the poorer segment of society.
A good doctor would not deny a poor patient his services under whatever circumstances because his profession demands it of him.
This so called 'strike action', by learned doctors is similar to a small boy crying out to his mother, who has done her utmost to educate her son, for the gift of a car.
How very sad to witness a boy crying out to his mother demanding a car as a present. The mother replying tells the son that she has spent all her reserves for his education to help him become a doctor, and now she cannot fulfil his demand.
She tells him that she will grant his wish in a few years time when she has collected enough to spare him a car and also to continue to do his job as a doctor, which he so faithfully promised and vowed.
The boy replying tells the mother that he would kill himself if she does not give him a new car or at least the facility to buy one.
Doctor ask yourself, "For what reason did I study to be a doctor? Was I only thinking of the monetary benefits for myself and my family, or was it for the sake of serving a helpless people.
Was it for the power, glory and prestige it would bring me, as it has brought to so many good, dedicated doctors past and present?"
George Abeyewickreme
Via e mail
---
Judicial reforms needed
The judiciary has at last begun turning the searchlight unto themselves. We could consider this a silver line appearing in the horizon provided the message is taken seriously by the judicial administration.
A few weeks back an appeal court judge Devika Tennekoon stated at the ceremony to welcome her to the Appeal Court that laws delays should be addressed. We have been discussing this for ages but it appeared a forgotten matter till now.
The Attorney General a few days back said that judges too should be judged for any misdemeanours despite being judges.They too should face the law standing as equals with the ordinary citizens.
We are living in a country where a former Chief Justice apologised to the nation for giving a wrong judgement to help a friend in the Helping Hambantota case.
Further another Chief Justice went on record saying before the United Nations that he has information that a missing person was seeking asylum in another country.
When he was summoned to give evidence to support his statement he avoided the issue by saying that God only knows where the abducted person is. The matter ended there.
Presently a high court judge is being investigated in a rape case. With top most judges of this calibre heading the judiciary how can we expect the scales of justice to be fair and square.
Let us hope that speedy action is taken by the judicial administration to have disciplined judges and avoid laws delays by appointing more judges and providing the necessary infrastructure.
A.G. Weerasinghe
via e mail
---
Attention Director Pensions
I trust this letter will catch the eye of the Director Pensions for immediate action.
There is no response to letters regarding pension errors.
 I received Rs. 5,000 in August 2015, increment of Rs. 10,000 due?
 No increment has been credited for September, October and November.
 From September Rs. 2,000 has been deducted monthly – why?
 Errors in payments are a slur on the state in their efforts to stabilise the future of pensioners.
Pensioners are not young. They cannot climb three flights of stairs to reach the Pensions branch.
Disgusted
Thalawatugoda
---
An artifact not to be left unguarded
R.D.C. Ariaratnam's letter of December 20, about the colonial post box embellished with the British Royal emblem, on the Jaffna/KKS Road was great news but the ever present danger is it could be the target of ingenious antique hunters.
We too had a similar beauty in Kandy, close to the Garden Club on the lake round. Some years ago one morning it had vanished and a new box was later installed. It caused a minor uproar but nothing came out of it.
Could Mr. Ariaratnam convince the postal authorities to relocate this treasure to a safer location, perhaps at the Jaffna Main Post Office?
Asoka Weerakoon
Ampitiya
---
A plea for the poor people
I am compelled to write this letter with copies to the relevant authorities because it is a burning cause of great importance to our land.
The poor and voiceless people of the jungles of the North East and other affiliated areas, like Mahiyangana, even Vavuniya, Kekirawa etc. are suffering due to the dreadful menace of wild elephants rampaging through their homes and plantations — their main livelihood.
Monkeys cause even more damage and havoc. A poor famer called Punchi Banda told me of this sad plight, how the wild elephants destroy their painstaking efforts (due to droughts) and even attack their poor homesteads.
Nothing can stop them – they burn their very pillows and throw them to keep these animals away. These poorest of the poor live in mortal fear.
The monkey menace is severe in these areas while it is quite a nuisance even in other areas of the country – we in Godagama too suffer from damaged roofs and not being able to reap any crop like plantains and other vegetables.
Words cannot express how much everyone suffers, especially the poor who depend upon the crops they plant. Surely if we are a nation with a governing body this ought to be a foremost priority to eradicate this problem.
My suggestion is that the elephants be herded into certain areas like sanctuaries and the villagers can provide food like kitul branches and fruits for them.
The monkeys too should be put into enclosures, one for each village and people, given the responsibility of feeding them.
Some drastic action is needed- I am 82 and have been moved by compassion to plead for these poor people.
R. Rodrigo
Homagama
---
Tax on hybrid motor vehicles unfair
The unjustifiable 400% increase in emission charges is another record of the so called Government of good governance, that was voted in by the middle class and ordinary folk.
In his 1st Budget in the 100 day programme the Minister raised the tax appreciably on hybrid vehicles depriving many who were trying to take advantage of the downward trend of the Japanese Yen.
This vehicle was the most popular and sought after vehicle at that time being environment friendly and fuel economic.
In this Budget he goes on to raise the tax on electric cars although promising before that more recharging stations will be set up around the country etc.
The biggest bombshell he has dropped, however, is the exorbitant increase from Rs. 1,100 to over Rs. 5,000 in the emission charges.
He also goes on to increase the valuation charges to Rs. 15,000. It seems that he is averse to those owning motor vehicles while he thrives on taxing the motor industry.
Every family whatever their difficulties wishes to own a vehicle for their travelling etc. Not a luxurious vehicle but something reasonable to move forward.
It is not what the high class or MPs have (Not one but many for everyone in the household)  There has been opposition to this in the Parliament too, hence it is hoped that the President and PM will mediate and drastically cut the charges. By some luck he has withdrawn this increased amount on the three wheelers and bikes, and averted a major upheaval.
The opposition against the Government is growing daily and the disappointment of the common folk who voted for them is mounting which will result in a turnaround if not addressed.
The Minister is on record saying that he has revised the PAYE Tax but he should be aware that these are normal middle class families, who do not fall into the bracket of the upper middle class that he envisaged.
On behalf of the affected middle class motorist.
Dulip Singhe
Colombo
Letters to the Editor
'Letters to the Editor' should be brief and to the point.
Send them to:
Letters to the Editor,
The Sunday Times,
P.O. Box 1136, Colombo.
or editor@sundaytimes.wnl.lk.
Please note that letters cannot be acknowledged or returned