Save our innocent kids from the football folly
View(s):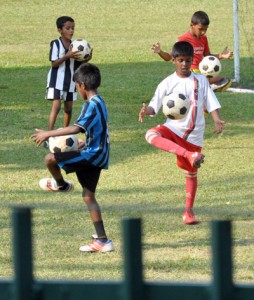 While countries like India, Pakistan, Bangladesh, Nepal and Maldives have already implemented Football Academies in their country, it is very unfortunate and disappointing that Sri Lanka which has a Hundred and thirty five years of football history and plying Association Football for the last seventy six years has failed to do so. As a result few individuals have introduce such academies on their own with the aim of making a quick buck from the parents , promising them to make their kids "Football Stars".
One must understand an academy is a school or an institute where special subjects can be studied, through special people who have adequate knowledge and experience in a special subject.It is common sense; no individual can run or conduct an academy. Who gave them the authority and approval to commence them?
In fact, I have explained briefly through the Sunday Times dated 18.10.2015 – what is a football academy, what are its paramount duties and responsibilities and who showed administrate it.
Parents must understand if their children miss the basic skills, such as shooting, dribbling, ball controlling , passing , chesting, heading and so on, forced by circumstances to learn same at adulthood, often tend to unorthodox or unnatural or rather rigid. On the other hand one who masters the skills in the proper nurseries under knowledgeable coaches, blossom to be a natural "Super Star?"
When players are not properly handled when they are young and not taught their basic skills, individual responsibilities, things become difficult when they are mature. If the player does not have the basic skills and techniques, he could never be able to put into motion what is in his mind. If one looks at the present day players either at school level, club or national level, it will not be surprising to note that the majority of them cannot kick the ball with both feet effectively. Heading the ball is a lost art reading the game of the opponent is non-existent and planning an attack or counter attack is absent. What we see in the field is just kicking and running, instant action and not planned re-action. These are main drawbacks in our soccer outfits of today.
Who could take our football out of this mire? — Obviously the right coaches who handle the technical aspect of the game. There are host of knowledgeable and experienced locally and foreign trained coaches in virtual coal storage today due to lack opportunity to coach. It is here that the Controlling Body can directly intervene and work with them to achieve a better and a higher standard of performance.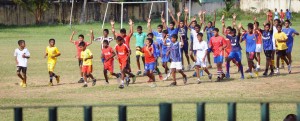 A coach is in a way, a pedagogue, a parent, a padre – sermonizing and soothing, caring and correcting the players. Unfortunately, these aspects are not given due weightage by our new crop of coaches. Pregnant in knowledge does not necessarily mean position in production, the whole exercise needs years of study, self discipline and application. How many local coaches of our football have obtained these qualities?
While the game has developed from humble beginnings to that of a major national sport, we have not produced quality coaches in proportion to this growth. Certainly a complete change in the technical aspects of the game is essential. Knowledgeable coaches must be registered with the Controlling Body; coaching assignments must be given to them in the school and clubs in their own provinces and districts. They must be guided and advised by a technically qualified and experience person to improve their coaching talent and ability. Those who perform well with their profession must be given opportunities to go abroad for advance training.
The kids and youths are the assets of our country. This resource should be handled and guided by the correct coaches. A successful coach is a person who is professionally knowledgeable and exemplary in conduct. Knowledge alone does not and will not make a success of a coach's task. For teaching to get lodged in the mind of the student, exemplary conduct and behaviour on the part of the teacher himself is absolutely necessary.
Coaching, though itself is a vast subject which goes into various branches such as player psychology, team building, pattern of play, system of playing, interpretation of the laws of game, tactics and so on, is essential but a simple exercise to those who know genuinely the finer art of the profession. It is certainly not the high-sounding credentials, certificates and licenses that make one an affective coach.
It is not a secret that the down fall of our football, perhaps due to the young players not being taught the basics of football at the inception. They have been wrongly handled by incompetent individuals who call themselves as qualified coaches. The Principals of school and the parents will have to be careful in selecting the correct coach to handle their children. We are not against those coaches who are paid by the relevant schools, clubs or parents but you should be careful of their knowledge and ability of coaching your children.
On the other hand, The Controlling Body must make a concerted effort to train the local coaches' island wide through seminars and workshops, without further delay to increase their coaching skills and ability.
If by some stroke of bad luck, if your children are handled by those individuals who through sheer love of the game or to earn a quick buck without proper coaching knowledge and experience, may be blind to the fact that they are leading the players into an abyss of football misery.
Basic skills and techniques have to be taught at a tender age and tactics instilled in their formative years. The growth of a player to national or international standards depends primarily on the degree of skills he has mastered in his boyhood days. It is very easy to part these lessons into the minds of the kids and youthful players, whose mind and muscle are both fresh and free from all disturbances and distractions. Therefore it is of vital importance that the young ones are trained and handled by the correct teachers who knows their subject.
Further the development of the game of football is so unsuccessful in Sri Lanka is the heavy weight of concentration given to Colombo based schools and clubs not to outstation.
Another important matter, I would like to stress is the ongoing infighting between the two major factions of the past taking place in the Football House silently but effectively, which is a stumbling block for the development of football in the country. It should be an obligation, if not duty, for those who are called upon to guide its destiny, to sit around the table, shedding petty differences and diversions, uniting in the resolve that every effort should be made to bring football back to its pristine glory and fame.
The Controlling Body must invite persons of technical competence and experience to the policy planning body. Secondly reactivate the outstation leagues in a meaningful way. Most of them are either dead or dormant. It's the base of our football and the source that provide talent. Thirdly, invite the senior coaches, Ex-International players and Referees to form an Advisory body to chart a course to ensure the game's promotion and its performance. Hold home internationals regularly to entertain the soccer loving crowd and to gauge our standards. This will put our coaches, players and even the officials to the fullest test. The particular trained squad may benefit temporarily but in the long run and in truthful reality our soccer standards shall remain woefully weak
So long as the sport is not structured and strengthened firstly in our schools and clubs none could expect to achieve a degree of excellence later on. Concentrating only on the national teams us a totally limited exercise which may look satisfying but far from realizing excellence in the sport generally.
It is time that the Controlling Body sees things truly as they are and do everything possible to enhance our performing standards via the schools, clubs and leagues for there lays the road to permanent success.