Kandy firm in pole position
View(s):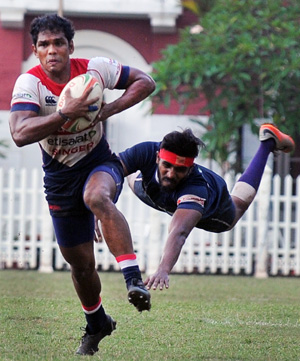 After five weeks of hectic rugby, the break for Christmas provides a good opportunity to have a look at where the teams stand. As expected, Kandy SC is in pole position after five games, all of which they have won. They went over the fifty point mark in the first three games, but have had their margins of victory progressively cut down. Last week's CR&FC game was their toughest. CR, probably, were unfortunate to lose having led, 16-15 with a couple of minutes left.
But some desperate attacks on the CR line by a highly-charged Kandy team and a tactical error by the CR, led to a last minute, under-the-post try. Kandy showed that they will take a lot of beating and also that their closest challengers, Havelocks, who trailed them by 27 points to 29 in the points table, would have got some idea of how to set about the task of beating the favourites.
The Havies are far behind the Hill Country side in terms of tries scored (15-39). This is surprising, considering their attacking potential with the likes of Dhanushka Ranjan, Sandun Herath et al. However, the saving grace is that they are yet to play CH&FC, who had been conceding tries by the bucketful until their last game against Air Force SC.
Navy SC and CR occupy the third and fourth slots respectively. Here again the Sailors have run in more tries and been meaner in defence. The moment of truth will count on January 2, when they confront each other. Navy's Yoshitha Rajapaksa has scored many tries and is one of the reasons behind their relative success. As for CR, they can take a lot of heart from their performance against Kandy. There was a lot of commitment and determination shown and the end result may well have gutted them. CR can only get better with the return of Kanchana Ramanayake, who sat out the last game.
Army SC is one of three teams which have given away more points that they have scored. They showed they are not to be trifled with, by giving the Havies a very good run last weekend. Their lack of attacking potential is their bug-bear. They have touched down just 12 times in five games, and that's not enough. Their saving grace is that they have two wins as against the one registered by Police SC, who are next on the table.
Even in defeat, the Police have been raking in some points. They average more than three tries a game. Their new players, especially Mohamed Sheriff and Riza Mubarak, have been very conspicuous in attack. Their 3point defeat at the hands of Navy came despite a pulsating performance in the last quarter. Yet, it could be said that Police have underperformed.
Air Force got on the board by beating CH&FC. But it was mighty close. A scoreline of 14-16 indicates that CH almost made it. The Maitland Crescent club has certainly fallen from grace. They started by giving away 80 points to Kandy. Last Sunday, they conceded only 16 points and came close to scoring their first win. The battle will certainly hot up in weeks six and seven. Kandy vs Havelocks on January 2 will decide the leader of the opening round. CR vs Navy also meet on the same day and this match, too, is chock full of interest.
The last weekend will see CR meeting Air Force, and Havies engaging in a try-splurge against the weak CH. Kandy will take on Navy at Nittawela on January 20. However, if Kandy have got past the Havies by then, this game would be devoid of a little sparkle.