Seya's killing: The endgame
By Aanya Wipulasena
View(s):
A tip-off from a villager in Bemmulla, Gampaha, eventually gave the CID the breakthrough in a crime that had shocked the nation.
A senior police officer said the tip-off followed by a statement from the suspect's brother led to the arrest of the man wanted in connection with the rape and murder of four-year-old Seya from Akarangaha, Badalgama, which is about 20 kilometres away from the suspect's village.
The suspect, identified as 32-year-old Dunesh Priyashantha alias Kondaya was hiding in Baduwathugoda area in Bemmulla when he was apprehended. He was single and didn't have a permanent residence.
Police said the suspect's behaviour had drawn the attention of the villager who tipped off to the police.
They said the suspect had a record of previous crimes (See box) indulged in acts of voyeurism that included watching women while they slept or bathed. He was also known to steal women's undergarments.
"When the villagers got to know about his perverse behaviour, some of them got together and beat him several times," a resident of Bemmulla, who wished to be anonymous said. He said they had also lodged a police complaint.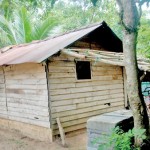 Police said the man who gave the tipoff knew that Kondaya used to go and stay at his sister's house in Ingammaruwa, about a kilometre away from Seya's home and he felt he may have been involved in the crime. He had shared his suspicions with a senior police officer of the Gampaha Police Station.
"The fact that the suspect was staying not too far from the victim's house, when the crime occurred and given his character we felt he fitted the suspect's profile," the senior police officer said.
When Kondaya realised that he was a suspect in a murder case he had gone into hiding, police said.
"He came home one night but I hadn't seen him since then. He called out 'amme' as he came but he ddin't enter the house," Kondaya's 65-year-old mother Jayathpelige Karunawathi who lived in Bemmulla, Gampaha said.
She said he must have been hiding in the shrubbery several metres away from the house and that she had heard that at night he would sleep in the cemetery. She said although she hadn't seen him coming into the house he had come at night looking for food.
Ms. Karunawathi lives with her youngest son. Her house comprised three rooms and a kitchen but none had doors.
"Life is hard. My husband used to drink and didn't support the family. My four sons dropped out of school at a young age as they didn't have clothes to wear to school, she said adding that neither she nor her children are literate.
Police say the suspect had reportedly confessed his crime to his elder brother warning him not to tell anyone. However on being grilled by the police he had given a statement helping to solve the crime.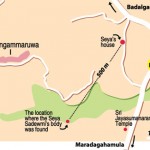 On Tuesday (Sept 22) police and the villagers found Kondaya hiding in a jungle area in Bemmulla. This was nine days after little Seya's lifeless body was found.
According to police, Kondaya who had confessed to raping and murdering Seya, had said, on the night of the crime he was under the influence of liquor when he saw a light on when passing the victim's house. Peeping through the window he had seen the child sleeping next to her siblings and mother.
He had then tried to enter through an open window but fearing that he may get caught he had entered through the main door between 11.p.m. and 11.30 p.m.
"I'm waiting for the police to bring the suspect to my house," Seya's angry father 38-year-old Upul Nishantha said on Friday.
He said police had informed him that the suspect would be brought to the house as part of the investigations.A group of villagers had surrounded his house on Thursday demanding to see the suspect.
"Some people have even accused me of keeping him in the house. But till now we haven't seen the man who did this to our daughter," Mr. Nishantha said. He added that he did not know the suspect in person.
"I have been following the instructions of the CID. When villagers protested demanding justice for my child they called me to join the protest.
But the CID advised me against it so I did not join them. But I don't know how I will react when the police bring the suspect home," he said.
Mr. Nishantha also said the incident had changed their life forever. He fears he may not find employment in the future.
"I doubt I'll be able to continue in my old job and no one will be willing to employ me.
My wife also says she can't go back to her old job as people are accusing her of not taking care of our children. We admit we share the blame but this could happen to anyone," he said.
Mr. Nishantha used to transport garment employees at night in a three wheeler and his wife worked as a handloom instructor.
"I'm relieved that the CID has caught my daughter's murderer.
The last few days have been hard for us. We want to go to a safer environment with our two children. This place holds too many sad memories," he said.
Seya was found missing on September 12 around 6.30 a.m. The following day her body was found near a canal 300 metres away from the house. Last Thursday (17) the CID took over the investigations.
Seya killer suspect's DNA samples to be taken
DNA samples of the prime suspect in the sexual molestation and killing of Seya will be taken to confirm his involvement in the crime, Western Province Senior DIG Pujith Jayasundara said.
In a special news conference held at the Police Headquarters yesterday the Senior DIG said that although the suspect has confessed to the crime scientific evidence was need to prove his connection.
"We took this suspect into remand custody based on substantial evidence but we will proceed to take DNA samples to verify his involvement," Senior DIG Jayasundara said.
The suspect had records of previous crimes. Three cases of stealing cows were recorded against him by the Veyangoda Police.
He was convicted and sentenced for one year in prison and released on five years suspended sentence for attempted abduction of a child in 2013. He was arrested for assaulting and injuring a man in 1999.
He was produced yesterday before the Minuwangoda Magistrate D.A. Ruwan Pathirana.He will be produced again before the Magistrate tomorrow.
Police also defended the arrest of the previous suspects, including a 17-year-old boy from Badalgama, claiming that they received sufficient information.
"We studied the behaviour of the suspect – how they behaved after the child was killed and how they acted on the day of the funeral, before arresting them. The police were doing their job here," Senior DIG Jayasundara said adding that the situation prompted them to remand the two suspects.
The suspected minor's mother said the arrest had branded her son as a criminal and has tarnished his image affecting his future.
She said yesterday she was considering lodging a complaint with the Human Rights Commission after her son was released, with regard to the humiliation they were made to suffer.