Mobile Paddy Warehouses in areas lacking storage facilities: PMB
By Anushiya Sathisraja
View(s):
Government is to set up Mobile Paddy Warehouses (MPW) in areas lacking in facilities to stock paddy, said a senior official of the Paddy Marketing Board (PMB).
Each MPW will be set up at a cost of Rs 2.6 million, with a capacity to stock 120 metric tons of paddy, said PMB Chairman M.B. Dissanayake. He said the MPWs can store paddy for up to one year without the threat of insect infestation.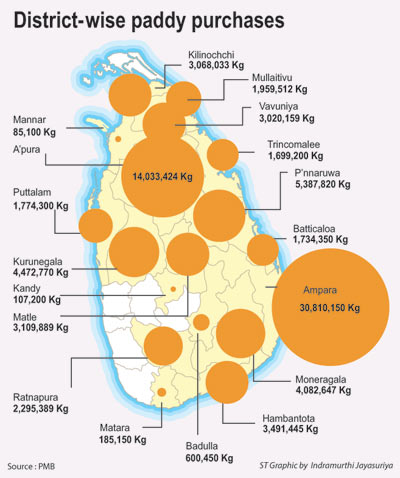 He added that, the PMB has purchased 152,000 metric tons of paddy, and is targeting 160,000 metric tons by the end of this week.
Kandy District Secretary H.M.P Hettisekera said the Government has allocated Rs. 41 million to purchase paddy from the Kandy district and storehouse facilities are available for 7,000 metric tons.
"The PMB had already purchased 896 metric tons, including 130,800 kg of White Samba, 8,050 kg of Keeri Samba, 750,450 kg of White Nadu, and 7,450 kg of Red Nadu".
Farmers in Minipe in the Kandy district have expressed their appreciation of the Government's well organized, successful purchase of their paddy, without any inconvenience, said Minipe Joint Farmers Organization President, A.M Dharmasena.
PMB Anuradhapura Regional Manager Ajith Shantha Kumara said the PMB'S 32 paddy purchasing centres are closed with the purchase of 30,760 metric tons from 17,563 farmers in the district. The farmers were paid Rs 1,930 million for their stocks, he said.
He said "farmers have urged the authorities to open the paddy purchasing centers in the areas, where the Yala season commenced late due to water problems, or to commence the mobile purchasing programme".
Around 300 farmers staged a protest against the PMB early this week in the Polonnaruwa district, demanding Government work out an effective mechanism to purchase paddy.
The protest was due to the PMB's decision to cease buying paddy after the stores were filled to capacity, and because the purchasing target in Polonnaruwa had been met.
The protestors obstructed roads in several areas including Jayanthipura Junction on the Polonnaruw-Habarana Road, Sawmill junction on the Polonnaruwa–Batticaloa Road in front of the Manampitiya Agrarian Services Centre and Hingurakgoda-Airport Road.
Police attempts to remove the tractor loads of paddy obstructing traffic were to no avail for several hours.