Killing of Athurugiriya boy: Quarry worker arrested
View(s):

The main suspect in the killing of a ten-year-old boy from Athurugiriya was arrested yesterday and was being questioned by police last night. The 50-year-old suspect was arrested at Bandarawatta in Biyagama. He was a resident of Kothalawala, Kaduwela.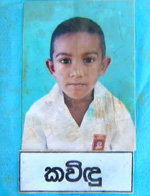 The boy, a fifth grader, was hacked to death and his body was found in an abandoned hut near a quarry, 200 metres from his home. Frantic parents, relatives and neighbours searched for him when he was not found in his house Friday morning.
Police said the boy, who celebrated his tenth birthday the day before he went missing, was awaiting the Grade Five scholarship examination results. They said the suspect was a worker in the quarry.
Senior DIG Pujith Jayasundera urged those who employ casual labourers to keep a record of their names and addresses. The owner of the quarry where the suspect had worked did not have records of the suspect to aid the investigation.
Some employ unknown people as domestic workers or causal workers in their shops or workshops without finding out their names and addresses or their marital status.
The DIG said the police would ask Civil Defence Committees that are active at neighbourhood level to keep a track of workers from outside areas. "We are planning to gather information from the public regarding suspicious people in their areas as part of a project to curb crimes in the country," Senior DIG Jayasundera said adding that they hoped to start the project in the Western Province.
Meanwhile, the police said that though the number of murders had remained the same in the past five years, the way the crimes had been committed had become more gruesome.