SL pay-by-SMS VENDABLE vending machines sell first few units to Unilever
knowENTREPRENEURS
View(s):
A finalist at this year's Venture Engine start-up competition, VENDABLE is a Sri Lankan pay-by-SMS vending machine concept that has big plans. This follows recent, infrequent, instalations of cash-only vending machines in places like the Crescat Food Court, which is a new concept locally despite it being prevalent in many countries worldwide.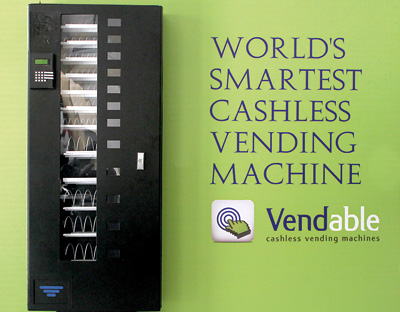 "VENDABLE is a vending machine that can dispatch anything from a physical product to something virtual like music with just a SMS. If you have a mobile, just any mobile and know how to SMS, anyone can buy anything, it's just that simple. It's a new frontier in the retailing landscape, doesn't take cash, adds the cost to your mobile bill, works anywhere in the country and every machine is custom-made to requirements and there is a local and international market for it," according to Chandu Rajapreyer, co-founder of Thunkk Solutions, the company that took the idea to Venture Engine. This 4-year-old company is also interesting because all three of its founders work as creatives in the Sri Lankan advertising industry, with Mr. Rajapreyer currently employed as an Executive Creative Director (Art) at the local office of a large multinational advertising agency.
Speaking to the Business Times, Mr. Rajapreyer also added, "Our company's philosophy is about making people's life simpler and easy. We realised that consumer purchase through mobile was going to be big but there was a problem. There are too many complications in getting people to get used to an app or a completely new thing especially when it comes to retail.
VENDABLE was an answer for many of the reasons for a small start-up like us".
Interestingly, he also revealed, "We are not unique to Sri Lanka only, we are quite unique to the whole world. Vending machines were a matter of convenience in the retail space but ended up being the complete opposite. There are a little over 20 million vending machines that work on cash and coins… Handling hard cash is more expensive because of the cost it incurs, also cost of maintenance because of the money getting stuck and the vandalism of machines are also few of the bigger issues in European and Latin American countries. VENDABLE is going to play a big role in the retail space, because of what retail landscape lacks in this present day and age.
It makes retail more dynamic because it's agile, with data in real-time analytics, low on operation cost and works on any mobile that has SMS". Following his top placement at Venture Engine 2015, and the visibility that this competition ensued, the VENDABLE pay-by-SMS vending machine concept has already started attracting a lot of interest. "Becoming a finalist certainty gave us more exposure and a good insight into how investors think what they look for as well. Growth for VENDABLE is just a matter of time with the whole world as a potential market. Our first machines were purchased by Unilever, which is a big deal for a start-up like ours. We are certainly looking for a mobile service provider as our investor who can help us penetrate international markets and also for our R&D, for innovations in the retail space," commented Mr. Rajapreyer.
When asked whether he had any advice for other local entrepreneurs, Mr. Rajapreyer offered, "We are still in the initial stages as entrepreneurs so we don't really know what might help in terms of advice. But one thing certain is if you think very differently when you want to start up you need a lot of patience… Start anything by not only thinking about Sri Lanka as your market because the playing field just got a little bigger and better".