Landmark no-frills Cinnamon Red hotel celebrates 1st anniversary
View(s):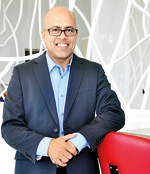 Cinnamon Red in Colombo, which opened its portals to the world as the first lean luxury hotel in South East Asia, is celebrating its first year of operations. Its General Manager Terrence Fernando says Cinnamon Red has transformed the quintessence of travel for today's traveller whose needs are discerning, detailed and exact.
"It has been a fabulous year for Cinnamon Red and also for Cinnamon Hotels & Resorts as well, given that we introduced this unique concept of lean luxury to South East Asia. The success in just one year is well evidenced in the above average occupancy rates, (including 100% occupancy in just three months since inception)) and the impressive ratings we continued to garner in guest satisfaction," he said in a media statement.
The hotel has a staff-to-room ratio of 0.75 where everyone chips in to ensure the entire operation runs smoothly. Explaining that it wouldn't be unusual to see a Housekeeping Attendant carrying luggage or Front Office Associate engaged in restaurant service, Mr. Fernando says, "None of them would hesitate to go beyond their call of duty in order to enhance customer experience and exceed customer expectations. One of our USPs, I believe, is our team, judging from guest reviews that repeatedly mention their warmth, hospitality and friendliness they exude".
He recalled that the biggest challenge faced by Cinnamon Red initially was in introducing the lean luxury concept to customers. "Most expected us to be a regular five-star hotel with all the embellishments that are five-star hallmarks. While we fine-tuned our model in some areas which we felt was essential for overall guest satisfaction, we did not divert or lose sight of the heart and soul of lean luxury."