Bank of Ceylon shows strong growth in 1stH 2015 with Rs. 9.1 bln pre-tax profit
View(s):

The Bank of Ceylon (BoC) Group says its strong growth momentum is continuing with the pre-tax profit (PBT) in the first half of 2015 up 6 per cent at Rs. 9.1 billion from the corresponding period of 2014.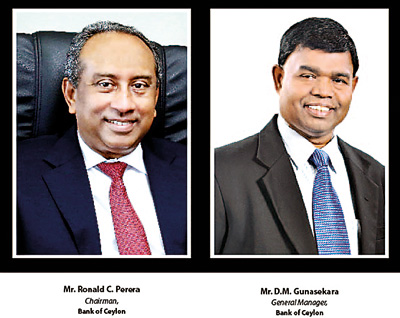 Profit after Tax (PAT) rose 8 per cent to Rs. 6.7 billion. The group reported Rs. 9 billion PBT resulting in 5 per cent growth over the corresponding period of the previous year with the bank dominating the results of the group, accounting for 96 per cent of total earnings and 97 per cent of the group's assets, according to a media statement issued by the bank on Thursday.
Total operating income for the period stood at Rs. 31 billion, up 24 per cent which was due to 52 per cent growth in net interest income and 53 per cent growth in other operating income. Net interest income, the statement added, rose due to higher interest income complemented by a 12 per cent reduction in interest expenses depicting a greater efficiency in deposit mix management by the bank which has contributed to improve the Net Interest Margin (NIM).
Despite the increase in personnel expenses, the bank has been able to maintain other expenses at 17 per cent lower than those of the corresponding period in 2014 allowing only a marginal increase of 2 per cent in total operating expenses.
Total assets grew by 6 per cent (for the period under review) to Rs.1.4 trillion as of end June 2015.
Loans and advances stood at Rs. 837 billion, up by 8 per cent from the corresponding 2014 period.